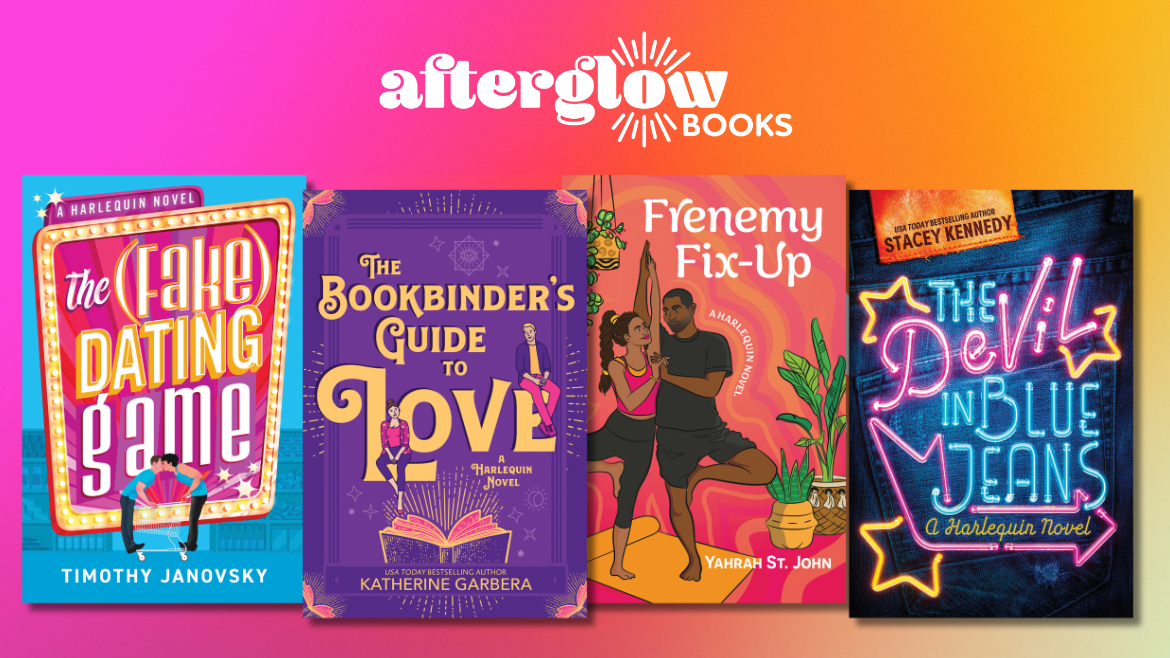 Romance Stories for Everyone
Meet Harlequin's new romance series – Afterglow Books! Afterglow will launch in January 2024 with an exciting line-up of spicy romances. This new series will offer a diverse cast of characters from all walks of life. "Our authors have created romantic stories with so much realism and relatability that we believe readers will see themselves in Afterglow characters and their journeys," said Stacy Boyd, senior editor for the new line.
Have a wink at the winter launch covers and Afterglow's website.
Harlequin Diverse Voices Scholarships
Did you know Harlequin offers scholarships through four writing programs in North America? Read about 2022 scholarship winner Katrina Pringle's experience in Seton Hill University's Writing Popular Fiction MFA program. Find out more about Harlequin's scholarships.
Hispanic Heritage Month
We're marking Hispanic Heritage Month with a blog post from author Allie Therin (Once a Rogue, August 2023) on Harlequin Ever After. Allie highlights how she brings her cultural background into her stories and recommends Hispanic and Latinx authors for romance readers to check out next.
Harlequin shares a wide variety of romance stories with readers throughout the year and celebrates months that raise awareness of diverse voices in publishing.

What Harlequin Did This Summer
Summer is conference season! Harlequin supported events and met authors at writers' conferences in North America and the UK, including several that focus on diversity in the romance genre. Here's a review of where we were.
Romance Slam Jam – Harlequin was excited to partner with Romance Slam Jam again in 2023, offering author workshops and pitch appointments with Harlequin editors. A fully virtual experience, Romance Slam Jam is an essential event for many romance writers across North America.
Steamy Lit Con – Harlequin was excited to be part of a new event celebrating diversity in the romance genre – Steamy Lit Con! We hosted a romance panel with novelists Natalie Caña, Adriana Herrera, Taj McCoy, Roan Parrish and Sera Taíno and supported a fun reception for happily ever after authors.
Black Pens Writing Retreat – Organized by Someday, Maybe author Onyi Nwabineli, Harlequin and Mills & Boon are delighted to support the second annual Black Pens Writing Retreats. These retreats give UK-based writers a welcoming and inclusive space to focus on craft, creativity and their writing goals.
Toronto Romance Writers – We wouldn't miss the 2023 Northern Hearts Conference in Harlequin HQ's hometown this September! Keynote speaker Reese Ryan (published by Harlequin Desire) will take "center stage" at this virtual event with Harlequin offering book giveaways and supporting authors to attend. Visit their website for details.