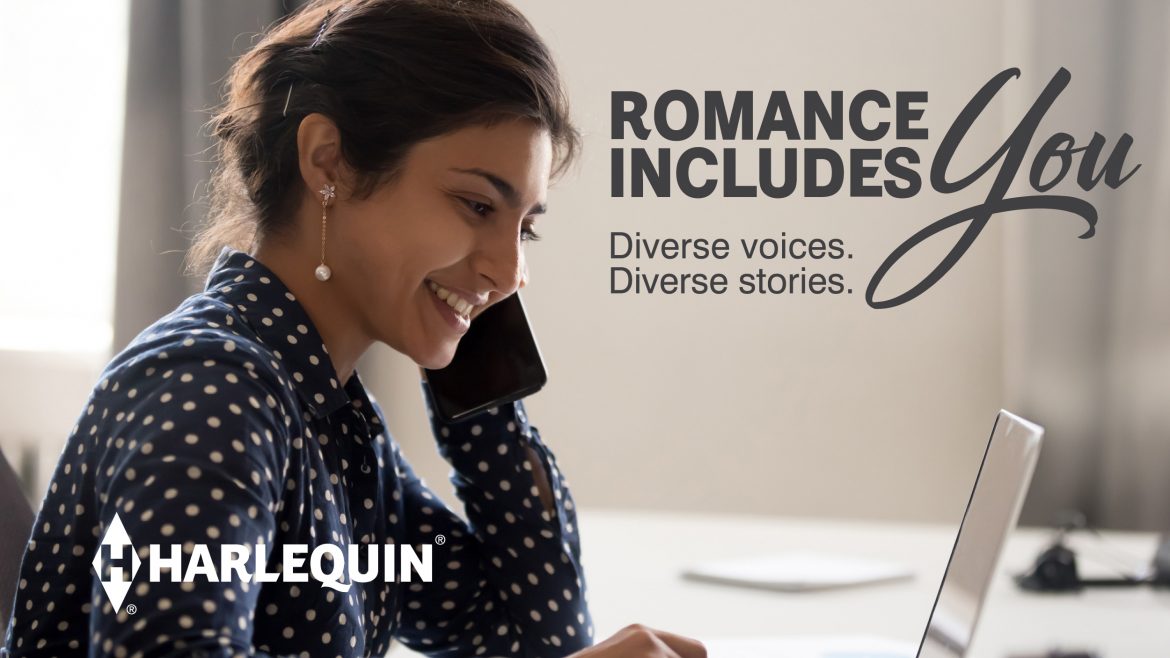 Harlequin is interested in publishing more romance stories by authors in underrepresented communities so that readers see themselves reflected in the authors and stories we publish.
We're always looking for talent and we welcome all authors to submit their romance stories anytime via Harlequin.Submittable.com. You don't need an agent to submit your work.
As part of our outreach to authors who are underrepresented in publishing, we invite you to use the #RomanceIncludesYou hashtag to help editors easily see your story for review. Underrepresented voices include, but are not limited to, authors who identify as Black, Indigenous or People of Color (BIPOC), members of LGBTQ+ communities, marginalized ethnic and religious cultures, and people with disabilities and neurodiversity.
Here are two options to use #RomanceIncludesYou to showcase your story with editors:
Go to Harlequin.Submittable.com to submit your story and include the hashtag #RomanceIncludesYou with your manuscript title; or

Pitch your story to our editors during our semi-annual #RomanceIncludesYou pitch events. Instructions on how to participate are below.
NEXT #ROMANCEINCLUDESYOU PITCH EVENT
Wednesday, March 30, 2022
9 AM – 5 PM EST
Participating Series
Harlequin Presents
Historical Romance
Medical Romance
Harlequin Romance
Harlequin Romantic Suspense
How to pitch at a #RomanceIncludesYou Pitch Event
Twitter pitch events are a great way to catch an editor's eye and get them excited about your book.
If your pitch is liked by a Harlequin Editor, submit your synopsis and first three chapters by April 14th and include the hashtag: #RomanceIncludesYou with your submission.
Craft your romance pitch into one tweet.
Post it on your Twitter feed with the hashtag #RomanceIncludesYou.
We suggest using subgenre hashtags as well (see below). 
Then watch for a reply/like from a Harlequin editor.
If an editor requests your work, they'll indicate in the comments which romance line they acquire for (i.e., Harlequin Desire, Harlequin Presents, Love Inspired, etc.) and ask you to submit to that line via Harlequin.Submittable.com
Make sure to submit your synopsis and first three chapters by April 14th with the hashtag: #RomanceIncludesYou. If you miss it, you can still polish your story and submit it anytime through our regular submission process, including the hashtag: #RomanceIncludesYou.
Not on Twitter? You can post your pitch on Facebook. Join the Write for Harlequin group on Facebook and watch for an invitation to join the event. On March 30 from 9 am to 5 pm EST, post your story pitch (280 characters max) to the event "Discussion". Facebook pitches posted outside the event times will NOT be seen by editors so make sure you post during the event!

If your story is requested by an editor:
Please send a cover letter that includes your story pitch, a story synopsis and the first three chapters by April 14th. Include #RomanceIncludesYou in your submission.
Even if your manuscript is already complete, we'd appreciate seeing the first few chapters for initial review.
Read our FAQs for submission tips.

What you'll receive:
If your submission is requested and sent by April 14th, you'll receive editorial feedback within 8 weeks of the deadline.
Editors do their best to provide helpful feedback. Expect a short paragraph outlining potential areas for developing your romance story. Feedback is meant as a guideline to use as you write, not as strict instructions. 

Tips and Rules:
Pitch "category" romance stories with potential for one of Harlequin's romance lines. What is a category romance? Descriptions of Harlequin's romance lines are here.
Pitch new material that has not been previously published (i.e., not published elsewhere or available for sale or free download on a retail site).
Please choose only one social platform, Twitter OR Facebook, to post your pitch. Every pitch will be read by at least one of our editors, so as long as you post it once, they'll see it.
You can pitch more than one project.
We appreciate writers not re-pitching work that has been previously submitted to Harlequin and declined.
There's no need to direct your tweet/post to a specific editor. Many editors will be monitoring the hashtag throughout the day.

We're always accepting submissions!
If your pitch isn't selected by an editor, remember this is not your only opportunity. Keep writing and know that you can send your manuscript anytime through our regular submissions process. You don't need an agent and you can submit directly via Harlequin.Submittable.com to your preferred romance line.

Subgenre Hashtags
#CR = Contemporary Romance
#Passion = (e.g. Harlequin Presents)
#Medical
#HR = Historical Romance
#IRMC = Interracial/Multicultural Romance
#INSP = Inspirational Romance (e.g. Love Inspired and Love Inspired Suspense)
#suspense = romance with a strong element of suspense (e.g. Harlequin Intrigue, Harlequin Romantic Suspense, Love Inspired Suspense)