2023 Romance Includes You Mentorship Recipient Emma-Claire Sunday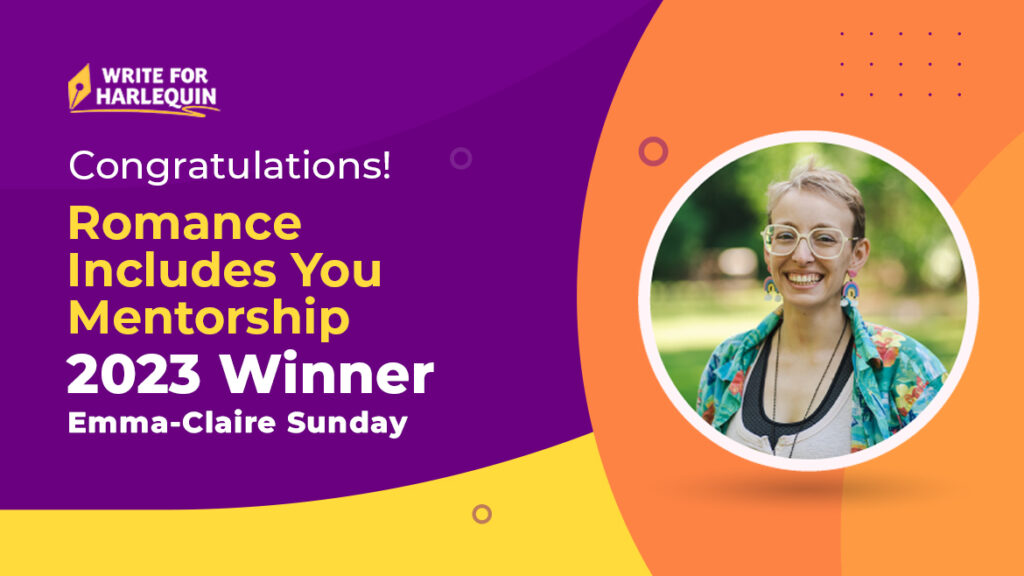 We are thrilled to announce that Romancing the Duke's Sister by Emma-Claire Sunday has been selected as this year's top submission! Sunday wowed the Harlequin judges with a highly entertaining Regency romance story about two high-society women of the Ton. 
Our readers were entranced by Sunday's clever and engaging storytelling and her use of the "rake" trope in a f/f romance. The historical detail and evocative Regency setting sent Sunday's submission to the top of many of our readers scorecards. Sunday's story is set to be published by Harlequin Historical in autumn 2024.
Harlequin's Romance Includes You Mentorship aims to increase diversity and representation in the romance genre by calling for story submissions by authors in underrepresented communities. The program, which began in 2020 and runs semi-annually, has supported three debut romance writers to date. Recipients receive a publishing contract with Harlequin, a year-long mentorship with an editor to complete their novel for publication, and a writing grant to further develop their writing careers. Harlequin wants readers to see themselves reflected in the books it publishes. Our initiatives and outreach to increase diversity, equity and inclusion are described on our website.
---
Previous Recipients:
2020 Recipient: Sera Taíno was the recipient of the 2020 Romance Includes You Mentorship! Ms. Taíno's submission for her story, Incomparable, was selected from among 11 finalists and over 160 submissions. Her Harlequin debut, A Delicious Dilemma, is published by Harlequin Special Edition.  Sera currently lives in central Florida where she teaches high school and runs a creative writing club.  When she's not writing or teaching, she can be found traveling, or wrangling her family. Visit her website at serataino.com.
2022 Recipient: Faye Acheampong was the recipient of the 2022 Mills & Boon Love to Write competition! Faye's Harlequin debut, The Christmas that Changed Everything, is to be published by Harlequin Romance and Mills & Boon True Love in November of 2023. When she isn't writing, Faye loves to discover new food places to frequent and attend cinema or theatre showings. Visit her website at fayeacheampong.com.
Interested in becoming a Harlequin author?
Harlequin is always on the lookout for new talent and is currently acquiring for all Harlequin Series romance lines. We welcome all authors and are committed to publishing diverse and inclusive stories. For more on how you can submit your love story to Harlequin, read How to Submit and visit Harlequin.Submittable.com.