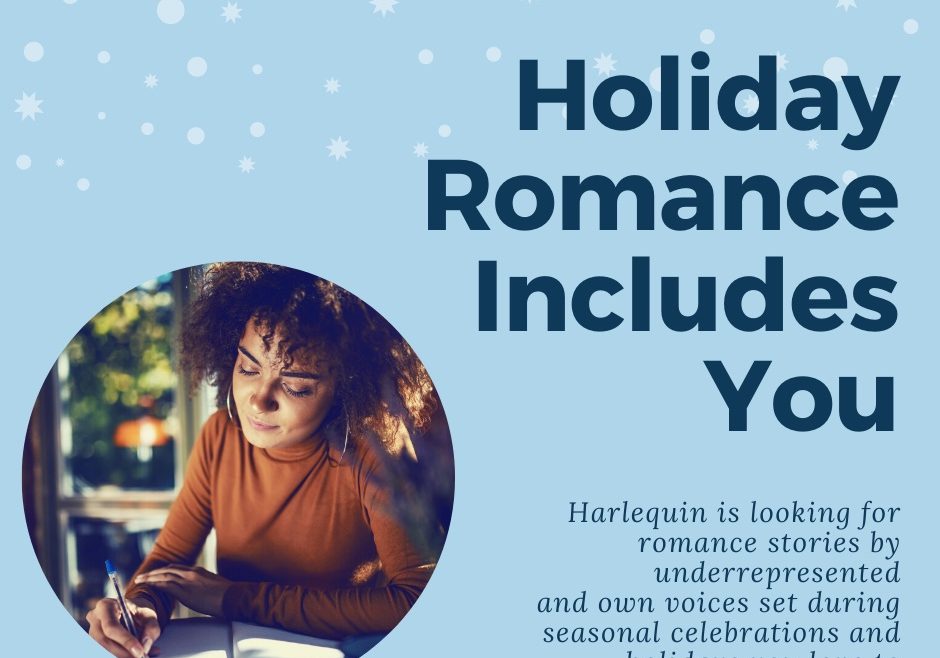 We at Harlequin love a good holiday romance! They present the cheer of a celebration, time spent with family and friends, the joys of eating delicious food—there's so much to love in these stories.
Harlequin is actively seeking more holiday romances by own voices authors in underrepresented groups. We want to read your love stories set all through the year around seasonal celebrations, cultural and religious holidays, family traditions, new year's festivities around the world, and more.
We're interested in submissions for all Harlequin romance lines and Carina Press. Male/female and LGBTQ+ storylines are welcome. Read the writing guidelines for our Harlequin romance lines at Harlequin.Submittable.com and read our guidelines for Carina Press at CarinaPress.Submittable.com.
Submit your story to the Harlequin series best suited to your story by December 31st, 2021!
Include #HolidayRomanceIncludesYou in the title!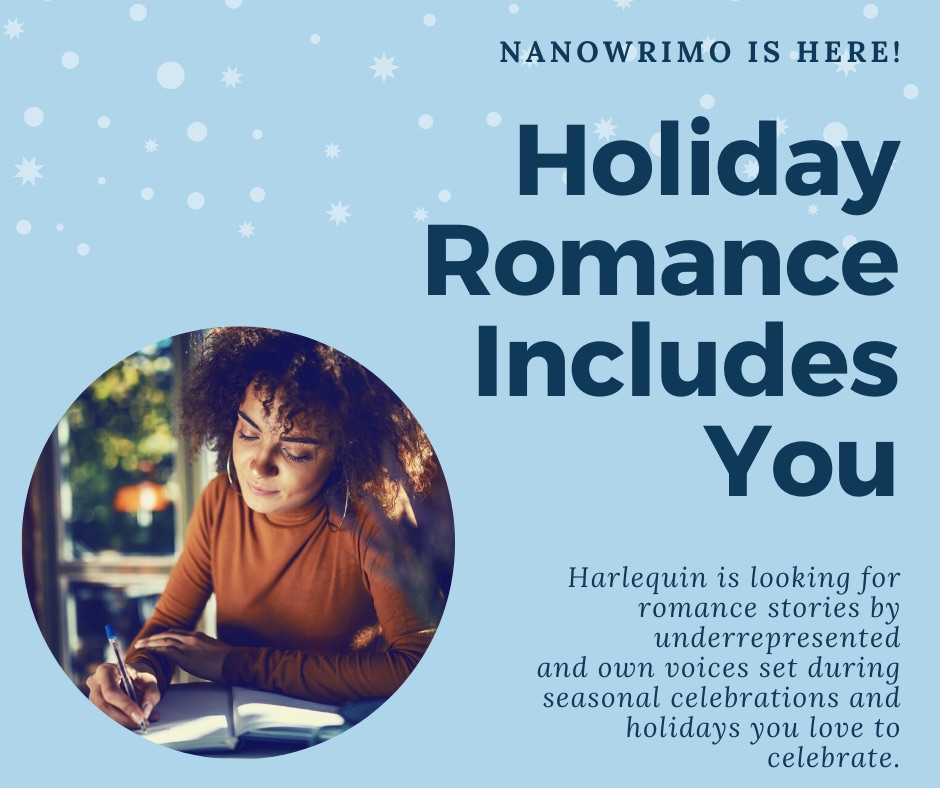 Here's What our Editors Have to Say
If you've got a submission in the works, you might be wondering: What is it about holiday romance that appeals to the Harlequin editors? We've got you covered! Read on to find out what love about holiday romances, and what we're looking for in your submissions!
Carly Byrne, Harlequin Historical Editor –
Whether it's a Regency Christmas house party, a Medieval winter feast or Viking Yule celebration, Harlequin Historical readers love to see the festive season celebrated through the ages! But we'd also love to see a broader range of religious holidays represented in the series—Hanukkah, Diwali, Eid and more—so if you've got an interesting historical holiday romance to tell, we'd love to read it!
Dana Grimaldi, Harlequin Heartwarming Editor –
Readers pick up Harlequin Heartwarming books when they want to feel happy and hopeful. Heartwarming stories give readers the feeling of being connected to a community. So Heartwarming is the perfect place for romances that feature holidays! I'd love to acquire new holiday romances for Heartwarming—and not just stories set at Christmas! I'd love to read books set in any and all seasonal celebrations that focus on family and community.
Gail Chasan, Harlequin Special Edition Senior Editor –
Holiday romances are perfect for Special Edition because our line is all about family, commemoration, and love! We are all about the celebration. 🙂
Charles Griemsman, Harlequin Desire Editor –
There's just something about a meeting under the mistletoe, be it at a wealthy cowboy's rustic ranch house or at an ambitious entrepreneur's Park Avenue townhouse. Stories set in the holiday season speak to the sparkle, glamour and unexpected romantic possibilities at the heart of Harlequin Desire.
Denise Zaza, Harlequin Intrigue Senior Editor –
If the holidays for you are nothing without a helping of mystery, then you need to write a holiday crime story for Harlequin Intrigue. Shadowy figures, secrets around every corner and a big reveal to keep everyone on the edge of their seats—that's what we are looking for from your #HolidayRomanceIncludesYou submission! We're looking for own voices stories, and we love to see strong heroines with training in the law enforcement field and specifically forensic crime specialties.
Kathryn Lye, Harlequin Heartwarming Editor –
A series that's named Heartwarming says it all when it comes to the holidays. Holiday romances are perfect for Heartwarming because they incorporate elements of community and family that are a fit for Harlequin's wholesome line.
Stephanie Doig, Carina Press Editor –
Winter is perfect for cozying up with a blanket, some hot chocolate, and a holiday romance. At Carina Press this year, we'd love to see more Hanukkah stories in particular—so if you've always wanted to write a romance featuring all your favorite Hanukkah traditions, please send it our way!
The Harlequin Medical Romance Team –
The holiday season is all about togetherness. Just like any Harlequin Medical Romance! Our stories showcase how, even in the most high-pressure situations, medical staff work together to save lives…and get a shot at their own happily-ever-after! We would love to find, in your #HolidayRomanceIncludesYou submissions, stories that celebrate the holiday that means the most your leading characters…set around the world!
The Harlequin Romance Team –
In Harlequin Romance, we love to immerse ourselves in the glitz and glamour of the holiday season all around the world, creating a backdrop for romance to blossom! We would love to see in your submission stories which showcase the holidays and special celebrations through international and jet-set locations, whisking readers away on an unforgettable journey!
.
Submit your story to the
Holiday Romance Includes You Blitz
We can't wait to read your love stories!