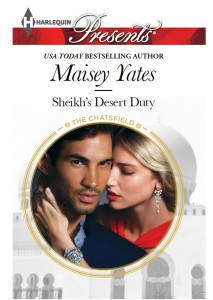 If you haven't yet dipped your toes into a Harlequin Presents novel, please allow editors Carly Byrne and Pippa Roscoe to welcome you to the sensational and sophisticated world of alpha males, decadent glamour and jet-set lifestyles!
We do love an alpha hero in Presents – rich, ruthless and really sexy!  Whether he's a royal or a rogue, a Sheikh or a sexy Sicilian, he's guaranteed to get your pulse-racing!  And our heroines are just as varied – from chambermaids to CEOs, mathematicians to socialites, princesses to politicians every heroine has a home at Presents! The popular themes – marriages of convenience, secret babies, working together, bought and blackmailed – told in unique ways by our talented authors, provide drama and emotion that make each story un-put-downable!
Read on for more of what we love about Presents…
Presents opening lines that have really stuck in our minds…
Pippa: Either die, or abdicate. I'm not particular about which one you choose, but you'd better make a decision, and quickly.
It plunges you straight into the story, you know you're dealing with royals and there's a time crunch from the very first line.
Carly: The day that Jared Stone's manifesto sparked an incident of international female outrage happened to be, unfortunately for Stone, a slow news day.
I immediately want to know a) who the mysterious Mr Stone is and b) what on earth he did to inspire international female outrage!
Don't you just hate it when…
Pippa: The heroes have perfect, white teeth and the heroines run their tongue over their lips, just before they're kissed. Visually, the image reminds me of toothpaste adverts and is perhaps the last thing I would ever want to do before kissing a man!
Carly: the heroine's nipples hardening at the mere mention of the hero's name.  Get a hold of yourself woman!
Don't you just love it when…
Pippa: The heroine gives just as good as she gets! There's nothing more satisfying than seeing a heroine take an alpha male down a peg or two!
Carly: …there's an epilogue!  I love knowing what kind of wedding dress the heroine wore, which exotic location the couple spent their honeymoon in and how many children they had!
What is your Presents guilty pleasure?
Pippa: I do love 'the other woman'… when she's used properly! She should never affect a change in the relationship between the hero and heroine, or their individual journeys. But when used well, she can be both a source of hurt for the heroine, irritation for the hero, but also a source of delicious guilty pleasure for the reader!
Carly: A self-made hero.  I love a hero who's pulled himself up by the bootstraps to get to the top and has a dark past begging to be uncovered…
What is your favorite Presents reading moment?
Pippa:  When I ordered the entire Presents series The Notorious Wolfes. I sat with a glass of wine, a box of chocolates, turned off my phone, told everyone I was away for the weekend, and read the whole lot back to back!
Carly: Missing my stop on the train because I had reached a particularly dramatic moment in the story!  (Obviously not such a favourite moment when I realised and was subsequently late for work!)
What are you looking for from aspiring authors?
Pippa: I love a hero with throw-down. (This was carefully defined to me by a friend as a guy who would 'throw you down' on the bed – my new favourite phrase!) A heroine who can stand up to him and a fabulous location that whisks me away from a grey, dull London day. But most of all, I'm looking for a conflict that will make me cry, and a happy ever after that will make my heart soar.
Carly: Contemporary characters – a hero who can make me laugh and a heroine I'd want to be friends with – lots of sparky dialogue, a glamorous location that's less travelled, and a story that makes me sit up and say 'I didn't see that coming!'
What are you most excited about in Presents in 2015?
Pippa: It's all about The Chatsfield in 2015! Having introduced you to the scandalous, outrageous and incredibly fun family last year – now meet the latest set of Chatsfield cousins out to prove their worth. Stunning locations, incredible stories, fabulous authors and books you will not be able to put down for one minute. Clear the decks, ladies, The Chatsfield is back – you won't want to miss the first book in this fabulous continuity, Sheikh's Desert Duty by Maisey Yates!
Carly: Society Weddings – a quartet by some of Presents' newer voices showcasing the amazing new talent that has joined the series.  And we all know the drama and emotion that a wedding can evoke – especially when it doesn't go to plan! This quartet kicks off in April but if you can't wait that long, make sure you check out Society Wedding Secrets by the wonderful Jennifer Hayward – it's a free online prequel, and it's available to read here.
Thanks to Carly and Pippa for all these great insights! Do you have any burning questions about Presents that you're still desperate to ask? If so, do post them below, and the Presents team will be on hand with answers and advice 🙂