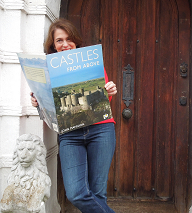 Harlequin Historical author Nicole Locke admits writer's block is like taming wild animals and making pancakes.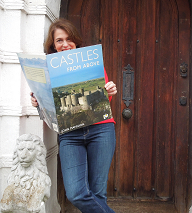 My family loves fluffy pancakes. Not me. The sheer amount of patience it takes to make them, and the mere seconds it takes for my family to devour them is not the kind of cooking:love ratio I relish. So as much as I enjoy eating them (the pancakes, not the children), I make them about twice a year. Even then I have to brace myself.
It's not the ingredients to blame nor the mixing and resting of the batter. It's the patience to stand over a pan flipping and waiting, flipping and waiting. And what horrifies me the most, is the first pancake always goes in the bin. Is it any wonder I avoid them like a wild animal having to be tamed and lured to the pan?
Now forgive the mixed metaphors and analogies. I'm a writer. There's never just one way to write something. It's the wonderfulness of my existence.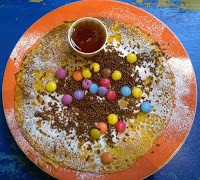 Writer's block isn't so wonderful. But I have it. Every time I sit down and write. It's not that I don't have stories to tell. I'm constantly imagining them in my head. Friends and family have learned to approach me cautiously to avoid surprising me with their sudden existence and possibly losing a hand.
In truth, it's not stories or words causing the block, just like it's not ingredients or pancakes stopping me from making them. It's the sheer perseverance of flipping and writing. And it's, oh yes, it's those first 500 words. It's that pancake I'm going to struggle with and throw away.
I type fast; 500 words can happen in minutes. But those first words usually have the most emotion. Those first words contain something like batter waiting to just spill out. I never know if the end result is going to be raw or burnt. I never know if the pan will be kind or if I'll watch the grisly crackling of my soul in hot butter. I fight pouring those first emotions out; I cringe as I see the words on the keyboard.
So why do I do it? I love words, books, and eating pancakes. And I love my family and the characters I write about. That's what lures me to the pan and to the keyboard. Once there, my patience runs thin, but I hold on knowing I have more batter to cook. More stories to tell.
And if I hold on, something magical happens. Pancakes happen, and so do books. When the sentences are all stacked on top of each other, and it's smothered in whatever lovely editing sauce I feel like, I enjoy every bite.
So here's my advice on writer's block: write fast. Push yourself through the words. Don't let that first emotion-filled batter hold you back. The pancakes that survive, that book, will make it up to you.
Something else I need to say as well: this isn't the first 500 words I wrote. 🙂
Favourite Pancakes: Pumpkin Pancakes
Ingredients:
1 ¼ cups unbleached all-purpose flour (sometimes I split ½ whole wheat flour in this.)
2 tbsp. sugar (I use golden or light brown sugar, too.)
3 tbsp.baking powder
1 ¼ tsp. pumpkin pie spice (Just use ground cinnamon, ground ginger and clove if you have it.)
¾ tsp. salt
1 1/3 cups whole milk
¾ cup tinned pure pumpkin
4 large eggs, separated (Sometimes I leave whole and mix them with the wet ingredients.)
¼ cup unsalted butter, melted and cooled
Vegetable oil
Method:
In one bowl combine wet ingredients: sugar, milk pumpkin, egg yolk, butter.
In another bowl combine dry ingredients: flour, baking powder, spices, salt.
In (yet) another bowl whipped the egg whites.
Now combine the first two bowls and fold in the third bowl.
Cook with the vegetable oil.
Nicole's fourth book in the Lovers and Legends series, In Debt to the Enemy Lord, is out now!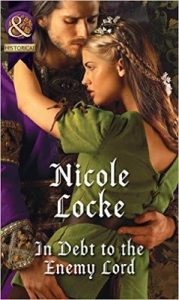 "You have a debt to pay. You owe me your life."
Anwen, bastard of Brynmor, has fought hard to find her place in the world. But she's forced to re-evaluate everything when she's saved from death by her enemy Teague, Lord of Gwalchdu. Instead of releasing her, he holds her captive…
Teague trusts no-one. And with ominous messages threatening his life he must keep Anwen under his watch, no matter how much her presence drives him wild. And when passionate arguments turn to passionate encounters, Teague must believe that the strength of their bond will conquer all!
To find out more about Nicole Locke, visit her website, nicolelocke.com.
And follow her on Twitter @NicoleLockeNews