Sharon Kendrick first sold to Harlequin in 1985. Her medical romance debut was Nurse in the Outback and since then, she has written ninety-three books. What she loves most about writing for Harlequin is the artistic freedom to create powerful love-stories which transport her and the reader into a different world…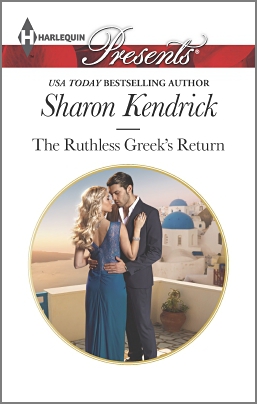 Don't miss Sharon's next book, The Ruthless Greek's Return, out July 2015!
Follow Sharon on Twitter, Facebook and be sure to stop by her website!
1.What book first got you hooked on Harlequin?
Working my way through the list of the fabulous Sara Craven, who manages to break the rules and get away with it. I love all her books but Comparative Strangers is the one which really nailed it for me. Pick it up and get sucked into the love story featuring a very unlikely hero, who happens to just ooze more sex-appeal and charisma than you could ever imagine.
2. How did you celebrate selling your first manuscript?
I drank champagne and danced all night!
3. Which of the many books you've written has stayed with you the most and why?
I have a soft spot for Surrender to the Sheikh – I think I was a little bit in love with Prince Khalim and Maraban became very real to me.
4. What's top of your TBR pile?
The Miniaturist – the debut novel by Jessie Burton. I'm half-way through – just reading it in tiny chunks (joke).
5. What book do you wish you'd written and why?
This is a very tough question! The Lion, the Witch & the Wardrobe.
6. What's harder – first or last lines?
First lines, definitely – because you're trying to convey the sense of the story in a single sentence. Last lines often write themselves.
7. How do you choose your characters names?
I like hard, alpha names for my hard, alpha heroes. Heroines I have to work harder at. Sometimes a story won't work if the name isn't right. For surnames I often open the newspaper without looking and then stab my finger around until I find something suitable!
8. How do you push through writer's block?
My editor is brilliantly wise and patient if I get stuck. Often the reason for writer's block is when the characters aren't working – so I ask myself "why"? You should never try to push your protagonists in a direction they don't want to go.
9. What's the best career advice you've ever had.
Write the best book you can.
10. Your preferred writing snack?
I try very hard not to snack.
11. Who is your favorite fictional couple?
I'm rather fond of Rhett Butler and Scarlett O'Hara.
12. If you could rewrite your life, what would you change?
I would have spent the day with that gorgeous American singer…
13. What would your readers be surprised to know about you?
That I speak fluent Finnish. (Actually, I don't really).
14. What is your most overused word?
Actually.
15. If I wasn't a romance author, I would have liked to be…
Another impossible question. An actress.
16. When was the last time you said 'I love you'?
On Friday.
17. What does love feel like?
Depends which stage of love you're talking about – it can be a dance, a drug, a dagger or a duvet…
18. What's your guiltiest pleasure?
Watching trashy TV.
19. What's your most romantic song?
This Guy's In Love With You
20. Every hero needs a…
heart.
There you have it, another fab Interview with! – with some brilliant writing advice from the wonderful @Sharon_Kendrick!
Happy writing!