Meet the newest member of the Harlequin Love Inspired family, debut author Keli Gwyn!
On December 12, 2013, I received an early Christmas present. My agent, Rachelle Gardner, called to tell me my dream of selling a book to Harlequin had come true. Emily Rodmell wanted to contract my story!
Emily had sent a "revise and resubmit" request months before. I made the changes, and Rachelle sent the new and improved version of the story off to Emily. I waited, hoping the Love Inspired team would like it enough to contract it. They did!
Another round of revisions followed the contract. Emily really knows her stuff, and her suggestions helped make the story stronger. I'm all for that.
I've received tremendous support from the Harlequin team and feel like a valued member of the Love Inspired family. The design team did an amazing job on my cover. I have a serious case of cover love. Days before my book was scheduled to release, I received a congratulations card featuring that beautiful cover, signed by everyone who got my book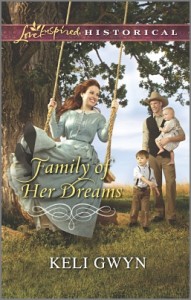 through the process.
To say I'm excited to be writing for Love Inspired Historical would be an understatement. The release of Family of Her Dreams is a dream forty years in the making.
The summer I was fifteen, I discovered the sweet Harlequin romances of the 1970s. My mom would take my sisters and me to the used bookstore in town, where we could buy ten for a dollar. I'd devour my stack, swap with a sister and rush through hers. When I reached the end of each story, I would stare off into space and dream of writing stories like them. Here I am forty years later doing just that!
I'm blessed to be able to bring the historic towns of California's Gold Country that I call home to life on the pages of my stories. Family of Her Dreams takes place in Shingle Springs, once home to the busiest railroad depot in the state. Sadly my (fictional) stationmaster, Spencer Abbott, was recently widowed. But not to worry. Headstrong Tess Grimsby arrives to care for his young children—and give her handsome employer a reason to smile again.
To see just how happy I am about being a Harlequin author, you can watch the video below. I think the fifteen-year-old inside me who first dreamed of writing them slipped out. If you listen carefully, you'll hear a girlish giggle.
Family of Her Dreams is available now from Harlequin Love Inspired.
For more about Keli, visit her website, find her on Facebook, and follow her on Twitter @KeliGwyn.