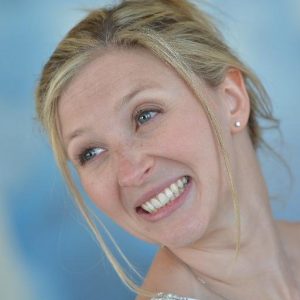 We have a visitor to the SYTYCW blog! Please give a warm welcome to Laurie Johnson, who is an associate editor for Harlequin Presents, as well as working with authors across all UK-acquired series: Presents, Romance, Medical, Historical and Dare. Here's a little bit about Laurie…
How did you get started at Harlequin? Did you always know you wanted to be a romance novel editor?
After university, I spent four years as a journalist but eventually decided to go after the job I really wanted—I applied for an internship at Harlequin! I've read the books since I was twelve and it was a dream just to even apply. It took a lot of persistence (and many begging, pleading, nagging emails), but the HR recruiter finally gave me a chance. She said I showed "enthusiasm." Since that day I've never looked back. For me editing romance novels is the best job in the world!
Can you describe a typical day?
My day starts off with coffee—it's essential!—and then I attack my emails. There's usually a lovely manuscript or two waiting for me in my inbox so they get uploaded to my kindle to be read asap. I tackle any admin, such as new contracts or uploading manuscripts for production. More creative admin includes writing title suggestions and back cover copy, as well as reading through proposals for new stories. And there are always several meetings to attend, such as cover art briefs, or author calls to make too. In the London office, we have fantastic views of the city and I love looking out over London as I brainstorm story ideas with authors, it's a great source of inspiration! My afternoons tend to be reserved for reading, so I try to take myself off to a quiet nook with a cup of tea and get lost in our fabulous romances. Once I'm finished reading, I write up my revision suggestions and send these along to the author. And that's my day in a nutshell!
What was the first project you were really excited about? What drew you to it?
The first project I was really excited about was one of the first books I ever bought. It was a Medical Romance and it just immediately grabbed my attention. We'd had spate of small town docs and GPs, and while these are really lovely and very heart-warming, at the time I was looking for something a bit different. What drew me to it was the fresh, new setting; it was a mission surgeon working in West Africa. It was beautifully described and so well-written. But what stood out about it most was the author's voice. It was fresh and exciting with a wonderful balance of emotion and pulse-racing medical drama, so it was perfect for Medical Romance. This project was so exciting for me because it was the first book I bought from the slush pile and it was great to see the author go from slush to sold!
What is your favorite part of your working day?
My favourite part of the day is when I get to read a manuscript. It's great settling down with my Kindle to read an author's first draft or revisions. I love helping authors make their story the best possible version it can be and I'm always in awe of the fantastic job they do. How they take those suggestions and make them their own so their stories really shine is amazing. I'm very proud to be part of that process.
What have you learned most about working with writers?
That ideas are endless. There are always fresh new ways of telling a story and there are no limits to an author's imagination.
Are there any books you've read recently that capture the sort of projects you're hoping to edit?
I'm looking at possible acquisitions for our new series, Harlequin Dare at the moment, so I've been reading really contemporary, super sexy stories, such as Beautiful Bastard by Christina Lauren and The Game Plan by Kristen Callihan.
What's something no one (in the office/out in the writer world) knows about you?
In my spare time, I like homey crafts like cross-stitch, crochet and last year I got into quilting. I've made one quilt for my godson's first birthday and my friend now wants another, so at least she liked it. For me crafting is a great way to relax. I love sitting by the fire, usually with a cat on my lap, making something pretty J
Do you have any words of wisdom for aspiring authors?
Keep trying, don't give up! And remember, it's all about the conflict. Give your hero and heroine strong internal conflicts, use these to keep them apart (don't rely on external conflicts) and show the reader how they overcome these deep-seated issues to reach their Happy Ever After.