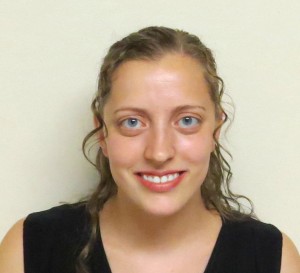 Meet Dina Davis, the newest member of the Harlequin Love Inspired editorial team!
Hi! I'm Dina Davis, Assistant Editor/Editorial Assistant for Love Inspired Suspense and Love Inspired Historical. I joined Harlequin in April, and I'm loving every moment! But how couldn't I love a job where I spend so much time reading romance novels? If you'd like to learn more about me, here are my confessions:
1. Traveling
The first time I ever stepped into a plane, I was heading to Florence to spend my freshman year of college abroad. It was terrifying, yet exhilarating—I'd never even left the East Coast or spent much time far from my hometown near Pittsburgh, Pennsylvania (Go Steelers!). Since then, I've visited Spain, Ireland, Belgium, England, India, France, and Greece. I love throwing myself into a new culture, discovering amazing food, and meeting people from different backgrounds. And it's always fun when characters in a book have the travel bug too. I enjoy reading about characters exploring an exotic location for the first time and learning something new about themselves in the process.
2. Romance
My husband and I are celebrating our one year anniversary on May 31! We met while we were both studying in Florence, and ours was a whirlwind romance. We explored Italy together, learning the language and basking in the history. We rode in a gondola, ate pizza in the shadows of the Colosseum, saw Michelangelo's David, and even shared the experience of being pickpocketed! In just a few short months we fell in love and felt that we'd known each other for a lifetime. So we got engaged and spent the next semester in a long distance relationship (him in New York and me in Florence). Six years later, we finally tied the knot! My own experience has made me love romance novels even more. I like a great story that involves everything from the cute little moments to the tough ones, a book that has relatable characters finding love . . . and a declaration of love that sets the butterflies fluttering in my stomach.
3. Books
I became hooked on romance novels when I was thirteen and read a Nora Roberts book. There was no turning back! But I love a wide array of other genres as well. My favorite books range from 1984 to Gone with the Wind, from the Harry Potter books to Gone Girl and anything by Nora Roberts. The most important thing for me when I am reading is that the characters come to life and pull me into another world. If something good happens to them, I want to feel their joy. And when something bad rips through their lives, I want it to tear into my heart. I love a book that can make me laugh and cry, that I stay up all night to finish reading—and when I close it for the last time it's a bittersweet goodbye.
4. Television
I enjoy stories of any kind, so when I'm not reading, traveling, or spending time with the people I love, you'll probably find me watching TV. Right now I'm watching Scandal, Suits, Graceland, Chicago PD, How to Get Away with Murder, Once Upon a Time, The Walking Dead, Grimm, and Pretty Little Liars. I like to discover a show on Netflix and sink into it from the very first to the final episode (my most recent binge was Californication, but the most intense was 24). And I love to rediscover a show – right now it's Buffy the Vampire Slayer. As with reading , when I'm watching a show I want to get pulled into the story by characters I care about, even if it's a chemistry teacher turned meth dealer or the leader of a motorcycle gang.
5. Adventure
I thrive on pushing myself to my limits and stepping out of my comfort zone—whether it's exploring a new city, crawling through a cave, conquering a high and fast roller coaster, hiking or camping in a new place, or just meeting new people. Though many of these activities force me to face my fears (heights, enclosed spaces, public speaking), they also make life worth living. So I love reading a book where the main characters face their own fears head on and cannonball into a new adventure! Don't be afraid to push your hero and heroine out of their comfort zones and into extreme (but believable) situations. If you do, you'll have me at the edge of my seat.
Questions for Dina? Comment below! And follow Dina on Twitter @DinaJDavis