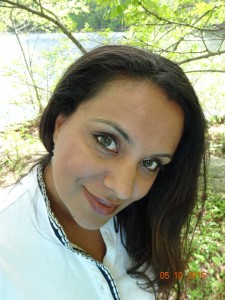 Congratulations to Sophia Sasson, our newest Harlequin Heartwarming author!
I couldn't believe it when I finally got "the call."
I still remember sneaking my mom's Harlequin romances to read under the covers with a flashlight as a teenager. My mother (still an avid Harlequin reader) described my sister and I coming of age as "two Mills and Boons waiting to happen." Becoming a Harlequin author is a dream come true.
I've been writing for over a decade. Three years ago, I found the Harlequin Community and, hearing the inspiring stories of other writers, decided to pursue writing as a serious career. I already have a full time job as a public health scientist. I have a doctoral degree in health policy and a Masters in Biostatistics, but I dream of spending my days writing books that make people feel, to create an escape for the reader.
The success of Love Arranged started in June of 2014 when Harlequin announced the "Write from the Heart" contest. My wonderful critique partner, Jayne Evans, encouraged me to submit, but that same day I discovered I was going to lose a much-wanted pregnancy. The life-saving surgery I needed would leave me unable to have more children. The first-page entry for the contest was due the day after the surgery. I was recovering physically but an emotional mess. I opened my laptop and began typing.
Out came Meera, a British Indian doctor who has had her entire life mapped out for her by the parents who pulled her out of a squalid orphanage. She plans to marry her childhood best friend and go into practice with him. She will be a dutiful Indian daughter, wife and mother. She comes to small town America to complete a one-month medical rotation and falls in love with a cowboy. There go her plans! She must confront who she is outside the cocoon of her parents' and her cultural values. Is she really willing to give up everything for her cowboy?
I was still at home recovering from surgery when I learned I was selected for the second phase of the contest. The story had been pouring out of me, and I remember Jayne telling me it was my best work yet. In July I learned I was one of the winners and received personalized editorial advice from Heartwarming Editorial Assistant Claire Caldwell.
Claire provided a lot of feedback, talking through revisions and letting me run ideas past her. We went through two versions of the manuscript before she forwarded it to Senior Editor Victoria Curran. I spent the first week constantly, irrationally, refreshing my email inbox, but then decided to start working on another manuscript so I wouldn't be tempted to harass Claire every two minutes.
One day my cell phone rang and Claire told me Harlequin was ready to go to contract but Victoria wanted additional edits. Of course I was willing to make more edits! When Claire began talking about next steps, including contract terms, I realized this was "the call." I'm not sure how I stopped myself from screaming!
Weeks later, I'm still pinching myself.
So, now I can read romances for "research" and write them for "work"? Yeah, sign me up!
I've learned so much these past few months from Claire's mentorship. I'm grateful to Victoria for believing in me. One of the reasons I want to write for Harlequin is the tremendous editorial support. Another is the support of the Harlequin writers—both published and yet-to-be—in the Harlequin community, and on Facebook and Twitter. Thank you all so much for your support.
Most of all, I have to acknowledge my real-life cowboy husband who is now so well versed in the Harlequin lines that when he was trying to get my attention one night (as I tapped away on the laptop) he said, "Honey, I'm looking for a little less heartwarming and a little more blaze." He definitely inspires me to write from the heart.
Meet Sophia on her website, sophiasasson.com, Twitter @SophiaSasson and on Facebook. And chat with more romance writers at Harlequin Community.