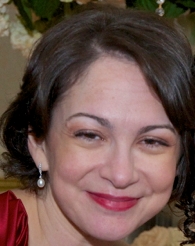 This week, Susan Litman, Editor for Harlequin Special Edition, shows us why we should make our characters suffer!
"They met. They fell in love. They lived happily ever after. The end." Sounds…pleasant, doesn't it? Nice…but not very exciting. When I see a pitch like this, I always ask the same question: "Where's the beef?" In other words: "Where is – and what is – the conflict?"
Whether your favorite romance is sweet, sexy or suspenseful, they all have to have one common element to be a compelling read – conflict! Separate from the plot (but often enhanced by the action), conflict is driven by the characters and their emotions. The hero and heroine each have a unique back story and their own set of desires or goals or secrets (always in opposition to each other!) that have led them to the start of the book and to their first meeting.
And when those characters meet, and those emotions and opposing desires clash? Well, in a perfect world, you've got tension – dramatic, nail-biting, simmering tension! Conflict is the lifeblood of any good story – without it, a book is flat, lacking in true depth or complexity of character and feeling. Look at it this way: in Diana Gabaldon's bestselling novel Outlander, Claire Randall travels through a set of "standing stones" in Scotland and finds herself in the year 1743, and she longs to return to her present time (1945) and her husband, Frank. But it is her very real and present danger from a British army officer – to say nothing of the Scots who believe she is a spy – that forces her into a marriage of convenience with Jamie Fraser. Is she an adulterer? Depends who you ask. Is she in love with two men? At the start, yes, for she rebels against the marriage – until she realizes that she's fallen completely for Jamie, even if it means giving up her former life entirely. (Talk about conflict! Would you give up running hot water for the King of Men and a life on the run? Discuss! :))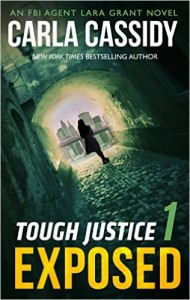 In Harlequin's 2016 serial Tough Justice, written by Carla Cassidy, Tyler Anne Snell, Carol Ericson and Gail Barrett, a female FBI agent named Lara Grant has just returned to duty with a new unit in New York City when her dark past catches up to her, putting her entire team at risk. Using clever plot twists and careful release of information to build Lara's character and slowly reveal her secrets, the reader is kept guessing throughout each installment, thanks to an enemy who loves to play cat-and-mouse with his victims. The payoff for the reader? By putting Lara and her fellow agents through such dramatic tests, we could see them responding to their own inner drivers – we see them in situations that drive personal change and compromise, and how they come together as a team under the most complex and high-octane circumstances. But it is ultimately the juicy, multilayered conflicts – between protagonist and villain, between Lara and her fellow agents, even Lara's battles with her own fears – that drive the story.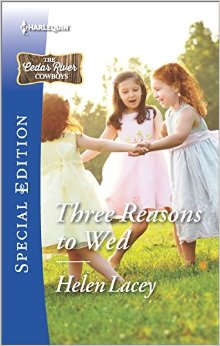 Another great example can be seen in Special Edition author Helen Lacey's book, Three Reasons to Wed (on sale January 2016.) In this reunion story with a twist, Marissa Ellis comes back to her hometown after the death of her best friend to help widowed single dad Grady Parker look after his three little girls. It sounds straightforward enough. But let's take a closer look, shall we?
Marissa and Grady were secretly attracted to each other back in high school – but Marissa's best friend, Liz, fell hard for Grady, and, well, one thing led to another, and Marissa watched her best friend and her crush dance at their wedding after graduation! Now she's back in town after her own failed marriage, to help Grady with his girls – and neither she nor the sexy single dad are happy about this arrangement!
Grady adored his wife – and he's devastated at her loss, even after all this time. But he's nervous around Marissa, because she makes him…feel things, things he probably shouldn't feel when he's got a ranch to run and kids to raise!?
Helen Lacey throws two complete opposites together in a sexy, deeply intense romance that has some surprising twists, but it is her multilayered and highly emotional conflict that drives the story and keeps the tension running high. Once again, the hero and heroine are faced with new experiences and situations that test their previously held feelings and lead them to grow and change – but will they grow together? There's only one way to find out!
The Americans
One of my favorite examples of conflict on television – if you want the definition of "juicy" is The Americans. This is, on the surface, a show about spies – but it's really a show about the intricacies of marriage (which of course is why it is so, so intriguing to watch!)
Elizabeth and Philip Jennings are the picture-perfect small-town USA couple: two kids, lovely house, car…except they are Soviet spies posing as said happy couple, working for the KGB. They are legitimately married, and they children are truly theirs – but it is a marriage arranged between two Soviet agents by the KGB, and they "had" to have the children to make their American life look real. As we enter the series, though, it is the 1980s, the beginning of the end of the Cold War. As the series navigates their various assignments, it also navigates their relationship as the couple actually begin to come together in their marriage for the first time – ever. One actually wishes to defect to the US – one is a true-to-the-heart Soviet. One longs to confess the truth to their children, to bring them into this world – the other longs to shield them from the truth as long as possible. As viewers, we not only get to see the adventures, the chase scenes, the spy gadgets of the 1980s (not as MacGuyver as you'd expect!) but the up-close-and-personal glimpse into a marriage at first very much falling apart – but forced to stay together – and later, slowly but surely coming together out of true emotion…just as life becomes impossible. (And if I sound cagey…it is because there will be #nospoilers here! :))
So you see, you can write a perfectly nice story – but I can guarantee that it won't stick in the editor's mind. But if you've managed to craft a rich, layered, emotionally complex conflict driven by a strong plot, well, that's as good – if not better – than a perfectly grilled steak!
Editor, Special Edition
For her recipe for a fresh story, read Susan's next post here!