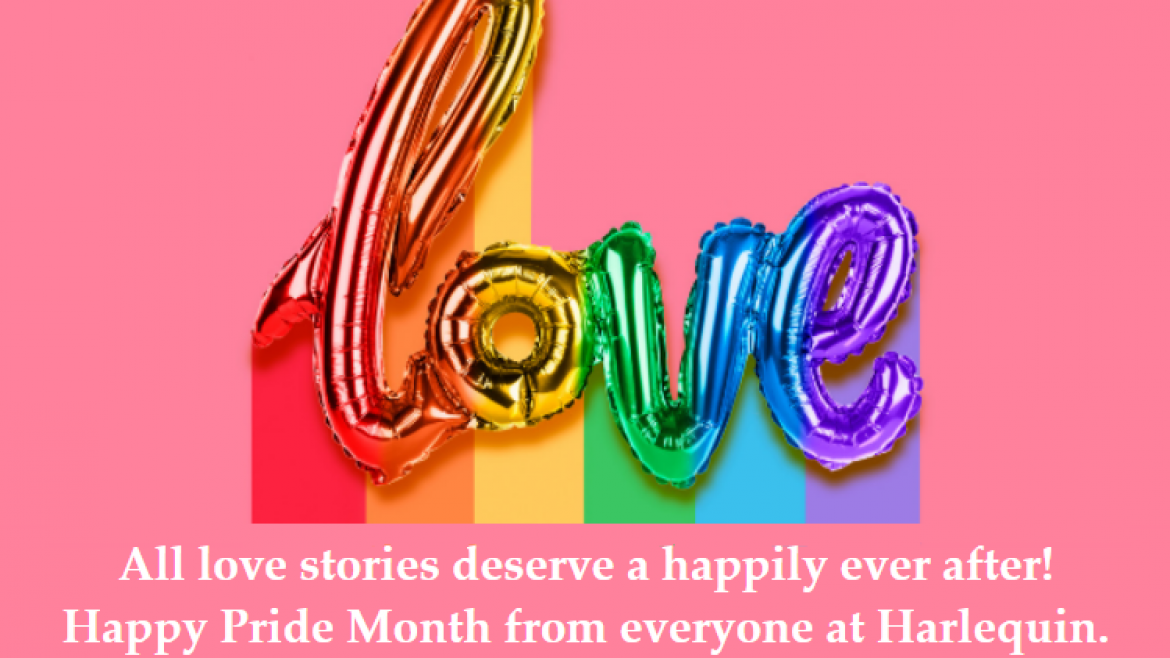 June 2, 2022
The joy of falling in love is universal and all romance fans want to see themselves reflected in HEAs. Harlequin is making steady progress publishing more diverse authors and stories across all romance imprints, adding richness and variety to the entertaining books Harlequin is known for.
Here's an update on what Harlequin is doing to promote diversity, equity and inclusion in our publishing programs.
LGBTQ+ ROMANCE
New way to discover LGBTQ+ romance
Harlequin.com has introduced a web page that makes it easier for readers to find the LGBTQ+ romance stories we have to offer in one place. It will be promoted in social and email promotions throughout the year.
"L.G.B.T.Q Romance is Booming," says the New York Times
A recent New York Times article about surging sales of LGBTQ+ romance novels included three books published by Harlequin: D'Vaughn and Kris Plan a Wedding by Chencia C. Higgins (Carina Adores); The Lights on Knockbridge Lane by Roan Parrish (Harlequin Special Edition); and The Romance Recipe by Ruby Barrett (Carina Adores). You can read the full article at the New York Times website (possible paywall).
HAPPY BIRTHDAY CARINA ADORES!
Carina Adores turns two in June! Since its launch in 2020, it has attracted an inclusive group of talented writers whose fun, heartwarming and tropey romance stories with LGBTQ+ protagonists have caught the attention of the New York Times, Entertainment Weekly, Oprah Daily, The Washington Post and Bustle, to name a few.
Check out Carina Adores at Harlequin.com for the latest books.
And read the submission guidelines at our Carina Adores page on this site.
ROMANCE INCLUDES YOU INITIATIVES
We reach out to authors in underrepresented communities through events, submission calls and mentorship opportunities under the Romance Includes You banner.
Harlequin editors saw more than 140 story pitches and requested 40 submissions from authors at the #RomanceIncludesYou pitch event on March 30. Held semi-annually, these events are bringing new voices to the Harlequin community.
No need to wait for pitch events – we encourage writers in BIPOC, LGBTQ+ and disabled communities to add the #RomanceIncludesYou hashtag with their manuscript title when they submit their story via Submittable. This helps editors easily see submissions for review.
Mills & Boon named British romance writer Faye Acheampong the winner of our most recent mentorship opportunity for writers in the UK and Ireland. Faye will work with a mentor editor this year to publish her debut – a holiday romance set in a London toy shop – in Harlequin Romance in Fall 2023! Find out what inspired Faye to apply.
The Romance Includes You Mentorship will continue in 2022. Watch this website for details.
EXPANDING OUR OUTREACH
Black Pens
Harlequin/Mills & Boon is excited to sponsor the first-ever Black Pens event in the UK this summer. Described as a "writing retreat for Black womxn," it gives writers a safe space to focus on their WIPs and learn from each other. A portion of our support will go toward the registration fee for one writer to attend. black-pens.com
Chicago Spring Fling
Harlequin editors took part in pitch appointments and Q&As in this vibrant April conference that attracts a diverse community of romance writers. chicagospringfling.com
Romance Slam Jam
Harlequin's Dianne Moggy and Carol Dunsmore joined an RSJ Think Tank event in May to meet writers and answer questions about Harlequin and publishing. Harlequin is a sponsor of RSJ's Virtual Romance Book Con again this July. Romance editors look forward to meeting authors during pitch appointments. rsjconvention.com
The Festival of Literary Diversity
Harlequin had a virtual booth at The FOLD Writers' Hub on opening day and throughout the week-long Canadian festival celebrating diverse voices and storytellers. We received romance submissions through the Pitch Perfect event and editors are meeting with authors during May to share feedback on their pitches. thefoldcanada.org
CELEBRATING DIVERSE VOICES
Harlequin aims to promote books inclusively by sharing a wide variety of voices, stories and perspectives with readers in ongoing promotions. In addition, we celebrate authors and books during months that create more awareness of diverse voices in publishing.
We're marking Asian American and Pacific Islander Heritage Month and Pride Month with social media campaigns, giveaways, blog posts and recommended reads (ICYMI, here's BookTuber Lisa London featuring Korean romance).
Follow us on Instagram @HarlequinBooks, @bookclubbish and @htpbooks, and check out the Harlequin Ever After and BookClubbish blogs to learn more about all the fantastic books we publish!