by Evan Yeong
I somehow waited a full ten days, an entire week and a half, into 2020 before releasing the first writing challenge of the year. After all, this is the decade where we're all (yes, I'm including myself) taking steps to be the best writers we can be! And what better way to start than competing for a spot on the Editors' Choice Top 3?
Some of you may have noticed that each of my challenges has attempted to fit within the theme of the month it's posted, and January is no exception. I may have skirted around explicitly asking you to write about Thanksgiving this past fall, but I found it impossible to avoid focusing on the New Year's celebrations this time around.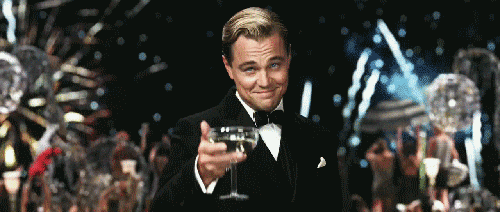 Your task is to describe your hero and heroine as they share the final moments of 2019 together. They can be at a party or enjoying a quiet night in alone together. Maybe they're total strangers who just bumped into one another, or mortal enemies who want to be as far away from the other as possible, the choice is yours! My added element to ramp up the challenge is that they cannot share a countdown kiss. Everyone else in the room may be locking lips, but not these two, and it's up to you to tell us why!
Now this is typically the part of the post where I tell you all that you have "three to five paragraphs" for your submission, but new year, new rules! Over the past few months I've realized that not only were many of you not sticking within these guidelines, but different writers naturally have different paragraph lengths, which gave some a bit of an advantage. Going forward submissions are to be 650 words or less. You can utilize the Word Count function in Microsoft Word, or use an online tool if you'd like, but please stay within this limit.
As usual, we will be accepting submissions until the end of the day Sunday, January 12th, 2020. The following day the editors will be reading and judging them, and I'll update this post that afternoon with the winners!
It's an exciting new year for SYTYCW, and we're eagerly anticipating all your takes on this romantic(?) moment!
---
UPDATE: If people are resolving to write more, they're doing just fine halfway through January! We received a whopping 27 submissions, which (full disclosure) may be prompting me to shorten the word limit a bit. That said, everyone did stay within it, so excellent work on that front!
The first Editors' Choice Top 3 for 2020 are:
Ruby in First Place, whose lovely engagement scene warmed our hearts (and acts as a helpful primer on time zones).
Kate Edwards in Second Place, who left us dying to know more about the actor and his frustrated publicist.
Cheryl Anne Graham in Third Place, with her stellar example of how a respectable mental health professional should behave.
Also worth noting is Hanna, who receives an Honourable Mention for a heroine whose sloppy evening at the bar was very funny and (just a little bit) relatable.
Thank you so much for participating, and for building one another up in the comments! Congratulations to our winners, and we hope you come back tomorrow for a special post featuring multiple editors!