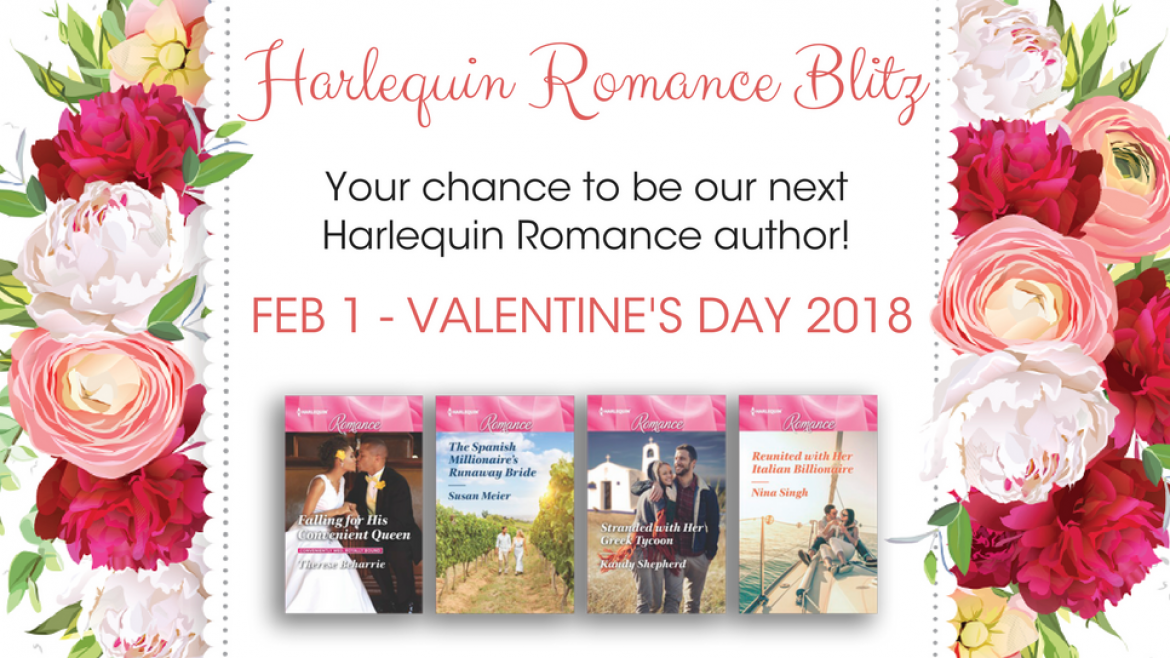 Could you be our next Harlequin Romance author?
Harlequin Romance is always looking for new authors! We're committed to finding and nurturing brilliant, contemporary new voices—and now is your chance to be one of them!
We're hosting a Harlequin Romance Blitz, a big opportunity for your Harlequin Romance submission to get fast-tracked.
Submit your contemporary Harlequin Romance submission between February 1st and Valentine's Day. Get a response, including editorial feedback, by Wednesday, February 21st!
Harlequin Romance offers uplifting escapes featuring real, relatable women and strong, deeply desirable men in 50,000-word contemporary romances set in glamorous locations around the world.  Relatable characters, engaging emotional drama, low sensuality and an unforgettable love story are a must!  Check out our full guidelines at submittable.com here.
What you need to know:
The Harlequin Romance Blitz will run from Thursday 1st February 2018 – Wednesday 14th February 2018.
We're looking for a cover letter that introduces you and your book and includes any previous publishing credits, first chapter and complete

synopsis

only – no need to have the full manuscript written!
If we love the

voice

, we'll invite you to submit further chapters and work with you on developing your story to its full potential. Please note that requests for additional chapters are not a guarantee of publication.
For details on how to submit and for full Ts and Cs please go to harlequin.submittable.com, Harlequin Romance Blitz.  This page will be live from Thursday 1st February 2018 – Wednesday 14th February 2018.
Only one entry per person.
All entries will receive editorial feedback by Wednesday 21st February 2018.
This isn't a contest but a chance to showcase your work to our editors and get some helpful feedback in an accelerated time frame, and maybe even become the newest Harlequin Romance author. If you've ever dreamed about being published, send us your submission. We want to read your story!
Here are a few tips on what makes the perfect Harlequin Romance:
The heroine: she is key in this series! She needs to be relatable and her story should make the reader wish they were in her shoes!
The hero: he's gorgeous, successful and a strong man who is worthy of the heroine.
Settings are glamourous,

aspirational

international locations that whisk the reader away.
Captivating internal emotional conflicts are at the heart of each story.
These stories are high on emotional and sensual tension but the bedroom door stays firmly shut.
We're not currently looking for any cowboy/western themed stories.
Just because these romances are sweet, it doesn't mean they can't be edge-of-the-seat exciting! This is the home of feel-good, entertaining and fresh-paced romance.
Keep an eye on writeforharlequin.com and follow the editorial team on Twitter @SheilaHodgsonMR, @CarlyMByrne and @cellisharlequin for more writing tips and exclusive content!
Any questions? Leave a comment. We can't wait to hear from you!