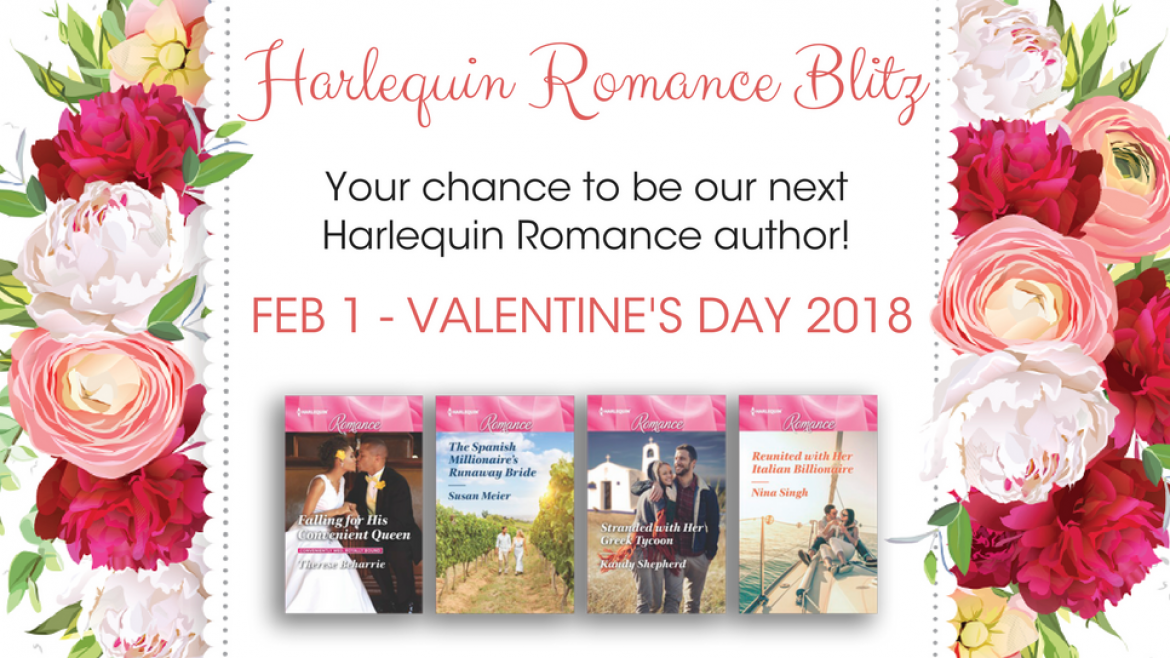 What is the Harlequin Romance Blitz?
Harlequin Romance is always seeking new authors to write for our line. We're committed to finding and growing talent…and the Harlequin Romance Blitz is your chance to become one of our authors! Send us your contemporary Romance submission between February 1st and Valentine's Day, and you'll get a fast-tracked response including editorial feedback by Wednesday, February 21st.
Harlequin Romances are romantic, uplifting, couple-focused stories that invite readers to get swept away to glamorous destinations all over the world, and experience all the intensity, emotion and sparkle of falling in love!  The sensuality level is low – the bedroom door stays shut – but the emotion is high.  We're looking for fresh, contemporary voices who can explore that intense emotional connection between the hero and heroine.
So… What are the key ingredients for a prefect Harlequin Romance?
A Harlequin Romance novel is all about the heroine; she's key in this series! She needs to be real and relatable so that readers can instantly connect with her, and her story should make the reader wish they were in her shoes!
But that doesn't mean we can forget about the hero! We need a hero we can immediately trust, who is worthy of the heroine. Not all our heroes are super rich international tycoons (although some might be!) but they are successful in their own right and should be a strong man our heroine would aspire to be with.
Gorgeous, glamorous settings are encouraged and international settings work well to add escapism and aspirational elements to our romances.
They should be emotionally intense reads, ranging from the classic to the highly contemporary! We're interested in being captivated by innovative emotional conflicts as well as traditional emotional themes developed in a unique way.
The key focus of the story is the development of the romance between the hero and the heroine.
Harlequin Romance books are low sensuality: they're high on emotional and sensual tension by have no explicit sexual detail (keep the bedroom door firmly closed!)
But just because these romances are sweet, it doesn't mean they can't be edge-of-the-seat exciting! Make sure to throw your reader straight into the story!
Give rein to your own unique style! We advise that you read widely from the line to discover more about Harlequin Romance, but don't try to imitate things we've seen before – write the story you want to, and let your authentic voice shine through.
Our books are 50,000 words.
Harlequin Romance no longer features cowboys/western themed stories.
What would the Harlequin Romance editors like to find in the blitz submissions?
"A Harlequin Romance set in a fresh, fast-paced international location!" – Sheila Hodgson, Senior Editor

"A Harlequin Romance that gives a unique twist on a classic theme – a surrogate pregnancy, a runaway groom, the possibilities are endless!" – Carly Byrne, Editor

"A story that captures the diversity of the world around us!" – Charlotte Ellis, Editorial Assistant
And to get an author's perspective on the series, read Harlequin Romance author Therese Beharrie's blog post, Why You Should Be Reading Harlequin Romance.
From February 1st to February 14th, visit our submissions page at submittable.com for details on how to submit and full Ts and Cs on the Harlequin Romance Blitz.
Good luck and happy writing – the Harlequin Romance team is excited to read all your fabulous submissions!
Any questions? Comment below and we'll do our best to answer.