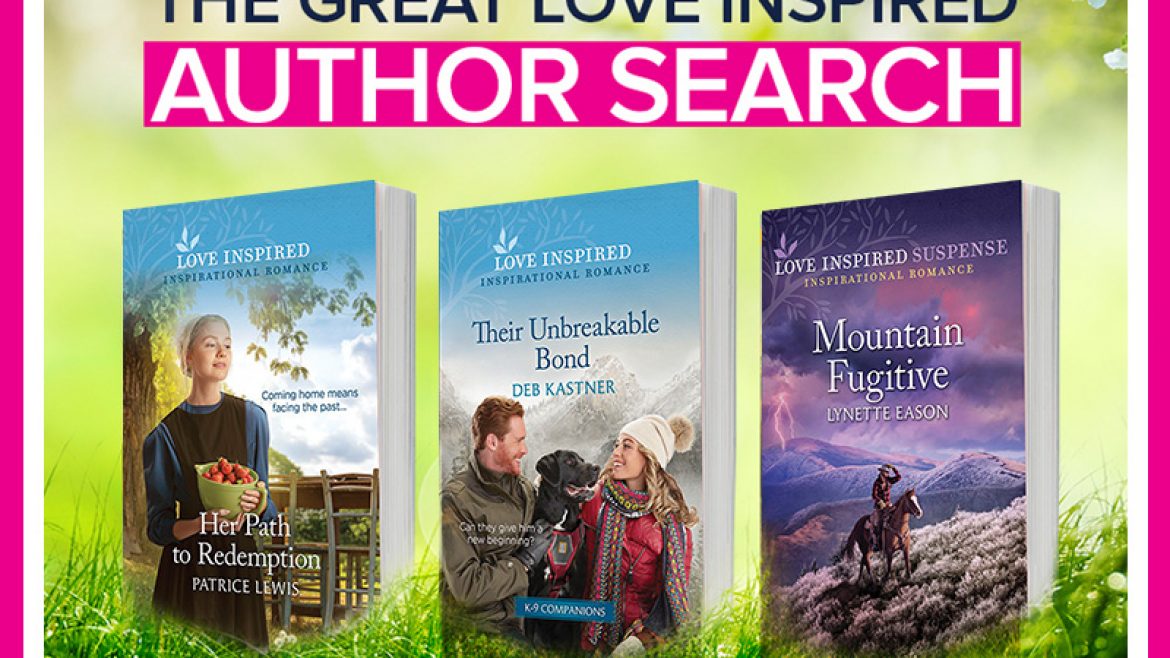 The popular Love Inspired submission blitz returns!
Love Inspired and Love Inspired Suspense are on the hunt for some fabulous new authors, and we want you! If you think you've got the chops to wow us with your inspirational contemporary romance or romantic suspense ideas, we encourage you to pitch it to us!
For this opportunity, the Love Inspired editors are once again on the lookout for fresh talent. We invite you to show us that you're the total package in these two stages.

Round 1: Idea and Voice — Hook us with your great idea and intriguing voice by submitting a query letter (including a short blub about your story), a 1-3 page synopsis and your first chapter targeted to either Love Inspired or Love Inspired Suspense. Authors who wow us will be invited to move on to Round 2.
Round 2: Full Package — Convince us you're the real deal by submitting your full manuscript (word count of 55,000). The sky's the limit for these authors. A contract could be within your reach if you bring it all together into a manuscript that we think our readers will love.
Here's Our Timeline:
ROUND ONE
By March 15: Submit your query letter, synopsis and first chapter of your inspirational romance or romantic suspense manuscript through our The Great Love Inspired Author Search page on Harlequin's Submittable site.
By April 30: The editors will review the entries and provide a response, letting you know whether you'll move on to the next round and be invited to submit your full manuscript.
ROUND TWO
By August 1: All requested full manuscripts must be in-house.
By October 17: Editors will review the submissions, and decisions will be made to contract, send a revision letter or reject each of the stories. All authors who submit full manuscripts will receive notification of our decision within this time frame.
Helpful Tips:
Please do not submit manuscripts that have already been rejected or are currently under consideration with any Harlequin line.
This submission call is for new authors who have never been published with Harlequin and don't already have full manuscripts under review by a Harlequin editor.
As we ask for the first chapter only, your manuscript does NOT have to be complete when you submit to us in the first round. If we request a full manuscript, however, it should be submitted by August 1 in order to receive feedback within the outlined deadline.
Check out the hashtag #LoveInspiredAuthorSearch on Twitter, and follow @TinaCJames, @MelissaEndlich, @EmilyRodmell, @ShanaAsaro, @DinaJDavis and @liiindseyy. We'll be sharing tips, insider know-how, our wish lists and more throughout The Great Love Inspired Author Search.
Read Love Inspired and Love Inspired Suspense novels to become familiar with the imprints. Check out free books at TryHarlequin.com.
Hear our editors talk about the lines they acquire for here (Love Inspired) and here (Love Inspired Suspense).
Read up on what the Love Inspired editors are looking for in a story in this blog post.
Only one submission per author, please.
Sound exciting? If you think you could rock this pitch, get ready to show us your stuff. Be sure to read and follow the guidelines for Love Inspired and Love Inspired Suspense. Deadlines are tight, so keep writing while you're waiting to hear back. And if your book is complete now, don't forget to tell us in your cover letter. You never know. We might want to pounce on your book right away. Ready, set, GO!

Best wishes,
The Love Inspired Editors