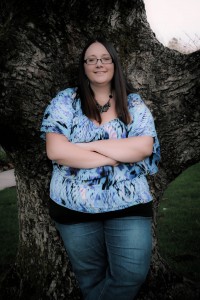 We thought we'd ask some of our new authors some questions about how they got here! So lets welcome Melinda Di Lorenzo as our first feature!
BAD REPUTATION (the new title of Promises Made, Promises Broken) is coming out from Harlequin E this June. It was one of the SoYouThinkYouCanWrite/Wattpad winners, and we're delighted to feature it!
Seven Things We Want to Know:
What got you interested in writing?
My parents tell me that from the time I could put pen to paper, my room was covered in story notes. What I remember is always being inside my own head – I would spend way more time crafting out the "idea" of play than actually playing. Writing it down just seemed like a natural progression. I have plot outlines and partial stories from when I was about 8 or 9 years old kicking around the house.
What has been the most useful thing you've done to get to this point?
I don't know if there's a single most useful thing. I'm glad I pursued multiple forms of creative writing at the college level. I'm glad I finished my BA in English. Those two things gave me a solid background for writing, for editing, and for self-expression.
What is the one thing you wish you'd learned sooner?
This might sound like a silly answer, but I wish I'd learned to call myself a writer soon. I was so incredibly shy about saying it that I probably lost a few opportunities.
Which book or blog or site or conference or contest would you recommend for new writers?
Well, because I was successful on the SYTYCW contest, I think it's a great opportunity. I would also recommend connecting with review bloggers – they're a great resource for making connections.
What drew you to Harlequin?
My friend, Barb Han, who writes for Intrigue pushed me to enter the SYTYCW contest. She raved about how fantastic her experience with Harlequin has been. She really sold me on the idea of working with such a great company.
What did you do when you got the call?
Actually, I got an email…And I cried alone for a minute, then called my husband, my parents, and texted my BFF.
What is the elevator pitch for the book?
What happens when a rich, charming boy meets up with a kind-hearted, community-minded girl who sees right through his gorgeous smile? They both have pasts to outrun. They both have things to prove. There's an incredible attraction. And one last secret they must forgive…
Find out more about Melinda on Twitter as @MelindaWrites, on her blog, on Wattpad and don't miss the upcoming novel this June!
We loved the project in the contest and are eager to see what else she comes up with!
Check out the Writing Guidelines for more details on what Harlequin E is looking for!