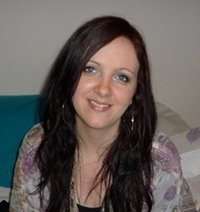 We'll miss Harlequin Historical Editor Sarah Stubbs when she leaves Harlequin this week, but wish her well on her new journey! She'll still be freelancing, though, so we aren't losing her entirely! Meanwhile, she's been keeping busy and we wanted to share this info!
The best part of being an editor…
Our newbie Historical author Elisabeth Hobbes has received not one, but two CALLS from me brimming with exciting news. The first was to let her know she had won third place in the So You Think You Can Write competition. The second was to tell her that she had nailed it with the revisions I had requested – she had earned herself a two-book contract. All of her hard work had paid off – she was not only one of the shining stars of the competition – but an official Harlequin Historical author!!!
Elisabeth Hobbes' talent surfaced in the initial round of SYTYCW judging – as the UK editorial team read their careful way through hundreds of first chapters to pick out the gems. Elisabeth's wonderfully unique voice and the beginnings of what promised to be a gripping medieval adventure left us thirsty for more – and we avidly requested the full. I volunteered to read the entire manuscript (perhaps a little too eagerly, I practically growled at the other editors to back away – this amazing story was going to be mine, all mine!) and boy was I glad I did…
Once I started reading on the train home, I was so caught up in her whirlwind medieval romance that I almost missed my stop, and tripped up over the feet of a few angry commuters as I rushed to disembark while still absorbed in my Kindle. Elisabeth's story had that pure timeless quality – her writing was so fresh and alive that I was instantly transported to her vibrant Medieval world. I fell irrevocably in love with her spirited, strong-willed heroine and lived and breathed every moment of her thrillingly dangerous journey with my heart in my throat. I put the story forward to the top ten and raved wildly about it in the office and online. It quickly gained support on the SYTYCW website, going on to be voted third in the competition by Elisabeth's newly acquired fan base. I made the first call…
While Elisabeth's story had a raw excitement and energy to it and bags of amazing potential, it still needed a little pruning and polishing to meet our readers' expectations of a Harlequin Historical. Elisabeth responded with good grace and infectious enthusiasm, working diligently to flesh out her hero with a meatier conflict and ensure the romance took centre-stage in her story. I couldn't contain my excitement when I called her the second time to tell her she was going to be published!
Congratulations, Elisabeth!!!
Not that we want to nearly miss our train stops, but Harlequin editors are always on the lookout for undiscovered Historical Romance writing talent. Editors are perhaps just as thrilled as new authors when we make those very special calls. With this in mind, I've put together some hot tips to help you target your unpublished work at Harlequin Historical:
Offer us a fresh twist

on a classic Harlequin Historical theme and push the boundaries – what is it that makes your story and your

voice

unique?
Don't let

secondary characters

and plots drive the story. Our readers are interested in the emotional engagement of your hero and heroine – so ensure the focus of your story is on that central romance.

Keep up the pace of the story

– beware of overly-detailed exposition and back story. Use background research to create an authentic historical world, but don't let the romance get lost in all that beautiful detail.
Keep your

voice

fresh and contemporary – don't go too far with antiquated language.
I look forward to reading the next historical romance to capture the hearts of Harlequin Mills & Boon editors.
Elisabeth is the sixth author acquired from the SYTYCW contest!
You can find out more about Elisabeth on her new blog or follow her on Twitter as @ElisabethHobbes and keep in touch with Sarah as @SarahMStubbs. And check out the Historical Writing Guidelines for more information!