Harlequin Presents author Jennifer Hayward is here today to tell us all about why she loves the character of Coach Eric Taylor from Friday Night Lights. He's a personal favorite of ours too, so enjoy the explanation…and the visuals 🙂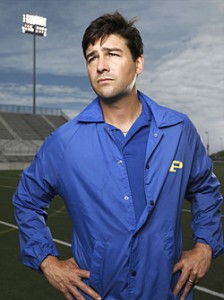 Kyle Chandler in his role as Coach Eric Taylor on the television series Friday Night Lights.
I often say to people that this series, my all-time favourite television show, is not about football, it's about life. In the first episode, we're taken into the world of Dillon, Texas, "where high school football brings the community together — and the drama of small town life threatens to tear it apart."
From the minute Coach Taylor walks into this show as the new coach of the Dillon Panthers, I fell in love with him. He is not only the man who might make this team believe again, he is also the glue that binds them together. He teaches them big life lessons – how to live and play with your heart, how to be men their families and community can be proud of. He becomes a second father to many of the players who are desperately looking for a role model they can aspire to.
Early on in the show, when his squabbling team is working toward its dream of a state championship, Coach Taylor scrawls the following on the chalkboard in the locker room: 'Clear eyes, full heart, can't lose.' It becomes the theme for the show and is emblematic of what I love so much about Coach Taylor's character. He is a man of honor.
Eric Taylor is also the sexiest husband on the face of the planet to the wonderful Connie Britton many of you will know from Nashville. Britton works as the guidance counselor at the high school and the chemistry these two share is palpable. It's tough, sweet, sexy and subtle. All it takes is one glance between them and you can see how he wants to devour her. Their dialogue and interplay is fabulous. As is the give and take between them as they bring up their family in this pressure cooker of a football town. Eric Taylor is also a great dad. The whole package.
Although I write ultra-wealthy, powerful alpha males for Presents, it's the heart and honor of this character that gets to me every time. It's what I look to instill in every alpha I write because I think it makes the man. 'Clear eyes, full heart, can't lose.' No you can't.
We'd fight Jennifer Hayward tooth and nail for a place on Coach Taylor's team, but what do you think of this gorgeous Texan hero? (Biased? Us? Never…)