Tina Beckett first sold to Harlequin in 2011. Her Harlequin Medical debut was Doctor's Guide to Dating in the Jungle and since then, she has written seventeen books. What she loves most about writing for Harlequin is the freedom to experiment and try new things. Tina's latest book, Her Playboy's Secret, is out now!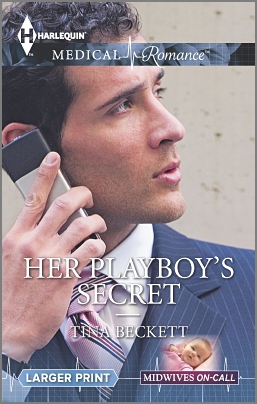 Follow Tina on Twitter and Facebook, and don't forget to check out her blog!
1. What book first got you hooked on Harlequin?
My mother had a Harlequin book lying around the house for years that she'd received as a free trial copy. To this day I remember the cover and title of that book: The Honey is Bitter. I even remember the name of the heroine. I was hooked immediately and have devoured Harlequin books ever since!
2. How did you celebrate selling your first manuscript?
My husband took me out to a fancy restaurant. On an interesting side note, he bought me a new laptop a year before I sold my first book because he said he knew the day was coming. I'm still using that laptop (although I've had to have the keyboard replaced because I wore the first one out).
3. Which of the many books you've written has stayed with you the most and why?
That's a hard one—I tend to fall in love right along with my characters as I write—but if I had to choose, the book that moved me the most as I was writing it was The Lone Wolf's Craving. The hero suffered from scars that were both physical and psychological and he did his best to hide them from everyone…including the heroine.
4. What's top of your TBR pile?
My TBR pile is a very scary sight. It has been shuffled so many times that there's no longer a "top," just a chaotic mass of titles and covers.
5. What book do you wish you'd written and why?
I actually read a lot of suspense, mystery and thrillers when I'm between books. There are several I've read over the years that I wish I'd written. One that stands out is The Bone Collector by Jeffery Deaver. I've read that particular book several times. I love the characters and the plot and I love the author's way of including a twist that I didn't see coming.
6. What's harder – first or last lines?
Last lines are crazy hard for me. Maybe because I LOVE writing first lines so much. There have been times when a line has popped into my head, and I've based an entire story on that one line. It's crazy, but it's my process.
7. How do you choose your characters names?
I don't always know what my characters' names are going to be when I first start writing, and I don't think there's any rhyme or reason to how I choose them…they just sort of come to me.
8. How do you push through writer's block?
A looming deadline will do it every time!
9. What's the best career advice you've ever had?
It would definitely have to be the oft-quoted Nora Roberts who said, "You can't edit a blank page."
10 .Your preferred writing snack?
M&Ms or jelly beans. Although it's better for me to keep them just beyond reach…
11. Who is your favourite fictional couple?
That's easy. It would have to be Harry Burns and Sally Albright from When Harry Met Sally. It's my all-time favorite movie.
12. If you could rewrite your life, what would you change?
You know, I don't think I would change anything. The past is kind of a familiar friend. It makes me who I am today.
13. What would your readers be surprised to know about you?
That I took barrel racing lessons (a timed event on horseback) in a language that was not my mother tongue.
14. What is your most overused word?
I'm laughing here, because I start many, many sentences with the word "and." And it's only overused because I love it so. (Did you see what I did there?)
15. If I wasn't a romance author, I would have liked to be…
A cow wrangler who spends most of her days on horseback, camping out by an open fire.
16. When was the last time you said 'I love you'?
I try to say it every day.
17. What does love feel like?
True love feels honest, real, and most of all…safe.
18. What's your guiltiest pleasure?
Taking a long soak in my clawfoot tub.
19. What's your most romantic song?
My current favorite is Once in a Lifetime by Keith Urban
20. Every hero needs a…
I would say a horse since I want to be a cow wrangler, but that seems a bit unrealistic, so I'll go with something a little more traditional. Every hero needs a cause to fight for and someone to love.
And there you have it – another fabulous Interview with…!
Check back in on Sold! later today for more Advice From The Stars and another brilliant… #WritingChallenge!