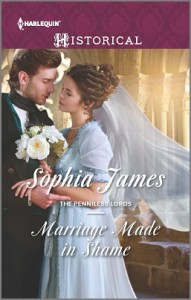 Sophia James first sold to Harlequin in 2003. Her Harlequin Historical debut was Fallen Angel and since then, she has written fifteen books. What she loves most about writing for Harlequin is the wonderful excuse to exist in worlds of her own making.
What book first got you hooked on Harlequin?
I honestly can't remember a particular book but I loved reading anything historical.
How did you celebrate selling your first manuscript?
I got home from my teaching job to find a big bunch of flowers on the table and my husband and three kids as excited as I was. We all went up to the local mall and had afternoon tea. The fire sirens went off and we had to finish eating/drinking quickly and run through the pouring rain to the car.
Which of the many books you've written has stayed with you the most and why?
Probably One Unashamed Night, which is the second book in my Wellingham series. Taris was a man going blind. He was proud, private and clever. I took a risk with that hero and it paid off.
What's top of your TBR pile?
Joanna Bourne. The Rogue Spy.
What book do you wish you'd written and why?
The first three books of the Outlander series by Diana Gabaldon. These books push the envelope and are multilayered, emotional and so well written.
What's harder – first or last lines?
I actually find first and last lines easier to write than middle lines.
How do you choose your characters' names?
Sometimes from a map of the South Island of New Zealand. All these wonderful old-fashioned English names.
How do you push through writer's block?
I feel angst, I worry, I think I will never be able to finish the book and then I just sit down and write. Small amounts. And get through.
What's the best career advice you've ever had?
Keep believing in yourself. Never give up.
Your preferred writing snack?
Fruit probably. I don't really eat when I write.
Who is your favourite fictional couple?
Jamie and Claire Fraser from the Gabaldon books.
If you could rewrite your life, what would you change?
Once I nearly tried for a job with Barbara Cartland when I was first in London. I couldn't type very well but I think I would have made a wonderful PA to a woman whose books I used to read sneakily at university. It would have got me published earlier too, being in a world of books.
What would your readers be surprised to know about you?
At the moment I am trying to complete one Great Walk of New Zealand each year. My dream is to walk the Te Araroa 3000 km trail from Cape Reinga to the Bluff. Shades of The Unlikely Pilgramage of Harold Fry.
What is your most overused word?
Ever. I always scan through and take lots of evers out before I send in a book.
If I wasn't a romance author, I would like to have been…
in HR. I like people and that's a job I always thought I'd have been good at.
When was the last time you said 'I love you'?
Just now to my husband. I was telling him about these questions over breakfast and I said 'I am surprised I am not more surprising,' and he said 'You are always very surprising to me.' 🙂
What does love feel like?
Protective. Always there. Strong and constant.
What's your guiltiest pleasure?
At the moment I am obsessed with the Starz Outlander show. I have rewatched The Wedding episode numerous times when I am supposed to be writing. I have even got to the point of turning the sound down on my laptop so that if anyone walks by unexpectedly they think I am working. Pathetic I know, but I think writers on the whole are a bit obsessive. Sometimes it worries me.
What's your most romantic song?
"Lady In Red"
Every hero needs a…
heroine.
Follow Sophia on Twitter, Facebook, and her website, and check out her most recent book, Marriage Made in Shame!