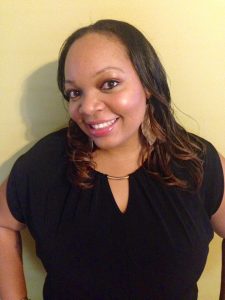 Sherelle Green is a Chicago native with a dynamic imagination and a passion for reading and writing. She enjoys composing emotionally driven stories that are steamy, edgy, and touch on real life issues. Her overall goal is to create relatable and fierce heroines who are flawed just like the strong and sexy heroes who fight so hard to win their hearts. There's no such thing as a perfect person…but when you find that person who is perfect for you, the possibilities are endless. Nothing satisfies her more than writing stories filled with compelling love affairs, multifaceted characters, and intriguing relationships.
Can you tell us a little about your November book with Kimani Romance, Waiting for Summer, and why it's special to you?
In Waiting for Summer, Summer Dupree – the youngest Dupree sister – is determined to prove to her sisters that she can elevate their lingerie boutique business to even higher heights. The main hero – Aiden Chase – is Summer's childhood friend and fiercest protector. While writing Waiting for Summer, I experienced a range of emotions. I laughed. I cried. I smiled. I sighed. This book is special to me for so many reasons. Beyond the plot, it's about second chances and learning that in life people make mistakes. However, it's the decisions that are made after that mistake that truly define a person's character. Sometimes, we are faced with obstacles that are outside of our control. By overcoming those obstacles, we develop a strength that we never knew we had. Throughout the book, Summer and Aiden both have to learn that when someone hurts you more than you were prepared for, we sometimes have to not only forgive that person, but also forgive ourselves. Misfortune can change the course of a friendship and a relationship, but at the same time, it can also make that couple stronger for having experienced what they have.
What made you want to start writing romance?
I majored in English and wrote for a variety of newspapers and magazines, so I've always enjoyed reading and writing. However, I fell in love with romance novels the moment my grandmother slipped me my first book to read. I fully immersed myself in that romance book and became engrossed by the idea of love and how two people can come together to form an unbreakable bond. I know to some, romance is predictable because you know the main characters will end up together and live happily ever after, but for me, it's the journey that those characters take that's the true beauty of a romance. To join them as they struggle to understand and recognize what love means is an indescribable feeling. To be a person that gets to describe that romance on pages and give readers hope that true love does exist is even more rewarding.
What is your writing process?
My process typically starts off with a concise idea of what the book or series will be about and the overall message I want to send to readers. Oftentimes, I'm inspired by surroundings, so I'm constantly jotting down notes or doing voice memos. Afterward, I create an outline of that idea or plot, followed by a detailed character sheet. Since I'm usually on deadline, I prioritize which idea I need to tackle at that particular time, however, if I get inspired by an idea I plated, I'll pick it up to streamline the plot. I'm also a fan of visual charts and timelines for my connecting stories or series. Once I get started on a book, I'm a coffee and music kind of girl. My Keurig stays in constant use and I break out my many playlists that target different moods. Setting is everything. If I'm working on a holiday story, I'll break out holiday movies or go to a holiday festival if it's around that time of year. My travels also inspire my writing, so my process may alter if I'm writing in a different location.
Do you have a favorite kind of story to write or hooks that are especially fun to use in your novels?
Lately, my favorite kind of character type is the awkward, quirky heroine and the bad boy hero! Those characters are fun to write about because they bring passion and comedy all wrapped together. I'm also a fan of big secrets whether they be family secrets, past relationship secrets, or secrets that only pertain to a particular character. I love writing about strong, independent women who are as successful and strong as they are flawed. No one is perfect, so it's a character's imperfections that I usually enjoy writing about. Sometimes, what meets the eye is not always rightly understood and you may judge someone based off your own prejudices only to realize that everything isn't always what it seems. This also proves to be true with the heroes I write. Whether they be the do-gooder, wounded, damaged, or the ultimate playboy, I love writing about a strong-willed hero being brought to his knees by the love of a fierce heroine.
What's the most difficult/easy part about writing?
The most difficult part about writing for me is time management. When dealing with multiple deadlines, a full-time job, and everyday life and family responsibilities, it's sometimes hard to carve out time to fully dive into a book without interruptions. On the other hand, the easiest part about writing is developing story ideas. Every person I meet or situation I experience has the possibility of evolving into a great plot. It's hard to cut off the writer brain sometimes!
What advice do you have for writers?
Never limit yourself. When you have an idea for a book or a series, as long as you believe in what you're writing, that's all that really matters. Always write from your heart. Everyone won't be able to see your vision and even those who support you most may not like one book as much as the other, but that's okay. Don't be afraid to step outside of your comfort zone.
If you had one thing you could tell yourself when you first started writing, what would it be?
Try not to be too hard on yourself and never forget why you fell in love with writing in the first place. Writing has a way of opening doors and sometimes, your characters will speak to you and demand that you write their story. Don't limit yourself in a series or story idea because you never know what great things may be lurking within your storyline. It's magical when you think you're finished with an idea and it branches out into something else entirely.
Thank you, Sherelle, for this fabulous interview. Writers, your reader fans, and the SYTYCW team truly appreciate this snapshot of your romance writing life! Be sure to pick up Sherelle's November book, Waiting for Summer, at a bookstore or etailer near you. 🙂