Michelle Smart first sold to Harlequin in 2012. Her Modern/Presents debut was The Rings That Bind and since then, she has written eight – correct as of Dec 2014! books. What she loves most about writing for Harlequin is absolutely everything! Don't miss Michelle's latest book The Greek's Pregnant Bride – out now!
Follow Michelle on Twitter and Facebook!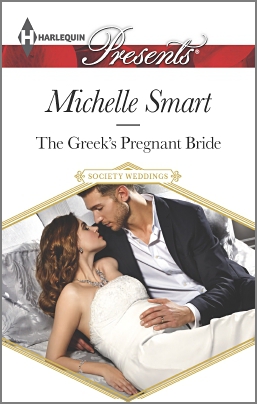 1. What book first got you hooked on Harlequin?
Penny Jordan's Blackmailed. I was only twelve. My great-aunt stayed with my family for a weekend and left it behind, so I swiped it. I must have read it two-dozen times!
2. How did you celebrate selling your first manuscript?
Alas, I had the flu. My husband brought some champagne to celebrate but ended up drinking it by himself (that's how poorly I was, oh woe is me!). Still, as soon as I was better we got together with a bunch of friends and partied!
3. Which of the many books you've written has stayed with you the most and why?
What a Sicilian Husband Wants, my second release. I adored writing it and the reaction from readers was incredible – it just made me feel really proud 🙂
4. What's top of your TBR pile?
Jessie Burton's The Miniaturist.
5. What book do you wish you'd written and why?
Ouch. This is really hard because I've read so many wonderful books I'm just in awe of, but, thinking about it, I would have to plump for Audrey Niffenegger's The Time Traveller's Wife. It makes me laugh, it makes me cry, it makes me hold my breath… just wonderful.
6. What's harder – first or last lines?
First lines. I always find the last line writes itself but unfortunately the first line is never so considerate.
7. How do you choose your characters names?
For my heroines I tend to go for names I like and would name my daughters if I wasn't the Mother of Sons (but not dragons! If you're not a Game of Thrones fan, then I apologise). For my heroes I get much more involved. For example, I'm currently writing a trilogy featuring three princes of Minoan ancestry, so I researched Greek mythology names until I found the perfect ones. In both cases, I need the names to fit the characters.
8. How do you push through writer's block?
I've been very lucky and, touch wood, have never suffered from it.
9. What's the best career advice you've ever had?
It's something Maisey Yates often goes on about on her blog and on twitter – to just keep writing. As soon as you press send on a book, don't hang around waiting for a response, write the next book.
10. Your preferred writing snack?
Coffee. And lots of it!
11. Who is your favourite fictional couple?
Rupert Campbell-Black and Taggie o-Hara from Jilly Cooper's Rivals. Can you believe I didn't even have to think of this answer? I've adored them since I was about fifteen. I loved how he visibly softened when with her, the way he is so protective of her… *sighs dreamily*.
12. If you could rewrite your life, what would you change?
Nothing. To change one thing, even minor, could have unimaginable consequences… Oh stuff that sensible nonsense; I'd have brought a house big enough to have my own library rather than having books scattered on every surface!
13. What would your readers be surprised to know about you?
That my favourite author is Stephen King?
14. What is your most overused word?
Really. I really can't stop myself using it. I really must stop.
15. If I wasn't a romance author, I would have liked to be…
An Olympic Gold gymnast. I'm only little, so I would have been perfect at it. I would have somersaulted and tumbled my way over the floor; swooshed through the air whilst on the bars; displayed my fabulous balance skills on the beam… what a shame I got kicked out of my gymnastic class at the age of four for the crime of talking too much!
16. When was the last time you said 'I love you'?
A couple of hours ago. I say it ALL the time. To my husband, to my kids, to my family and to my friends. If I love someone then I love them forever and have no hesitation in telling them (even if they don't want to hear it!).
17. What does love feel like?
If you're talking about romantic love, it's just totally consuming. It fills you completely. Or is that just me?
18. What's your guiltiest pleasure?
I don't have any. My ability to eat an entire box of Ferrero Rocher in one sitting is not a secret.
19. What's your most romantic song?
Wow. This is even harder than selecting a book I would have loved to have written. I have hundreds of love songs on my iTunes, which I listen to whenever I'm writing as I find it gets me in the right frame of mind. Anything by Roxy Music / Bryan Ferry works (apart from Virginia Plain which is about as romantic as an old pair of socks). Otherwise, I'd plump for Temper Trap: Sweet Disposition. Or Fleetwood Mac: Big Love. Or Billie Myers: Kiss the Rain. Or The Bangles: Eternal Flame. Or Florence & the Machine: Drumming song. Or The Lotus Eaters: First Picture of You. Jeez, this is HARD! It's like asking me to choose my favourite child.
20. Every hero needs a…
Big penis. If that answer isn't allowed, then I suppose I would have to plump for the ability to see the absurdities of life 🙂
There you have it! Another fabulous Interview with…! Don't forget to check in on Sold! later today for another fantastic writing challenge to get those creative sparks flying!