Lori Foster first sold to Harlequin in 1996. Her Harlequin Temptation debut was Impetuous, and since then she has written over eighty-five novels and novellas. What she loves most about writing for Harlequin is the freedom she has to write about characters she loves in a plot that entertains her. Don't miss Lori's latest book – Tough Love – available next month!
Don't forget to follow Lori on Twitter and Facebook!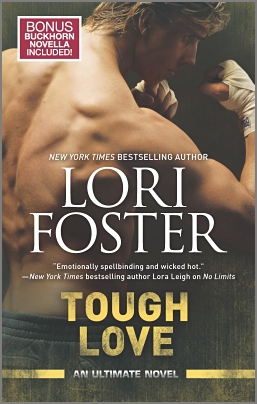 1. What book first got you hooked on Harlequin?
I don't remember the exact titles, but I read some Linda Howards, Linda Lael Millers, and Jayne Ann Krentz—and was totally hooked!
2. How did you celebrate selling your first manuscript?
I didn't really celebrate as much as I just collapsed in relief. We might have gone out for dinner, I can't remember. I'd been trying for so long to sell—over 5 years, and over 10 manuscripts—that when I finally got "the call" it was just a major relief.
3. Which of the many books you've written has stayed with you the most and why?
Beguiled, the first longer book I wrote for Harlequin, was originally published with Jayne Ann Krentz and the combination of writing a story I really loved, and being in a duology with an author I loved reading, made it very, very special. Also, one of my favourite characters, Mick, was introduced in Beguiled and went on to get his own story in Caught in the Act.
4. What's top of your TBR pile?
I'm jumping into 10-Code, a cop anthology with all of the profits going to the National Law Enforcement Memorial Fund.
5. What's harder—first or last lines?
Last lines, always! I love diving into a book, and I don't have a problem finishing one. But finding that last elusive line—yes, that's what I always call it, "the last elusive line." That can take me a while. Sometimes days! It makes me nuts. But I think it's important to end the book as compellingly as you started it.
6. How do you choose your characters' names?
Totally random. Sometimes I steal them off my Facebook page—take the first name of one reader and put it with the last name of another reader. 😀 Especially when it comes to secondary characters who I know will never get a book. I also keep a list of names I like, some from the credits on a movie, some from the cemetery, some I've heard in passing.
7. How do you push through writer's block?
I don't believe in writer's block. For me, I've occasionally written myself into a corner because I didn't 100% trust the characters to tell me what they wanted to do. At those times I get away from the PC and do something different—take the dog out, put in laundry, read a few pages from another author…and the issue will resolve itself for me. I'm insanely motivated. Once I start a book, the characters talk to me a lot. (They actually talk a lot before I start a book too.) My issue is just keeping up with them.
8. What's the best career advice you've ever had?
To please myself first, and everyone else after that. I LOVE writing, mostly because that's what I do—I write what I love, how I love writing it, when I love writing it. Makes it easy to stay really happy with the whole process. I don't think I could write a book any other way, and the fact that some readers enjoy what I end up with…that's icing on the cake.
9. Your preferred writing snack?
Ha! Even now I'm munching on Goldfish pretzels.
10. Who is your favourite fictional couple?
Wow, I've read so many that I loved and who have stayed with me. And you know the answer varies every time I'm asked. Today I think I'll say Christina and Lyon in The Lion's Lady. I've reread that book many times, and love it each time I do.
11. If you could rewrite your life, what would you change?
I can't think of anything. My life isn't perfect, but close enough. My husband and I have been together since high school. He's my best friend, my own personal hero, and the finest man I know. We have each other, and our health. We have three healthy, wonderful sons, and three healthy, wonderful grandsons. I wouldn't want to change anything for fear of altering the end result.
12. What would your readers be surprised to know about you?
I'm such an open book on Facebook, Twitter, Goodreads, etc… I'm not sure there's a lot they don't know. I love hard rock music, horror and action movies, and I love water skiing, boating, swimming. I'm enamoured of the sunset and the sunrise. My motto is always family first. I despise cruelty to animals and don't really trust anyone who doesn't love animals as much as I do. I'm a conservative person. Oh, and I love my readers. 😀
Readers also know I love coffee. But most don't realize that it's not the caffeine because for the most part I drink decaf. It's the smell and taste and warmth of coffee that I crave. Mmm, the smell. Nothing wakes me up better than sniffing the air and knowing my auto-set coffee has finished.
13. What is your most overused word?
lol. Probably a curse word. My characters, especially the guys, really do like to curse.
14. If I wasn't a romance author, I would have liked to be…
A teacher. I have great respect for teachers—not all teachers, but the ones who are unique and different and realize that kids are too. It's a lot harder now on teachers. They're expected to parent as well as educate all while fulfilling federal government standards. Not easy. But some teachers take on the challenge and encourage kids, especially the tough kids who probably need it a lot more because the home life isn't what it should be. Those teachers, to me, are angels on earth and worth their weight in gold.
15. When was the last time you said 'I love you'?
My husband called just a minute ago. We're pretty free with the "Love ya" anytime one of us is arriving or leaving, or on the phone. To my sons, too. We're a loving family. J
16. What does love feel like?
Security. Support. Sharing. Excitement. Contentment. Strength. All wrapped up in a big warm bubble that is always, always there.
17. What's your guiltiest pleasure?
I don't indulge often, especially since I've been trying—ever since menopause kicked my butt—to lose 15 pounds. But I LOVE Little Ceasar's crazy bread. It's this soft, warm lightly browned bread smothered in garlic butter and parmesan cheese. Mmm….
18. What's your most romantic song?
"To Be With You" by Mr. Big. It's one of the few non-hard rock songs that I just loooove.
19. Every hero needs a…
A heroine who is as imperfect as he is, but being with her is perfect. 😀
Happy writing!