Jenn Burke first sold to Harlequin in 2014. Her Carina Press series debut (co-written with Kelly Jensen) was Chaos Station and since then, she has written two more upcoming books. What she loves most about writing for Harlequin is the fantastic support and community of the company.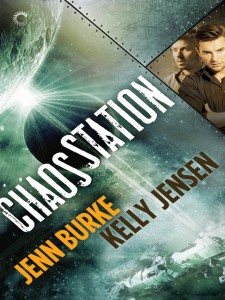 Follow Jenn on Twitter and Facebook!
1. What book first got you hooked on Harlequin?
Oh wow. I've been reading Harlequin books for years; they were a staple in my house growing up. My mom loves Superromances. I'd have to say Silhouette Shadows was the line that hooked me, though. I loved those sexy paranormals.
2. How did you celebrate selling your first manuscript?
I went out for dinner with my family, then about a month later, my writing partner and I attended the RWA Nationals conference in San Antonio. We'd already been planning the trip, but having the news that we were going to be Harlequin authors made it all the sweeter!
3. Which of the many books you've written has stayed with you the most and why?
Lonely Shore, the second book in the Chaos Station series, kind of echoes in my head—for reasons I can't reveal yet! When you read it, you'll see why.
4. What's top of your TBR pile?
Too much! I have a couple of science fiction male/male romances by Lyn Gala I'm looking forward to. She writes excellent aliens.
5. What book do you wish you'd written and why?
I wish I'd written the Black Dagger Brotherhood. Right? Who wouldn't? But not just because J.R. Ward's books have been so hugely successful. With those books, she created a world that seems so real, with huge life-or-death stakes, and it's addictive. I would love to write something that compelling.
6. What's harder – first or last lines?
First. I find that last lines sort of come to me as I'm wrapping up the story. But a first line…it can be tough to find one that pulls the reader in, makes sense, isn't cliché and yet doesn't give too much away.
7. How do you choose your characters names?
Most of the time, I have a sense of the type of name I want and go browsing through baby names websites to find one that fits. For Zed (one of the heroes in Chaos Station), I needed a name that was a bit fancy because his family is about as close to galactic nobility as you get. So his full name is Zander Damianos Anatolius…but he goes by Zed because he's really a lot simpler than his full name would suggest.
8. How do you push through writer's block?
I give myself a break. I read, play video games, work on another project, anything to get my brain out of its rut.
9. What's the best career advice you've ever had?
Butt in the chair. A bit crude, but it's absolutely true: if your butt's not in the chair and you're not putting words down, you'll never write anything.
10. Your preferred writing snack?
Shh, it's potato chips. So healthy, I know.
11. Who is your favourite fictional couple?
Willow and Tara from Buffy the Vampire Slayer. They were so perfect for each other and they had such a tragic ending. It broke my heart.
12. If you could rewrite your life, what would you change?
Very little. Mostly I'd try to give myself the confidence to get a book finished and submitted sooner.
13. What would your readers be surprised to know about you?
I like American muscle cars and I own a 2014 Chevy Camaro. I definitely don't look like the kind of girl who'd drive a bright red muscle car, but there you have it.
14. What is your most overused word?
"Like". As in simile use, "her smile was like the sun" not "like, I was going to the mall, like…"
15. If I wasn't a romance author, I would have liked to be…
A video game writer.
16. When was the last time you said 'I love you'?
This morning, to my kids and husband.
17. What does love feel like?
A warm, comfy blanket, soft, cozy and a bit protective.
18. What's your guiltiest pleasure?
Indulging in browsing/reading fan art and fanfiction for my favourite video games. Sometimes, you just can't let fictional worlds go.
19. What's your most romantic song?
What I Wouldn't Do by Serena Ryder
20. Every hero needs a…
kick in the butt to realize he should be loved!
Hope you all enjoyed these insights into the wonderful world of Jenn Burke! Don't forget to check out our weekend writing tip tomorrow.
Happy Writing! 🙂