Janice Maynard first sold to Harlequin in 2009. Her Desire debut (Sept. 2010) was The Secret Child and the Cowboy CEO and since then, she has written fifteen books. What she loves most about writing for Harlequin is connecting with readers who love the Harlequin brand. Don't miss Second Chance with the Billionaire out now!
Follow Janice on Twitter and Facebook!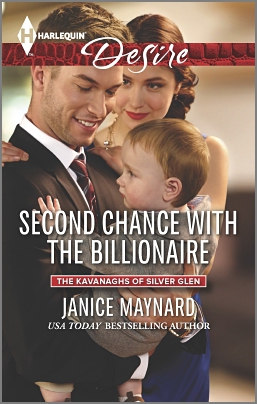 1. What book first got you hooked on Harlequin?
I read my first Harlequin Romance in 7th grade. I don't remember for sure, but one of the early ones was The Outback Man.
2. How did you celebrate selling your first manuscript?
I had written for two other publishers prior to 2009. But writing for Harlequin had always been a dream of mine. I probably celebrated by having dinner and a movie…nothing too fancy. 🙂
3. Which of the many books you've written has stayed with you the most and why?
I really enjoyed the hero and heroine in All Grown Up. They spend the entire book shooting verbal arrows back and forth. Lots of humor.
4. What's top of your TBR pile?
Patience Bloom's book, Romance is My Day Job.
5. What book do you wish you'd written and why?
I absolutely love the book Outlander. Diana Gabaldon is a brilliant storyteller.
6. What's harder – first or last lines?
Last
7. How do you choose your characters' names?
Baby name books, movies, anything that comes to me…
8. How do you push through writer's block?
I just keep writing and writing until something makes sense!
9. What's the best career advice you've ever had?
Never compare yourself to other writers.
10. Your preferred writing snack?
Coke and peanuts
11. Who is your favourite fictional couple?
Too many to pick one!
12. If you could rewrite your life, what would you change?
I would have started traveling earlier.
13. What would your readers be surprised to know about you?
That I'm married to a minister.
14. What is your most overused word?
Grin/grinned/grinning…
15. If I wasn't a romance author, I would have liked to be…
…a geologist or a translator for the U.N.
16. When was the last time you said 'I love you'?
Today
17. What does love feel like?
Warm flannel sheets on a cold winter night.
18. What's your guiltiest pleasure?
Eating buttered popcorn in a dark theatre.
19. What's your most romantic song?
"The Way You Look Tonight"
20. Every hero needs a…
touch of vulnerability.