Barbara Wallace first sold to Harlequin in 2009. Her Romance debut was a novella entitled "Magic Under the Mistletoe" in A Fairytale Christmas with Susan Meier. Since then, she has written a dozen novels for Harlequin Romance. What she loves most about writing for Harlequin is the freedom she has to put her own fresh spin on traditional stories. "The editors really encourage us to break away from the same-old, same-old to give readers a truly satisfying romance." Don't miss A Millionaire for Cinderella, Barbara's latest book – out now!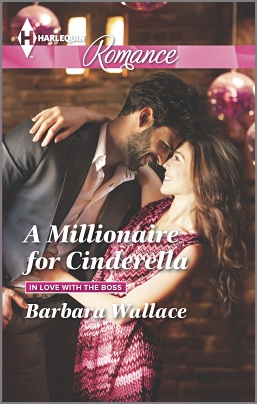 Follow Barbara on Twitter, Facebook and be sure to check out her blog.
1. What book first got you hooked on Harlequin?
I've been reading Harlequin's since I was a kid so I honestly can't say what book hooked me. However, I can tell you the book that sold me on wanting to write for the Romance line was Barbara Hannay's In the Heart of the Outback. Everything about that book – the premise, the characters, the writing – was amazing.
2. How did you celebrate selling your first manuscript?
I had a critique group meeting an hour after I got the call. Soon as I arrived, they made me put on a tiara! I kept it on the entire day. Later, my husband, teenage son and I celebrated by going out to dinner. (I thought about wearing the tiara to the restaurant but didn't.)
3. Which of the many books you've written has stayed with you the most and why?
The Man Behind the Mask, my January 2014 release. First off, the book dealt with a truly difficult topic (the hero is a victim of a serious assault). It was also the first story that had me truly pushing my comfort boundaries as a writer. I like to think my writing took a step to the next level with that story.
4. What's top of your TBR pile?
Trish Wylie's The Millionaire's Proposal.
5. What book do you wish you'd written and why?
Gosh, there's no ONE book. I've fallen in love with the writing is so many stories – every time I pick up a book by one of my idols, someone like a Jessica Hart for example, I fall in love with their ability to craft a story and wish I could do the same. If I had to pick one single book in the world, I wish I'd written Gone with the Wind. Imagine creating a heroine as wonderfully three-dimensional as Scarlet O'Hara. Nearly eight years later, she still resonates as strong female.
6. What's harder – first or last lines?
Definitely the first line.
7. How do you choose your characters names?
I tend to use the gut approach when picking character's names. I get out my baby name book and start reading until one of the names "feels" right. I do the same thing with last names. I either go through a phone book or use a name generator until I find one with the right "feel". Of course, I've been known to change a character's name midstream if I decide the name no longer fits. Often, when a character isn't gelling properly, it's because I gave her/him the wrong name.
8. How do you push through writer's block?
Oh, you're going to be sorry you asked. I could write a book on writer's block. For me, block is caused by one of two things: a story problem or a self-made problem.
Story problems means I started the story in the wrong place, the plot took a wrong turn or the characters' motivations aren't properly fleshed out. In this case, I step away from the computer for a few hours and let my muse see the bigger picture. By the time I've finished cleaning the house or walking the puppy, I've come up with an answer.
Self-made problems usually happen around chapter four or five when the story has lost that "new idea smell". Coincidentally, that's when the job is at its most difficult. After all, they don't call it a sagging middle for nothing. When this happens, there's only one solution – stick with it and write. The pages pile up, and before you know it, you're at the last third of your book and racing toward a happy ending.
9. What's the best career advice you've ever had
Don't compare your career with anyone else's. Success comes to everyone in different forms and at different rates.
10. Your preferred writing snack?
Coffee! I am a caffeine junkie.
11. Who is your favourite fictional couple?
Noah Calhoun and Allie Hamilton from, The Notebook. The movie version, not the novel. And the James Garner/Gena Rowlands couple, not the Rachel McAdams/Ryan Gosling pair . Although Rachel and Ryan were good (Ryan Gosling – hello!), that scene when the elderly Allie remembers Noah is so beautiful. Who couldn't believe in the power of love after that?
12. If you could rewrite your life, what would you change?
I would develop confidence in myself at a much younger age. There are so many young, dynamic writers out there who aren't afraid to take changes, and as a result, are accomplishing so much. I sometimes feel like I wasted a lot time being frightened of taking a chance.
13. What would your readers be surprised to know about you?
That I'm really quite insecure about my writing.
14. What is your most overused word?
Off the top of my head, I can name four: Maybe, Probably, Just and That. I'm sure my editor can list a few others. 🙂
15. If I wasn't a romance author, I would have liked to be…
A history detective. Sadly, I lack the patience when it comes to research. And I tend to start sing my imagination to fill in the blanks.
16. When was the last time you said 'I love you'?
Last night right before my husband and I went to sleep.
17. What does love feel like?
To me, love is when you can't imagine your life without the other person. No matter what you are doing, that person is never far from your thoughts. You hurt when he hurts, his successes are your successes. And even on those days when he is bugging the crap out of you and you want to scream, you know that without him , your life wouldn't be complete.
18. What's your guiltiest pleasure?
Reading fan fiction. (Shhhh)
19. What's your most romantic song?
I Don't Want To Miss A Thing. Both the Mark Chestnutt version and the Aerosmith one.
20.Every hero needs a…
Good Heroine.
There you have it! Another fabulous Interview with…! (We secretly wish Barbara had worn her tiara to dinner!)
Happy writing! 🙂