We're thrilled to have Harlequin author Anna J. Stewart visiting with us. She writes for both Harlequin Heartwarming and Harlequin Romantic Suspense. Today, she's talking about her HRS October 2017 release, GONE IN THE NIGHT, the latest in her Honor Bound series.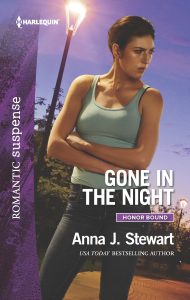 Can you tell us a little about your October book and why it's special to you?
GONE IN THE NIGHT is the concluding story of a trilogy about three friends who, twenty years ago, were bonded by the still unsolved murder of their childhood friend. Dr. Allie Hollister, a child psychologist who at times works with the police, comes face to face with her worst nightmare–one of her patients goes missing in the exact same way her friend did years before. Complicating a difficult, not to mention emotional case, is Allie's inconvenient attraction to the missing girl's uncle, a former firefighter who will do anything to get his niece back. Cue fireworks.
This book is special for a couple of reasons. First, it really wasn't supposed to exist. When I first came up with the plot for the first book, MORE THAN A LAWMAN, it was supposed to be a one-off. Then, as I worked on that story I realized the heroine, Eden St. Claire, needed a strong support system and up popped two best friends. Each woman dealt with the killing of their friend in entirely different ways. Eden has a bit of a vengeful streak while Simon is all about law and order and bringing perpetrators to justice. Allie, however, in a way, sank into herself. She wants to know why criminals behave the way they do. But that can also make her blind to what's really going on around her. GONE IN THE NIGHT brings all of them full circle and, in a way, by the end, gives each of them a new start in life. Closing that tragic chapter the three of them share, while they'll never forget, gives them the opportunity to move on. With their own happily ever afters of course.
What do you like most about writing romantic suspense/category romance?
I love the emotional connections two people develop when they're falling in love. I also really enjoy the internal and external conflicts that both push them together and keeps them apart. The shorter word count (I've written other 100k-word books) makes me focus and tighten my writing. I don't have a lot of words to play with, which means every one has to count. Adding in the suspense elements can be intimidating and I found that especially true in GONE IN THE NIGHT. How do you write two people falling in love (a seemingly happy time in one's life) while investigating the kidnapping of a child? Finding a way to balance out the romance with the urgency of the situation was tricky. But by the time I wrote this book, I knew Allie pretty well. She led me where she needed to go. Writing romantic suspense is a bit like creating and then solving a puzzle when you're not quite sure what the picture is supposed to be. Threading all the plot elements, making sure I get everything locked in logically is part of the challenge. And when it finally all falls into place? I don't know that there's a greater writer-induced rush than that.
What is your writing process?
Well, I'm finding it differs with each book. It also differs depending on the type of story I'm writing. I start each book with at least the glimmer of an idea–either plot or character. From there, I do a pretty good excavation of both the main hero and heroine. I keep a notebook for each couple where I write down characteristics of their archetypes, zodiac (gives me ideas for likes, dislikes, and thought processes), and character traits. Then I go back through those notes and highlight want I think really applies to the characters.
Next is figuring out what the goals, motivations, and conflicts are–both story wise and relationship wise. Once I have all that down (takes up about 1/2 a notebook and a couple of weeks), then I can get started on the story. I tend to write about 6-8 hours a day and aim for 2500 words. I write in blocks, 3 hours in the morning, 3 in the afternoon. I also edit as I go, which means the first 1/2 of the book goes pretty slowly. I'm still figuring out where it's going because I don't plot, not really. About at the half way point, I will hit a brick wall. A brick wall lined with cement and enforced with rebar. Seriously, it's like everything about the story shuts down. So I take a week or two, set it aside, read other people's books and in the back of my head, the plot works itself free. That last half of the book usually only takes me about 2-3 weeks and, since I've been editing as I go, it's pretty clean. Then I do a final read through. If I'm not sure about it, I have a couple of beta readers and my long-time critique partners (Harlequin authors Melinda Curtis and Cari Lynn Webb) who will read and let me know what's not working. One more pass and…click send.
How did the idea for the Honor Bound series come about?
Purely by accident. I knew MORE THAN A LAWMAN would start in that meat locker, but the funny thing is, this was originally just a three page entry into my local RWA chapter's three page read (where we submit three pages for an orator to read aloud and then get feedback on). That's all it was supposed to be: three pages. But…I could not get Eden out of my head. I wanted to know, needed to know what she was doing in that locker, how she got there, and what it meant for the rest of her life. Since I love reading interconnected romances featuring groups of friends, it made sense to give each of her BFFs a story of their own, preferably each with their own type of story. LAWMAN is a friends to lovers story while REUNITED WITH THE P.I. (Simone Armstrong's story) is a reunion with her ex-husband. And then it's Allie's GONE IN THE NIGHT with opposites attract and heroes and heroines don't get much different than Allie and Max, which made them really fun to write.
The even better thing about the series? It's not over yet! I just sold another three books to the line, but I won't say who the characters are yet because that would mean spoiling part of the ending of GONE IN THE NIGHT. The next three won't have the over-arcing story, they'll each be complete stand-alones, but all of the characters from the previous books will make an appearance (because that's what I love as a reader).
What's the most difficult/easy part about writing?
Honestly? The most difficult part is getting my butt in the chair and writing! I honestly don't get it, because I love my job. I love creating the stories and watching the characters grow and change and fall in love, but there are days it's like pulling teeth to get me to the keyboard. It's why I have a sign above my desk quoting Stephen King that says: WRITING EQUALS BUTT IN CHAIR. That said, I've been known to clean the bathroom, do laundry, even clean out the garage to avoid it.
The easy part? Hmmmm…I don't know that it's easy, but the most fun part is coming up with the new story ideas. Trying to put a twist readers haven't read before, something that would surprise me (I'm not easily surprised when it comes to plot). It's a challenge I like to set for myself with each book I write. If I'm happy with the way it goes, then I'm pretty sure the reader will be, too.
What advice to you have for writers?
Write. Write, write, write and then write some more. Sounds easy, right? Yeah, it's not always (see above comments). Writing is like any other talent or occupation; you get better the more you do it. No one is perfect at anything the first time out, or even weeks, months, or years later. I wrote for more than twenty years before I signed my first publishing contract. Because I knew I wasn't ready. Because I had to be good enough, not only for editors, but for myself. So yeah, write. And read everything you can get your hands on, even if it's not in your genre. Especially if it's not in your genre. You never know what will spark an idea or make you look at something differently. Also? Don't rely on what works for other writers working for you. As many published authors as there are, that's how many different ways there are to write a book. What works for one author might not work for you. Nothing in this business is written in stone other than everything is completely unpredictable. Control what you can control and let the rest of it go.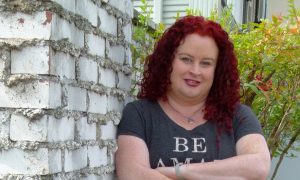 USA Today and national bestselling author Anna J. Stewart writes sweet to sexy romance for Harlequin's Heartwarming and Romantic Suspense lines. Early obsessions with Star Wars, Star Trek, and Wonder Woman set her on the path to creating fun, funny, and family-centric romances with happily ever afters for her independent heroines. Anna lives in Northern California where she deals with a serious Supernatural & Sherlock addiction, surrounds herself with friends and family and tolerates an overly affectionate cat named Snickers (or perhaps it's Snickers who tolerates her). When she's not writing, you can find her at fan conventions or at her local movie theater. You can read more about Anna and her books at www.authorannastewart.com.