Addison Fox first sold to Harlequin in 2012. Her Romantic Suspense debut was THE PARIS ASSIGNMENT and since then, she has written four books (with several more on the way in 2015!) What she loves most about writing for Harlequin is the freedom to create while being part of such an amazing legacy of romance fiction. Don't miss Addison's latest book, Tempting Target – out now!
And be sure to follow Addison on Twitter and Facebook!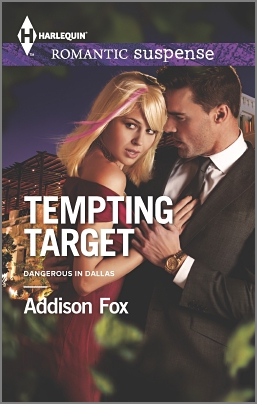 1. What book first got you hooked on Harlequin?
My first Harlequin was a Superromance that was half pilfered/half gifted by my friend's mother. (I basically devoured it late into the night at a sleepover and then her mom gave it to me the following morning.) It was NIGHT INTO DAY by Sandra Canfield and is still one of my most favourite romances I've ever read.
2. How did you celebrate selling your first manuscript?
Lots of phone calls, a few tears and a great bottle of wine!
3. Which of the many books you've written has stayed with you the most and why?
I loved writing THE MANHATTAN ENCOUNTER (my July 2014 HRS release). Liam is the oldest of my four Steele siblings and from the very first day I conceived the series he was my James Bond-esque hero. I expected his book to be one of sexy intrigue and daring. While there were definitely those elements, what became immediately evident in the writing was that this was actually a family story, and through his protection of the heroine, Dr. Isabella Magnini, he found his way back home to his family.
4. What's top of your TBR pile?
Oh goodness, that's a challenging question because (a) it towers so high it's constantly falling and (b) I devour so many books the top of the pile's always changing. J
That said, I am excited to read the January lineup of Romantic Suspenses (I've been a faithful reader all the way back to the Intimate Moments days and devour each month's offering!) and I've also got Sherryl Woods's latest—DOGWOOD HILL—waiting for me. And I am still one behind on Susan Mallery's most recent Fool's Gold trilogy so I am looking forward to curling up with UNTIL WE TOUCH in the coming days.
5. What book do you wish you'd written and why?
To be honest, I can't say I wish I'd written other books, but there are definitely books that have spoken to me on a deeper level. The book I mentioned above—NIGHT INTO DAY—is truly an amazing book. The heroine is battling rheumatoid arthritis and the hero is a professional quarterback. Their story is fun, touching and deeply emotional and I still cry when I re-read the end!
I am also a massive fan of Nora Roberts. To me, she sets the bar for the romance community and for authors in general. Her work ethic and her dedication to storytelling is always impressive. As a reader I love to sink into one of her books, and as a writer I can't help but be truly wowed by her skill and her dedication to her craft and to her readers.
6. What's harder—first or last lines?
Last. In fact, I find the last fifty pages of a book to be the very hardest. Many authors talk about how much they are frustrated by the "middle" but I LOVE that part—it's where all the juicy stuff happens!!
7. How do you choose your characters' names?
I constantly keep a name file and jot down names I like. Some stick with me and some just feel right (I wish I had a better description than that!!)
8. How do you push through writer's block?
I've been fortunate that I don't get writer's block (and hope that never changes!) Writing takes tremendous discipline and I still write around a "day job" so there simply isn't the time to get blocked. It does help to have a place that's all my own. I go into my home office, a cup of coffee or tea (depends on the time of day) in hand and sit down to work.
9. What's the best career advice you've ever had?
I was fortunate to meet author Jenna Mills at my very first RWA chapter meeting. She and I had a mutual friend and I went up to introduce myself to her. Like me, she was managing a day job at the time and I asked her how she juggled both. She shared that her focus was on writing a page at a time, a chapter at a time vs. a focus on the whole book.
It was EXACTLY what I needed to hear at that stage of my development and helped me focus on the task at hand—sitting down to produce—in digestible bites. The advice is as true today as it was when I met her almost 13 years ago!
10. Your preferred writing snack?
As I said, always a mug of coffee or tea and I do enjoy that all-important writer's snack—Cheez-Its!
11. Who is your favourite fictional couple?
This is where I do have to give kudos to Nora—Eve & Roarke are a perennial favourite and I also LOVE Parker and Malcolm from HAPPY EVER AFTER.
12. If you could rewrite your life, what would you change?
Nothing. I feel so very blessed for the life I have and know everything that's happened has brought me to today. I do work hard to treat everyone I meet with kindness—we truly do not know what has brought someone else to their present and what personal battles they face on their own. I can only hope I treat them with respect, kindness and the same warmth that's been so often shown to me.
13. What would your readers be surprised to know about you?
I've got a bit of the daredevil in me. Nothing too free-style, but I've climbed the Sydney Harbour Bridge (twice!), gone skydiving and I absolutely adore roller coasters. I also had the distinct honor of climbing a fireman's ladder at the RWA Conference in Reno in 2005—all the way to the top of the fire engine ladder with a VERY cute fireman bringing up the rear! J
14. What is your most overused word?
It's a bit too naughty to repeat. It does, however, have four letters…. (MUST work on that in the new year!)
15. If I wasn't a romance author, I would have liked to be…
That has changed pretty consistently with age. If you'd asked me this at five, I'd have told you a Dallas Cowboys Cheerleader. At ten, a doctor. And at twenty I was convinced I was going to be the next Nora Ephron and direct films.
Fortunately, romance fiction found me and I've been happily tapping away at my keyboard!!
16. When was the last time you said 'I love you'?
This morning. You really can't say it enough!
17. What does love feel like?
Like belonging. And peace. And the deepest sense that YOU matter—just as you are.
18. What's your guiltiest pleasure?
Wine. I absolutely LOVE wine.
19. What's your most romantic song?
I love a song by Van Morrison called "Someone Like You." There's also a song by Ray Charles that's incredibly difficult to find and was in the closing credits to the film THE SURE THING called "Just Because." I love the lyrics and his rich, gorgeous voice. This part is just lovely:
"Just because you're near, the cold nights grow warmer…"
20. Every hero needs a…
Sense of self and a good woman to share that self with.
There you have it! Another wonderful Interview with… one of our lovely Harlequin authors. We hope you enjoyed these insights into Addison Fox's world as much as we did! 🙂
Happy writing!