Jennifer Hayward first sold to Harlequin in 2012, after winning So You Think You Can Write 2012. Her Harlequin Presents debut was The Divorce Party and since then, she has written five books. What she loves most about writing for Harlequin is she gets to get up every morning, sit down at her computer with a cup of coffee and write the stories she's always loved to read. Curling up with a sexy, combustible alpha male and the woman who dares to tame him has always been her favourite way to spend her downtime. To be able to bring the world the stories she's always wanted to pick up off the shelf? Priceless 🙂
Follow Jennifer on Twitter, Facebook and her blog!
1.What book first got you hooked on Harlequin?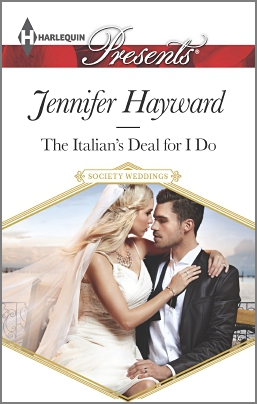 I would have to say Janet Dailey's Americana series. There is a book called Summer Mahogany set in Maine that will forever own a piece of my heart. It's a marriage reunited story and there's something about Rhyder and Gina and the relationship they forge during that long, hot summer that has never left me even though that book was published in 1978.
2. How did you celebrate selling your first manuscript?
It was the night I won So You Think You Can Write. The press release was going out that afternoon and it was all so surreal. I texted my girlfriend, bursting with the news I couldn't tell the world, and told her I'd won, but she couldn't say anything about it yet. She planned a last minute celebration at her place, for which almost all of my girlfriends broke plans/left work/left significant others to attend and it was perfect! My closest friends who'd supported me every step of that rollercoaster ride and ten bottle of champagne – I think we drank one each 😉
3. Which of the many books you've written has stayed with you the most and why?
Ooh this is a hard one. I always tell my editor I have love for each of my books in different ways because they are all so different. I think The Magnate's Manifesto will always be special for me because I took a lot of risks with this book, I loved the lead characters so much for who they are and how they supported each other in a true partnership and I also adore my villain in this book – he is utterly unredeemable, horrible – exactly the type of Hollywood archetype I wanted him to be J I had a reader tweeting me as she read the book – hoping he wasn't going to be as bad as he was – it was such a fun thing to experience that with her real-time. I'm so proud this book has been chosen as one of Romantic Times Magazine's Reviewer's Choice Presents of the year for 2014.
4.What's top of your TBR pile?
Sarah Water's The Paying Guests which seems to be on so many picks of 2014 lists and is my book club pick for February.
5. What book do you wish you'd written and why?
Gone with the Wind By Margaret Mitchell. It's such an epic love story featuring two incredibly strong, memorable characters and a historical background I find fascinating and dramatic.
6. What's harder – first or last lines?
Ooh these are both tough. I'm so focused on making that initial and final impression on the reader. I would have to say first though, because it's that point where you're jumping into a book and you want that perfect line to catch the reader's attention but you're also deciding where to start which is always tricky for a writer. There are a million ways to start a book and choosing the right one is a challenge. Last lines I love because it's my chance to wrap a book up with that statement that applies only to those two particular characters and their love affair.
7. How do you choose your characters names?
I think first of attributes the name must have – eg: if my character's Italian, it needs to be an Italian name. If my heroine is super feminine – I try and give her a name that reflects that. Then I find one I love. Sometimes I ask my friends for suggestions, people love to give me names at parties (I need to call a Greek hero Eros at some point J) and if I'm stuck, I will comb the Internet and name lists from different countries/nationalities.
8. How do you push through writer's block?
Keep writing. Talking to a critique partner or my editor always helps a ton. But sometimes it's only by writing what doesn't work that you find out what does work, but you can't do that if you have nothing on the page. I have deleted scenes, entire endings if they don't feel right. What I do know is when a scene is hard for me, when it isn't flowing, there's something wrong. Either it's the wrong scene, or I haven't laid enough groundwork for it, or the characters aren't behaving true to character. I have to identify what the problem is, go back and look at the characters motivations. Because when a story is working, it flies for me.
9. What's the best career advice you've ever had?
Without a doubt Sharon Kendrick who always says, "Just write the best damn book you can". That's it. It's the only thing we as writers can control when there's noise around us: leveraging our unique voices to create the most magical story we can.
10. Your preferred writing snack?
Coffee and more coffee 🙂 And maybe biscuits.
11. Who is your favourite fictional couple?
Scarlett O'Hara and Rhett Butler. Of late, I am also addicted to Gideon and Eva's disfunctional, but amazing relationship in Sylvia Day's Crossfire series.
12. If you could rewrite your life, what would you change?
I would have taken a lot more chances with I wouldn't have let fear rule me as much as it did when I was younger and approached life as the adventure it is. I have this 'Life IS' poster on my fridge now and it reminds me that life is short. If you don't like something about yours, change it.
13. What would your readers be surprised to know about you?
I once had a six course dinner with William Shatner – Captain Kirk – as part of my PR career. He was fascinating and lovely.
14. What is your most overused word?
Could be 'actually', actually
15. If I wasn't a romance author, I would have liked to be…
Coffee shop owner
16. When was the last time you said 'I love you'?
To my little boy yesterday – we say it to each other all the time. I think that's important for him to always know he's loved.
17. What does love feel like?
Intense, bittersweet, passionate, heartbreaking, pure. Although he wasn't talking about love in A Tale of Two Cities, what Charles Dickens said describes it perfectly for me – "It was the best of times, it was the worst of times". Love can be the highest high and the lowest low – nothing else touches it.
18. What's your guiltiest pleasure?
A glass of wine and a book – anywhere – but preferably curled up in front of a fire or watching a sunset in the Caribbean.
19. What's your most romantic song?
Oh so many but I have to say 'If' by Bread is one of my favourites. Not sure anything more beautiful has been written.
20. Every hero needs a…
sense of humor. To me one of the sexiest things in a man, no matter how powerful, no matter how autocratic, is the ability to laugh at himself or at life. It might just be a tiny crack in his ultra-serious façade, the briefest vulnerability in his impenetrable armour, but it gives him humanity. I need a hero to have that.
If you loved this Q&A, then make sure you check out Jennifer's new book, The Italian's Deal for I Do, the first in a brand-new Presents miniseries Society Weddings!