Christine Rimmer first sold to Harlequin in 1986. Her debut was The Road Home from Harlequin Temptation and since then, she has written 95 books, most of them for Harlequin Special Edition. What she loves most about writing for Harlequin is rediscovering the joy, excitement and power of love all over again with each book she writes.
Follow @RimmerChristine on Twitter and Facebook and be sure to check out her website and blog! Look out for Christine's next book, Not Quite Married, on sale May 2015!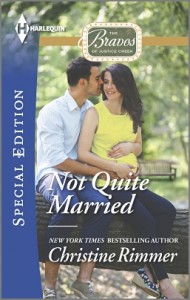 1. What book first got you hooked on Harlequin?
Well, there were several. But I'll never forget The Hellion by the great LaVyrle Spencer, a 1984 Harlequin Superromance. It's a fabulous, heartbreaking, funny, touching, sensual "second chance at love" story. Opening line? "It was well known around Russellville, Alabama that Tommy Lee Gentry drove like a rebellious seventeen-year-old, drank like a parolee fresh out and whored like a lumberjack at the first spring thaw." Oh, yeah. Terrific book.
2. How did you celebrate selling your first manuscript?
As I recall, I hung up the phone after receiving "the call" and ran around my tiny rented house in Long Beach, California, screaming, "I did it, I sold my first book!" at the top of my lungs. I think I went to Sizzler later and had a New York Strip and the endless salad bar. Good times!
3. Which of the many books you've written has stayed with you the most and why?
That's not fair. I couldn't say. Right now, it's the one I just finished, THE GOOD GIRL'S SECOND CHANCE, the second book in my The Bravos of Justice Creek miniseries. Yep, a second chance at love story, like The Hellion. The hero, Quinn Bravo, is a former MMA fighter and single dad. The heroine, Chloe Winchester, is divorced from an abusive husband. Chloe and Quinn have known each other since kindergarten. He has no time for chasing women and Chloe isn't sure she'll ever give love another chance. But after just one night together, they both realize they can't afford to walk away from each other, that they have something special and they need to go forward–together.
4. What's top of your TBR pile?
Susan Mallery's The Girls of Mischief Bay. Nothing like a Susan Mallery book to keep me laughing and crying—and falling in love.
5. What book do you wish you'd written and why?
Maybe Outlander by Diana Gabaldon. Or The Time Traveler's Wife by Audrey Niffenegger. Both books are wonderfully romantic and deliciously complex.
6. What's harder – first or last lines?
Last lines. They need to have so many echoes in them, they need to be satisfying and "final," too. First lines are always more fun.
7. How do you choose your characters names?
After almost 100 books? With difficulty. I tend to choose the "perfect" name for each character, the name that sounds right for the way I see them as people—and then, of course, I usually find out I've already used that name. So I get out one of my many baby naming books and start looking for names that are similar to the "perfect" name I chose first—and also not used in any of my previous books. Then I pick one of those.
8. How do you push through writer's block?
I keep going. That's really the secret. You put your butt in the chair and your hands on the keyboard and you…write. And write some more. Humans are creatures of habit. I make a habit of writing every day.
9. What's the best career advice you've ever had?
Write. Repeat. Also, set daily page goals that are realistic but a little bit challenging. Then meet them.
10. Your preferred writing snack?
I'll give you a hint: It starts with O, and includes two chocolate cookies with white crème filling….
11. Who is your favorite fictional couple?
There are so many, but I would say probably Rhett Butler and Scarlett O'Hara would be tops. GWTW was one of those books for me, one that you always remember. I read it first when I was twelve. I'm somewhat ashamed to say that I faked illness for two weeks to lie in my bed and read it—and then turn to the first page and start all over again.
12. If you could rewrite your life, what would you change?
Not a thing. I've read too many time travel stories where going back and changing things creates a domino effect and ends up causing no end of trouble. So I'll say that everything that's happened to me, everything I've done so far, has led me to where I am right now. And I really like where I am right now.
13. What would your readers be surprised to know about you?
I love frogs and snakes (the non-poisonous kind). No fear of touching them and they fascinate me. As a child, I loved to catch them and keep them as pets, make them a nice little terrarium home and keep them in my bedroom.
14. What is your most overused word?
Glorious? Beautiful? Awesome? I never met an over-the-top word I didn't love.
15. If I wasn't a romance author, I would have liked to be…
Someone who got paid to sit around and read love stories.
16. When was the last time you said 'I love you'?
About ten minutes ago. I went in the kitchen to get lunch. Hubby was there at the table on his laptop. I kissed him and said those three little words.
17. What does love feel like?
Difficult and awful and cherishing and beautiful. And awesome and glorious, too.
18.What's your guiltiest pleasure?
That cookie that starts with O and has the crème filling…
19. What's your most romantic song?
I think maybe Adele's Someone Like You
20. Every hero needs a…
true, forever love.
We hope you all enjoyed your first step into the wonderful world of Christine Rimmer and that it's got you ready to write (some more!). We think Christine has imparted a fab piece of advice when it comes to pushing through writer's block – do you have any tip or tricks? Share them with us by commenting below or tweet Christine @RimmerChristine.