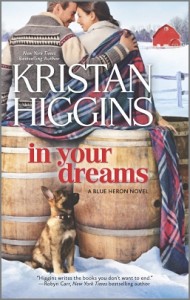 Kristan Higgins first sold to Harlequin in 2006. Her debut was FOOLS RUSH IN and since then, she has written thirteen books. What she loves most about writing for Harlequin is the support and enthusiasm from the entire company, and the freedom to write her quirky plots and characters.
Follow @Kristan_Higgins on Twitter, check out her Facebook page, and visit her blog. Her latest book, IN YOUR DREAMS, is available to buy here.
What book first got you hooked on Harlequin?
Oh, that's tough, since we have to go back through the sands of time for quite a few decades. I'd have to say Nora Roberts, though my advanced age of 49 prevents me from being able to remember the first book of hers I read.
How did you celebrate selling your first manuscript?
Well, I jumped around the house for a few minutes. Thought of my late father, who would've been so proud. Then I made lunch for my little ones, who were then quite little indeed. I don't remember a particular celebration, but I definitely remember the elation and surreal feeling. My book! People will actually be able to read my book! There was a good bit of terror in that moment, too.
Which of the many books you've written has stayed with you the most and why?
The one that leaps to mind immediately is THE NEXT BEST THING, because it features my only widowed heroine. As I said, my dad died quite young, so I saw my mom struggling with grief for a long time. Also, McIrish, my sainted husband, is a firefighter, which is quite a dangerous job, so I think about being widowed all the time (it keeps things very lovey-dovey, let me tell you). I loved Ethan, the hero, who is so steady and true, and I loved how hard Lucy had to work to overcome her fears. Also, it was set in a bakery, and I wrote about lots of fabulous desserts. J
What's top of your TBR pile?
A new cozy mystery called FETA ATTRACTION by Susannah Hardy. Again, the food element. It's gotten great reviews, and it's supposed to be quite funny, so it seems like a real winner to me.
What book do you wish you'd written and why?
Silver Linings Playbook, because it was such a perfect story of two very flawed, complex and wonderful people. I loved the outer plotlines, and I loved the romance.
What's harder – first or last lines?
They're equally hard for me. I once heard an author say, "The first line of your novel sells that book. The last line of your novel sells your next book." Just a little pressure! I often write the first chapter four or five times to get it just right, and that opening line is very important. By the time I write the last line, I'm so in love with the story that it's hard to let it go, and I want to send it off into the reader's heart with the perfect tone, so that too takes a few attempts.
How do you choose your characters' names?
I often swipe names from my cousins (I have many) and their children. I also use a few websites for suggestions: Nameberry and the US social security administration, so I can get names that accurately reflect the year the characters were born (for example, in 1985, no American child was named Jayden or Sansa). I love Anglo-Irish names (have I mentioned I'm married to an Irishman?). For the heroine, I need a name that I love, that I could see myself having. For the hero, it has to be a name that I could see someone calling out in the throes of…well…you know. For secondary characters, I've taken to asking my Facebook and Twitter followers if I can use their names. That's always fun when they read the book and email me, saying, "I'm in your book! I'm in your book!"
How do you push through writer's block?
I don't get writer's block in the sense that I can't write a word or come up with an idea…it's more like I can't write anything good or don't have a fresh idea. My way through this is to accept that all first drafts are terrible, and remember that by slogging through the muck, I'll find something worthwhile. It hasn't failed me yet, but boy, you should see the number of cut pages I have! Each book has at least 50. Once, I threw away 265 pages and started fresh. But without those 265 pages, I wouldn't have been able to write a book I really loved.
What's the best career advice you've ever had?
Keep your head down and do your thing. That was from Cindy Gerard, who befriended me very early in my career. It's still the best advice I've heard.
Your preferred writing snack?
Hershey Nuggets with Almonds. It's an addiction, really. I also love popcorn.
Who is your favourite fictional couple?
Samantha and Jace from MY LIFE NEXT DOOR by Huntley Fitzpatrick. Young love as we all hoped it would be.
If you could rewrite your life, what would you change?
I wish I'd lived in different parts of the world. Until recently, I was very poorly traveled. It would've been so easy to spend six months in Sydney or a year in London when I was a youth, but I stayed closer to home.
What would your readers be surprised to know about you?
Hmm. I had a very hard time making friends until I was in college. I was actually quite shy, back in the day. I'm no longer that way at all. : )
What is your most overused word?
Just. As in "I just wanted to say," or "Just look at me," or "If you would just"… My poor editor.
If I wasn't a romance author, I would have liked to have been…
A pediatric surgeon.
When was the last time you said 'I love you'?
About 45 seconds ago, when McIrish came up to my office to say hello.
What does love feel like?
Safety, acceptance, comfort, silliness, tolerance, dependability, kindness…shall I keep going?
What's your guiltiest pleasure?
America's Next Top Model. Such a ridiculous show. I love watching the absolutely idiotic photo shoots: "You have a wings and you're on a trampoline, now look graceful midair and make those eyes fierce but smize at the same time, and where's your neck?" I can do a pretty good Tyra Banks impression.
What's your most romantic song?
Overjoyed by Stevie Wonder. It was the song McIrish and I danced to at our wedding.
Every hero needs a…
Sense of humor!
Love feels like many things to the wonderful Kristan Higgins. In honor of Valentine's Day tomorrow, let us know what love means to you and how you'll be spending this special day!