Meet the newest author on the Heartwarming team, So You Think You Can Write alumnus T.R. McClure!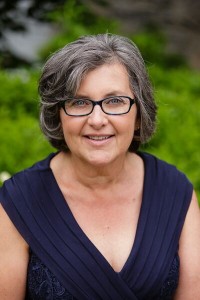 How does an aspiring romance writer get The Call from Harlequin? I'll answer by paraphrasing an old joke.
A pedestrian in New York City asks a stranger, "How do you get to Carnegie Hall?" The musician replies, "Practice, practice, practice."
I was late getting back from my morning walk the day I got The Call. Sunny, my yellow lab, is a great walking partner because as I walk I think of scenarios for stories and she, busy scouting the area for rogue squirrels, rarely interrupts. So I was preparing to put my thoughts on paper when I pushed the Play button on the answering machine. The last thing I expected to hear was "Hi, this is Dana from Harlequin."
I first entered the So You Think You Can Write contest in 2012 with Touch Me Not. The title comes from a memory of walking down a farm lane with my grandmother when I was a teenager. She showed me the seedpods of the plant, also known as jewelweed, and how to pinch them so the seeds fly in all directions. When I think of that scene in the book, I think of passing memories down through the generations, because when my girls were little, I showed them the same thing. Exploding seedpods always elicit giggles.
The story line comes from a variety of sources. After retiring from a career in human resources, I worked part time in a bookstore café. The smell of coffee beans and the art of combining flavors for the perfect drink was fun. So the setting for my story became a coffee shop.
I steal bits and pieces of my daughters' lives for story lines, too. After ten years in the military, one of my daughters became an inactive reservist. Adjusting to civilian life isn't as straightforward as one might think. Holly Hoffman, the heroine in Touch Me Not, comes home to her family and her hometown after traveling the world with the Air Force for ten years. The youngest in the family and the only girl, where does she fit now that she's a grown woman?
The Heartwarming submission didn't place in the 2012 contest, but I got an email asking me to submit the manuscript. The only problem was, the manuscript wasn't finished. I had submitted Chapter One, and then decided to move on to something else. After the email, a flurry of typing ensued.
Manuscript submissions aren't a quick turnaround. You send your material, you wait a bit, and then you start working on something else. So while waiting to hear what the editors thought of my hastily constructed novel, I wrote the submission for SYTYCW 2013. Tea Rose placed in the Top 50. My manuscript was finished, but didn't quite meet the word requirement for the Heartwarming line.
Now I have two manuscripts with the editors, revision notes to review and apply, and SYTYCW 2014 rolls around. I send in A Perfect Match and place in the Top Ten. In the meantime, I begin writing A Christmas Globe for another contest.
Four manuscripts with Harlequin. In 2012 when I entered the first contest, I never anticipated working with a Harlequin editor on four different manuscripts. Tons of revision notes. The boost in my confidence level as a writer was amazing. But I still hadn't heard the magic words, "We'd like to offer you a contract for your book."
Sitting at my desk, I looked at Sunny curled up at my feet. What am I missing, girl?
Sunny still wasn't talking.
Reviewing saved emails, I think Touch Me Not has been submitted twice, maybe three times. The last time I revised the manuscript I saved the story as Touch Me Not Final. I had tweaked and tweaked and tweaked. Touch Me Not was my baby, but I couldn't seem to hit on the right combination for the high stakes romance Dana was looking for.
Lucky for me and Touch Me Not, the final version did it. Dana called back later that day and I heard the ten magic words. "We'd like to offer you a contract for your book."
So how does an aspiring romance writer get The Call?
Write, write, write.
Watch for T.R.'s Heartwarming debut in Summer 2016!
To find out more about T.R., visit her at www.trmcclure.com
And follow her on Twitter @trmcclureauthor
And on Facebook www.facebook.com/trmcclureauthor
For more on So You Think You Can Write and the 2015 contest, visit writeforharlequin.com.