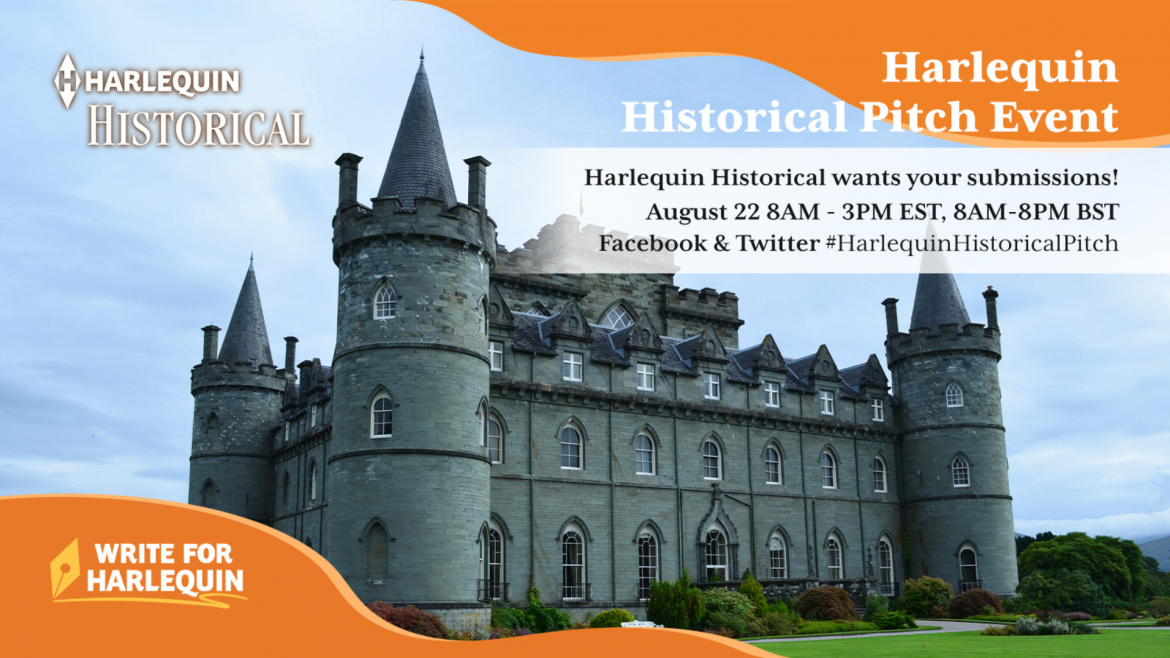 Have you been wanting to sweep readers away to another time? Gossiping in Regency ballrooms, sailing with Viking warriors or dancing in 1920s speakeasies? We are looking for historical romance stories set in any era that will immerse readers in the rich details of the past!
#HarlequinHistoricalPitch is happening on Monday, August 22nd from 8am – 3pm EST and 8am – 8pm BST.
This is an opportunity to showcase your story idea to the Harlequin Historical team and maybe get a submission request from the editors. You may even become our newest author! A great pitch will tell us the key themes of the story, the types of characters and the conflicts they will face in the course of their romance – leaving us wanting to know more!
Here's how you can participate:
You can pitch your historical romance on Twitter or Facebook. Harlequin Historical editors Awo Ibrahim, Vic Britton and Carly Byrne will be monitoring both platforms on August 22nd.
Twitter: Pitch using the #HarlequinHistoricalPitch hashtag. Follow Awo @_awoabdi, Vic @EditorBritton and Carly @CarlyMByrne for updates.
Facebook: Join the Write for Harlequin private group on Facebook (if you're not already a member) and then select "Going" to the #HarlequinHistoricalPitch event. Post your pitch (280 characters max) to the event "Discussion" area on August 22nd. You can find the event here.
Please choose only one social platform, Twitter OR Facebook, to post a pitch. Please do not pitch your book on both platforms. Don't worry, the editors will be reading every single pitch, so as long as you post it once, we'll see it!
What to submit if your pitch is selected:
If Awo, Vic or Carly give your pitch a "like," please submit your first three chapters and story synopsis to Harlequin.Submittable.com under the Historical Romance series. The story synopsis should describe your story, including plot outline, character development and conflict resolution/ending. Be sure to include #HarlequinHistoricalPitch in the subject line.
You'll find the writing guidelines and word counts for Harlequin's Historical series here. There's lots of information on the Write for Harlequin website to guide you on what the historical team are looking for, so check it out here.
Harlequin Historical is…
Outlander (without the time travel), the gritty drama of Vikings, the sizzling sensuality of The Tudors and Bridgerton, and the scandalous society drama of Downton Abbey! The main characters in the Harlequin Historical series bring the period to life and drive an entertaining, dramatic and emotional romance! The Harlequin Historical team is always looking for new stories. In particular, we want to see submissions from underrepresented romance authors, higher sensuality stories, or new perspectives on any time period.
There are dozens of potential avenues your writing could take if you decide to write a historical romance, but if we have one piece of advice for you it's this: keep the story highly focused on the central relationship. Tell us a gripping story with relatable and intriguing characters which deliver on the emotional and romantic intensity.
We can't wait to see your pitches!