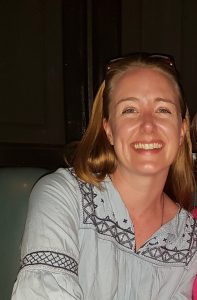 Her name may be familiar to many of you. Now, we're so thrilled to introduce Pippa Roscoe as an author for the Harlequin Presents team! Here is her Call story:
Nine months ago I was living in London, with the best job in the world. And it really was. I was an editor for Harlequin and there were two things in life that I knew to be true: I needed coffee in the morning before I could speak to anyone, and that if you broke me apart, Harlequin Presents was inscribed on my bones. But in spite of this, I knew I had to make a change.
One of the hardest things I've ever had to do was to realise that I wanted something else. That I wanted to make my life different. I wanted to move to Norfolk and be near my family. I wanted to make my living by putting all the day dreams I had in my mind down on paper. That I wanted. That, in itself, was enough.
Handing in my notice was so hard. There were tears. There were sobs, there was the kind of ugly crying most people who know me would have been shocked by. But I knew I needed to do it. I sold my little flat in London, and left a place I'd called home for five years, and landed on my sister's doorstep until I could find a new one.
Norfolk is a beautiful part of the world. It's an hour and half from London, and my part has large open fields, incredible large sprawling skies, enough quiet to keep me happy and enough family to keep me busy. And I just couldn't wait to get started. But putting the words of the story that wouldn't leave my head down on paper required something I've heard referred to as BFI.
Blunt Force Ignorance.
It happened quickly, with absolutely no finesse and complete ignorance of all I'd ever learnt as an editor, complete ignorance of all forms of self-doubt, self-negativity, and even self-indulgence. I wrote it and hit send.
Like I said. Blunt Force Ignorance.
When I got my revisions and re-read through the manuscript, I was appalled. Genuinely. I redefined face palming in one afternoon. I spent three days going down the wrong track, phoned a friend who talked me round, and finally re-read the revision letter once more. Flo had delved into the story I had written and seen the one I had wanted to write. She had lit the pathway to make this happen. And no matter what happened after I hit send, I knew that I would never be the same again. Writing the story, making it better, was the thing that I'd been looking for nine months before.
So then I bit my nails, joined a gym, left a gym, joined an online dating agency, started work on my new house, painted, painted some more, bit my nails some more, arranged to meet someone from the online dating agency.
I was on a date, halfway through the cup of coffee I can't do without, when my phone rang. I apologised profusely, but explained that I really needed to take this call.
There's nothing that can prepare you for life changing moments. There are bad ones, and there are incredible ones. And I was lucky enough for it to be the latter. So there I was, in a coffee shop in Ipswich, on a date, with a coffee in one hand, a phone in the other, a man sitting opposite me with curiosity shining in his eyes, and I was desperately trying not to cry.
"We're delighted to say that we want to buy your book."
I've uttered those words. I've made that call. But I can say, hand on heart, nothing came close to how honoured, how excited, thrilled, ecstatic, nervous and… so boringly practical I was! My poor editor. I tried to explain that the emotional side of my brain had overloaded, and the professional side had taken over. My date was smiling, Flo was laughing, and I was in emotional reboot!
Some of you may know already of my hunt for an alpha male. I can't tell you if I've found him yet, but I do know that my date was happier for me than I believed I had a right to be. But then, I am the Queen of delayed reactions. So it was only when the announcement went out and I saw once again the genuine love of what Presents is, the love of and for those who write it and work on it, the support network that these amazing authors and editors provide, that I realised I was back home again. With my Presents family.