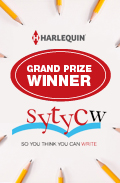 We are thrilled to announce the winner of So You Think You Can Write 2015,
Lauren D.M. Smith
for her Carina Press entry,
Lauren's entry stood out for our judges and readers for its strong heroine and compelling fantasy world.
"This is the story that stuck in my head through all of my reading," said Carina Press Editorial Director Angela James. "[The Emperor's Arrow] was truly a stand-out entry and I'm excited to get to publish it and see what she writes next!"
Lauren has won a two-book publishing contract with Carina Press and is about to embark on an exciting new stage in her life.
And read all of our Top Ten finalists!
Watch the video of The Call with Angela James!
Congratulations, Lauren, and welcome to Carina Press and the Harlequin family!
Do you dream of becoming a Harlequin author? Visit us for contest news, author bootcamps, writing tips and inspiration throughout the year!
Read the Harlequin series  writing guidelines  and submit!
Read the Carina Press writing guidelines and submit!
And follow So You Think You Can Write on Twitter @HarlequinSYTYCW
And on Facebook at So You Think You Can Write