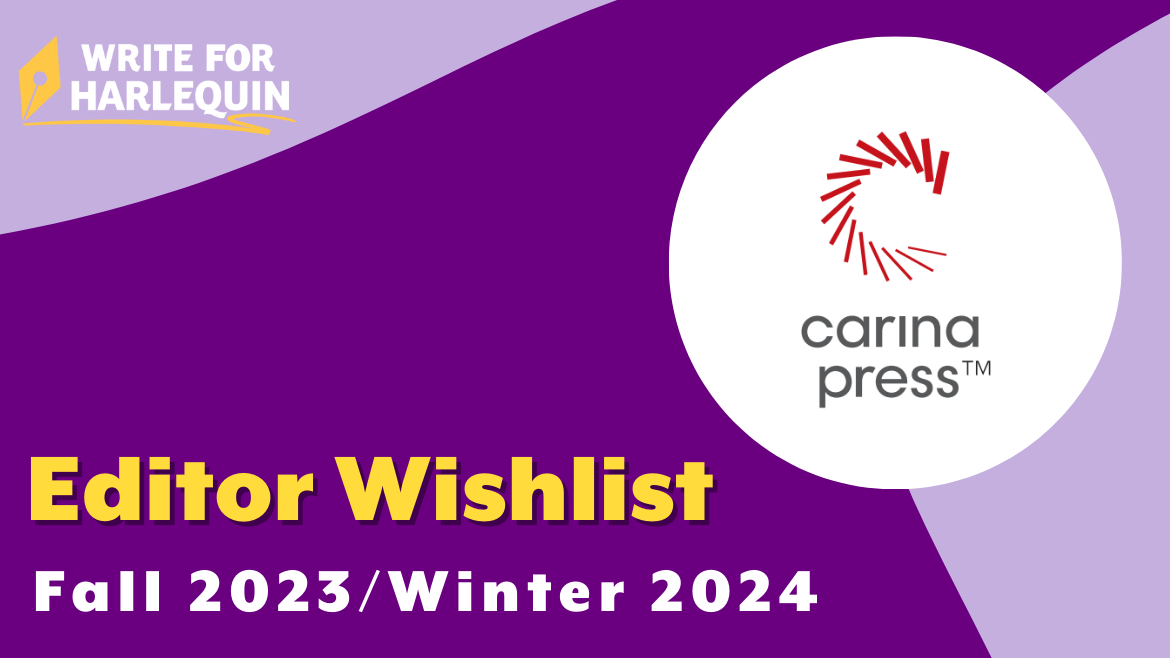 Interested in writing for Carina Press? We're currently acquiring for our Fall 2023/Winter 2024 seasons, and we'd love to read your submissions!
WHO WE ARE
Carina Press is Harlequin's digital-first adult fiction imprint, publishing first in digital, with select releases in audio and print. Since its inception as the first digital imprint within a traditional publishing house, Carina Press has been an industry leader, and we continue to publish a broad range of romance, including paranormal, contemporary, historical, fantasy, science fiction, LGTBQ+, and more. We accept submissions of all heat levels, with a minimum word count of 50k and a maximum word count of 125k.
For more information, please see our submissions guidelines.
Below you'll find a general list of what we're looking for to fill our 2023/2024 publishing schedule. This is an expansive list but not an exclusive one—if you have a great story that meets our submission guidelines but isn't mentioned here, please send it our way! We welcome all pairings and groupings—LGBTQ+ romances as well as m/f—and would especially welcome stories from authors belonging to traditionally marginalized communities.
WHAT WE'RE LOOKING FOR
Across all romance genres:
LGBTQ+ romance featuring POC characters
Complex relationships in bio families

Main characters

finding community in found family

Fish out of water

protagonists
"Why choose" romances, where a heroine finds love with multiple heroes
We love a grumpy/soft character pairing, and have a particular weakness for characters who are standoffish as a defense mechanism, and eventually show their softer side to the right person. Bonus points if that type is paired with a total goofball.
Ancient Greece retellings/reimaginings—historical, contemporary, paranormal all welcome! Specifically looking for darker themes here; think Katee Robert's Dark Olympus series.
Contemporary:
Super-sexy contemp with big emotions—big plot twists, big conflict. Messy characters who don't always act in their own best interests in the heat of the moment.

Contemporary romance

that breaks down toxic masculinity—think Magic Mike XXL vibes. Not necessarily stripper heroes (although no hero is unwelcome!) but heroes that are in tune with their emotions and willing to nurture relationships, not just romantic ones, but platonic male friendships as well.

Cozy mystery

romantic comedies featuring protagonists with strong bio or found family ties.

Trope-driven

F/F contemporary romance—enemies to lovers,

slow burn

, marriage of convenience…pick your fave

trope

!
Paranormal:
Fantasy romance—send us your dirty sexy faeries! ACOTAR fans, we're looking at you! These romances can stand alone or carry a romance arc over multiple books, but the romance arc must eventually end in an HEA.
Monster romance. Specifically looking for high heat levels for this one! We'd love to see an LGBTQ+ take on this

trope

, as well.
Light-ish paranormal romcoms featuring ghostly or otherwise paranormal protagonists—think The Dead Romantics by Ashley Poston, or The Undertaking of Hart and Mercy by Megan Bannen.
Romantic Suspense:
With heavy emphasis on the romance. We're looking for strong, protective characters, dramatic rescues, and off the charts chemistry. Ideally each book in a series will stand alone, with light touches on any complicated plotlines that take multiple books to resolve.
We're looking forward to reading your submissions! For a full list and instructions on how to submit, please visit our guidelines.
The Carina Press editorial team.