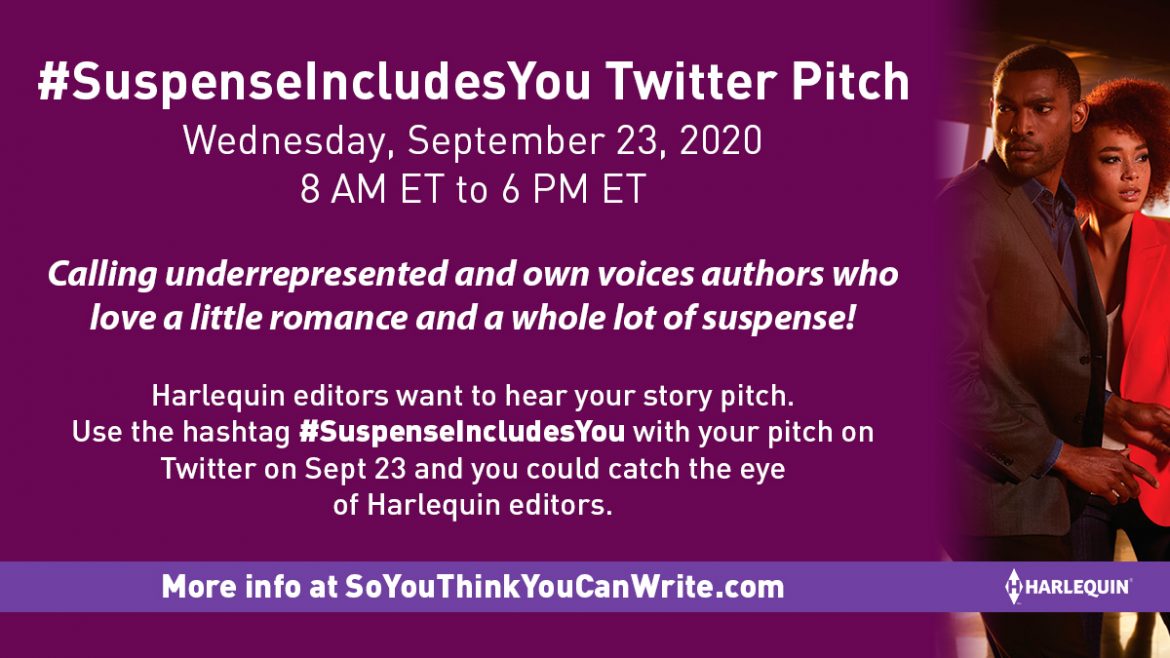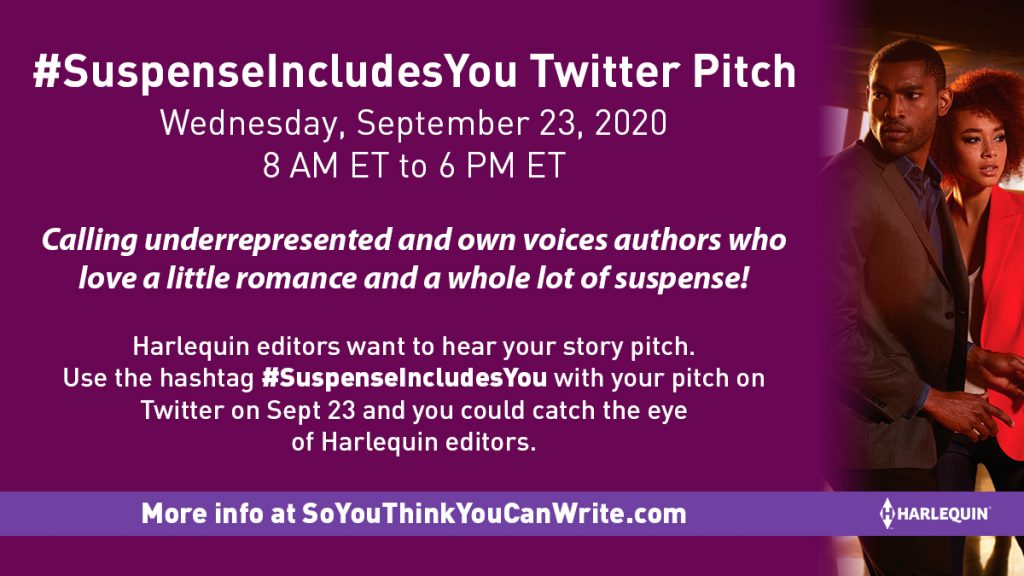 Whether it's a nail-biting thriller, a faith-filled suspenseful romance, or a passionate love story during a crisis, we are looking for suspenseful books from underrepresented authors to keep readers on the edge of their seats.
The romance writing and reading community includes people of all backgrounds, communities and cultures who share an enjoyment of stories that celebrate love and happiness. Harlequin is committed to bringing readers a wide range of stories that reflect our diverse society.
This is an opportunity to showcase your story for one of the three Harlequin lines and get some helpful feedback from Harlequin editors in addition to consideration of your manuscript — and maybe even become our newest author!
#SuspenseIncludesYou Twitter Pitch–everything you need to know:
On Wednesday, September 23, 2020 from 8am ET to 6pm ET, Harlequin Intrigue, Harlequin Romantic Suspense, and Love Inspired Suspense editors will be monitoring the #SuspenseIncludesYou hashtag on Twitter for book pitches from own voices authors.
Add a hashtag for #HarlequinIntrigue #HarlequinRomanticSuspense or #LoveInspiredSuspense to let us know which Harlequin suspense series you are targeting.
If one of our editors gives your pitch a "like" please send your first chapter and story synopsis to Harlequin Romantic Suspense, Love Inspired Suspense, and Harlequin Intrigue for review as requested by the editor and submit it at Harlequin.Submittable.com. Also, include "Suspense Includes You" in the subject line.
Make sure your submission is long enough. One chapter should be about 3000-5000 words.
All submissions will be read and responded to within 60 days.
If we love your submission, we'll invite you to submit a full manuscript for consideration for one of our suspenseful romance lines. You'll find the writing guidelines and word counts for Harlequin's suspense series here.
This Twitter pitch even is specifically looking for underrepresented voices who love to write romantic suspense and inspirational romantic suspense. We welcome submissions from all authors at any time to Harlequin Intrigue, Harlequin Romantic Suspense, and Love Inspired Suspense via Submittable.