About
Write for Harlequin is about finding new voices in romantic fiction. Harlequin publishes over 60 new romance novels every month – almost 750 a year – and our experienced and friendly team of editors is always on the lookout for new talent. We have published over 160 new Harlequin authors in the past five years!
At Write for Harlequin you'll find everything you need to help you reach your writing goals – from our current submission calls and how-to-submit information to editors' tips on writing unforgettable characters, fast-paced plots and an irresistible mix of tension and chemistry in your happily ever after story. Get to know our editors – and what's on their acquisition wish lists – and celebrate new authors who have joined our global community of Harlequin novelists.
We welcome all authors to the Harlequin community and we want readers to see themselves reflected in the books we publish. We look forward to reading your stories.
* * *
Get to Know Harlequin Series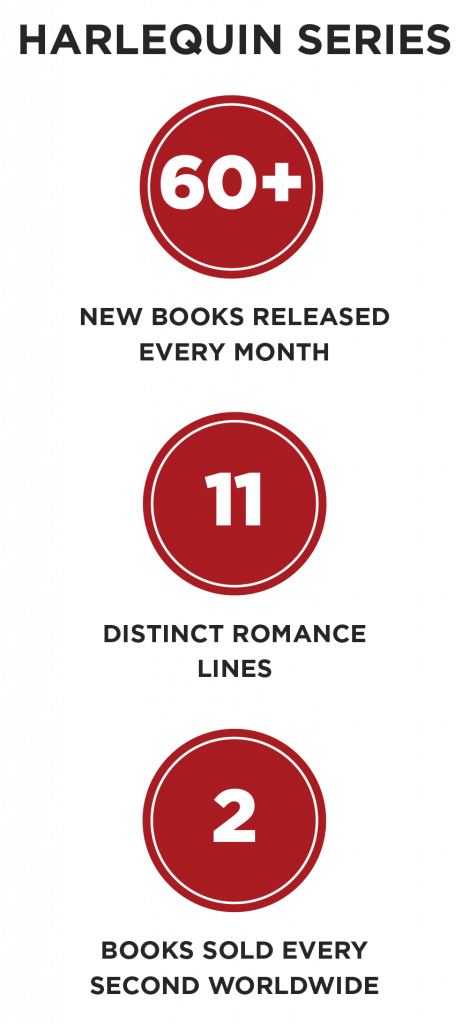 Harlequin Series has 11 romance lines:
Harlequin Presents
Harlequin Romance
Afterglow Books
Love Inspired and Love Inspired Suspense
Harlequin Romantic Suspense
Harlequin Intrigue
Harlequin Special Edition
Harlequin Heartwarming
Harlequin Medical Romance
Harlequin Historical Romance
All series have recognizable branded packaging and publish a set number of new books on a monthly schedule for retail, similar to magazine publications, each with a consistent and unique reading promise. For example, Harlequin Presents publishes eight books per month, and Harlequin Romantic Suspense publishes four books per month. Print books are sold at major retailers and directly to customers through Harlequin's book club. Ebooks can be purchased anywhere, anytime at online retailers and Harlequin.com.
Visit our What is Harlequin Series? page for videos on each series brought to you by our editors.
Read the writing guidelines for our series romance lines at Harlequin.Submittable.com and find free books to sample at TryHarlequin.com
If you're thinking of submitting your romance and you're not sure where it belongs, visit our Which Series Are You? page.
Get to Know Carina Press
Carina Press, Harlequin's digital-first imprint, publishes a wide range of inclusive romance with titles published first in digital and select releases in audio and print. Since its inception in 2010, Carina Press has been an industry leader, publishing a broad range of inclusive romance and was the first digital imprint created within a traditional publishing house. Carina Press acquires romance across subgenres (except for inspirational romance), including contemporary, paranormal, sci-fi and fantasy, romantic suspense and historical, and erotic with a central romance plot.
What is a Romance Novel?
Romance novels are emotionally-charged, upbeat stories with a central love story and a happy ending guaranteed. Different from women's fiction with a romantic element, a romance novel has the love story at its heart with equal focus on the heroine and hero.
Series romance novels, also known as "category romance", are inspired by classic romance tropes and cover a variety of subgenres and styles ranging from sexy contemporary romance to touching home and family stories to sweeping historicals.
Did You Know? Romance novels are a top-selling paperback genre, second only to mystery fiction.
Why Choose Harlequin?
Harlequin has been bringing enjoyment to readers around the world for 70 years. We are uniquely positioned to help authors build a global career:
Global brand recognition: Harlequin is known worldwide and has a built-in audience of loyal readers–a big advantage for authors building their careers.
Guaranteed distribution and promotion: Harlequin offers authors guaranteed distribution across multiple retail channels and global marketing support to grow author brands and audiences.
Series romance model is a plus for authors: Harlequin is the world's largest publisher of series romance–this sets Harlequin apart from other publishers and offers many benefits for authors. With the series romance model, readers know that new books are published in each series on a monthly schedule and they actively look for Harlequin books in store and at online retailers. As a result, Harlequin gets dedicated space at major retailers and bookstores and also sells books through its direct-to-consumer book club and overseas sales opportunities. On the online side, there is the Harlequin store on Amazon and other online retailers, including Harlequin.com, and Harlequin Audio for selected titles.
Publishing expertise: Harlequin has over 40 experienced and knowledgeable romance editors in New York, London and Toronto who work closely with authors, plus a publishing team that includes art, marketing, sales, production and overseas sales working to make your book successful.
No agent required to submit your story: All you need is your story. Submit to Harlequin.Submittable.com.
Get Connected
Follow @Write4Harlequin on Twitter and join the Write for Harlequin Facebook group – an inclusive community of over 3,000 would-be and published Harlequin authors where authors work toward their writing goals.
For more information, please visit  Harlequin.com  and  Facebook.com/HarlequinBooks. Follow Harlequin on Twitter: @HarlequinBooks.
If you have any questions about writing for Harlequin or Carina Press email us at submissions@harlequin.com or submissions@carinapress.com.
About Harlequin
Harlequin is a leading publisher of popular fiction and narrative nonfiction. The company publishes almost 100 titles a month, in both print and digital formats, that reach audiences globally through its 11 series romance lines and seven fiction imprints. Home to many award-winning New York Times and USA TODAY bestselling authors, Harlequin is a division of HarperCollins Publishers, the second-largest consumer book publisher in the world. Through HarperCollins' global publishing program, Harlequin titles are published in 17 countries and 16 languages. For more information, please visit Harlequin.com and Facebook.com/HarlequinBooks. Follow Harlequin on Twitter: @HarlequinBooks.