We're celebrating the launch of Harlequin Dare this week at SYTYCW! Our boldest, sexiest romance series yet features fun, fearless heroines and the alpha heroes they crave.
Your challenge this week: Write a short dialogue that shows us the push/pull between your powerful and equally matched hero and heroine. For this challenge, exposition and inner monologue should be left out—your characters' words and body language tell the story.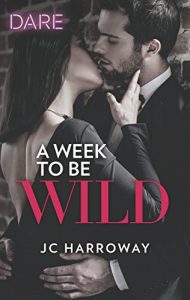 What the hero and heroine talk about is up to you. But we want you to include this line from JC Harroway's new Dare book, A Week to be Wild:
"What do you say? Up for a little…adventure?"
You can start your dialogue with the line or end with it – or use it anywhere in between!
For tips on writing great dialogue, read "Say it with Style: How to write great dialogue" in our archive.
Dare to take our challenge this week? Post your dialogue in the comments below any time between now and Sunday, February 11, 2018  and we'll check back with you on Monday!