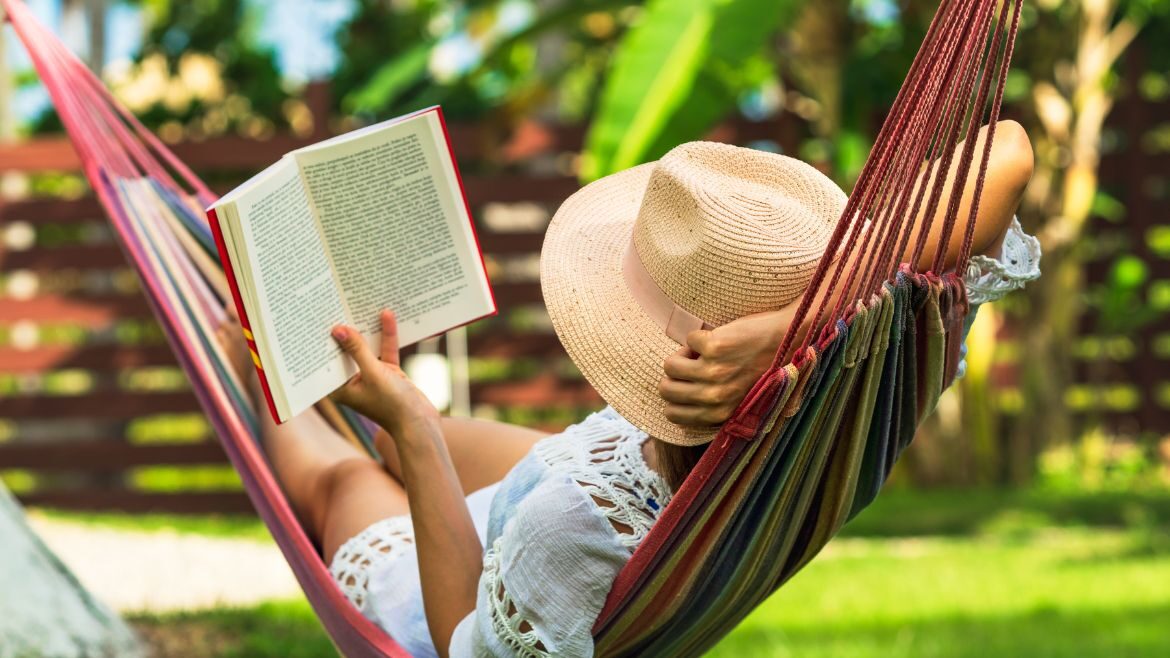 Summer is the perfect time for those of us who like to spend the whole day reading!  With plenty of extra sunshine and good weather, there's nothing like summer reading.  The Write for Harlequin team has read endlessly this summer and we're here to share our favorite books of the last couple months with you. Hopefully you'll find something to add to your to-read list for the last couple weeks of the season.
Errin Toma is reading…
The Princess and the Grilled Cheese Sandwich, a graphic novel by Deya Muniz

As a big fan of puns, yearning, and grilled cheese (despite my lactose intolerance 😢), I loved this story. The illustrations were bright and emotive, and the story was whimsical and swoony. I finished it in one sitting and can't wait to read again!
---
Emma Cole is reading…
Lavie Tidhar's The Circumference of the World: I've read a few of Lavie Tidhar's books and have enjoyed them. But The Circumference of the World is in almost an entirely different category. This genre-bending book follows a number of different stories, protagonists, and styles as it pieces together the tale of Eugene Charles Hartley, a science fiction author whose mysterious novel is at the centre of various searches for the truth of the universe. At times a noir detective story, a science fiction epic, a crime thriller, and a biography, Tidhar does a masterful job spinning these terribly disparate characters and stories into a cohesive whole.
It sounds wildly confusing, but Tidhar wrangles everything into a beautiful, engaging story told through various perspectives with different styles. At the heart of everything is Hartley, who seems to know everyone in sci-fi's Golden Age of publishing and whose story might be the key to the universe.
I enjoyed this book immensely. Refreshing, engaging, interesting, and terrifically well-written.
---
Deirdre McCluskey is reading…
I recently finished Fleishman Is in Trouble by Taffy Brodesser-Akner. It starts out as the story of a disintegrating marriage told from the point of view of the aggrieved husband, New York hepatologist Toby Fleishman. But the focus gradually expands beyond Toby to his close friend, Libby, and his wife, Rachel. It becomes apparent that the women in Toby's life have always had something to say – he just wasn't listening. Like a Jonathan Franzen marriage novel turned inside out, Fleishman Is in Trouble entertainingly reveals the limits gender expectations place on both men and women in relationships and the world at large.
---
Katie Gowrie is reading…
This month, I discovered Kasey Stockton's Ladies of Devon series and it's been a joy to dive into! I was hooked by the first book in the series, The Jewels of Halstead Manor. It's a sweet Regency romance featuring a bold and compassionate heroine and a flirty playboy hero (of course!). When her father dies, Giulia Pepper gets invited to the home of her uncle, an earl, and she hopes to be welcomed with open arms to his castle on the coast of Devon. Finding a gentleman who's been shot and left for dead on the side of the road isn't in her plans—but the bigger surprise comes when she realizes her uncle's invite was forged. He never invited her at all. In fact, he can't stand the sight of his brother's child. I loved seeing Giulia use her wits and smarts to secure a position for herself in her uncle's home caring for the injured man, Nicholas, her distant cousin and the next earl. There's lovely chemistry between the leads, a budding female friendship amongst the local ladies that reminded me of The Wallflowers series, and there's even a mystery! Giulia and Nick work together to uncover her father's secret past, the rift between the once inseparable brothers, and a jeweled key that an enemy will stop at nothing to get. What fun!
I'm also (finally) reading Emily Henry's books—yes, I'm very late to the party. When I last saw my sister she refused to let me leave without shoving Beach Read into my hands (thanks, sis!). It's the perfect summer read and I've been loving the hilarious writing, the smart banter and the sexy tension between the leading couple. It won't be my last Emily Henry, that's for sure.
---
Jenny Macey is reading…
After a bit of a reading slump (it's the worst, isn't it?!), I recently finished Pachinko by Min Jin Lee and absolutely devoured it. It's a fairly long book, but my-goodness is it worth diving in! This fascinating tale follows four generations of a Korean family across 100 years of history, as they move to Japan amidst the threats of colonization and political warfare. A poignant story of resilience and identity, I would highly recommend this book – it's a bestseller for a reason!
So, now that the slump is over—hoorah!—what's next on my list? Well, a predicament I'm sure many of you can relate to, my TBR pile grows by the day… But I'm particularly looking forward to picking up Yellowface by R.F. Kuang and Seven Days in June by Tia Williams.
---
Caroline Timmings is reading…
I just started a new series, The Lady Darby mysteries by Anna Lee Huber. The first book, The Anatomist's Wife, is set in Scotland in 1830 and the heroine becomes an accidental sleuth. Because of her talents as an artist, her late husband, a doctor, had her draw realistic illustrations of the inner workings of the human body that he studied through dissections. Now a widow and living with her sister's family, she is called upon by her brother-in-law to use her knowledge of the human body to try and find a murderer who killed a guest at a party. She is also tasked with working side by side with young detective Sebastian Gage, an infuriating—and charming—rake. The setting is immersive, the historical tidbits are fascinating, the characters are engaging… I was delighted to stumble upon this series (which is up to book 11!). It is a compelling, cozy mystery and there is some wonderful romantic tension throughout the book that signals to me the beginning of a great relationship between our heroine and the novice detective Gage.  
---
We hope that you've found a recommendation or two and that you are as excited for your upcoming reads as we are!