You've come to the right place to find out what Harlequin editors are looking for right now. Active calls for submissions are posted on this page and change regularly. If you don't see anything here now, check back for updates.
We regularly run Twitter story pitch events and submission blitzes to find new voices in romantic fiction (did we mention we publish almost 800 books a year through Harlequin's romance lines?). From time to time, we also acquire books for special collections and limited series sold through retail outlets.
Never miss a call for submissions by signing up for our monthly newsletter!
Upcoming Events
Medical Romance Includes You
Are you participating in the Medical Romance Includes You pitch event on March 26th? Then we invite you to join our Editor Q&A on March 5th at 11 am ET, and ask a Harlequin editor all your questions ahead of pitch day! Be sure to join the Write for Harlequin Facebook Community in advance to participate in the Editor Q&A! More details on the pitch below!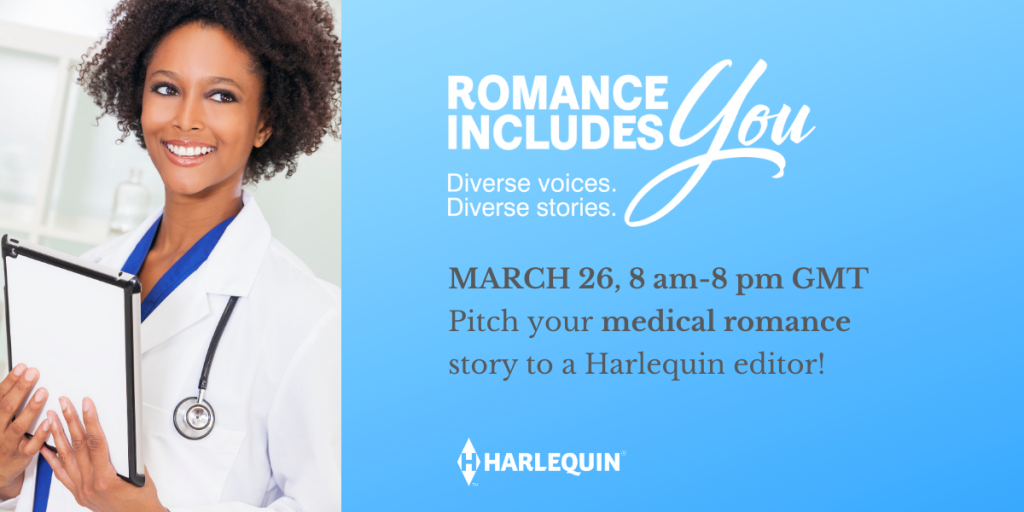 Have you been dreaming of captivating readers with a pulse-racing medical romance? We're looking for Medical Romance books from underrepresented authors that will immerse readers in the drama of the medical world. Underrepresented voices includes, but is not limited to, authors who identify as Black, Indigenous or people of color (BIPOC), members of LGBTQ+ communities, marginalized ethnic and religious cultures, and people with disabilities and neurodiversity.
Pitch your story to a Harlequin editor and get helpful feedback–you may even become our next Harlequin author! Click here for more details.
#MedicalRomanceIncludesYou is happening on Friday, March 26, 2021 from 8am to 8pm GMT on Facebook and Twitter. Join our Editor Q&A on March 5 at 11 am ET on the Write for Harlequin Facebook Community to chat with our editors and ask your questions ahead of pitch day!
Current Open Submissions
Harlequin Welcomes More Submissions from Black Authors
Dates: Open-ended, no deadline
Series: All Harlequin romance lines
Instructions: Please include #RomanceIncludesYou with the title of your manuscript
The romance writing and reading community includes people of all backgrounds, communities and cultures who share an enjoyment of stories that celebrate love and happiness. Harlequin is committed to bringing readers a wide range of stories that reflect our diverse society.
We want to publish more diverse and inclusive voices and stories. We welcome all authors to the Harlequin community and we are reaching out to especially welcome and invite story submissions from Black writers for Harlequin's romance lines.
There's no time limit on this call for submissions. You can submit your manuscript for consideration whenever the time is right for you. It can be an #ownvoices story or another story you want to tell. Please include the #RomanceIncludesYou hashtag with your title and submit to the romance line best suited to your story. We will offer our editorial feedback within 60 days.
Information on Harlequin series romance, including writing guidelines and how to submit your story, can be found at Harlequin.Submittable.com. Writing guidelines and submission information for Carina Press, our digital-first imprint, are found here. You do not have to be represented by an agent to submit.
We look forward to reading your love stories!
Past Submission Calls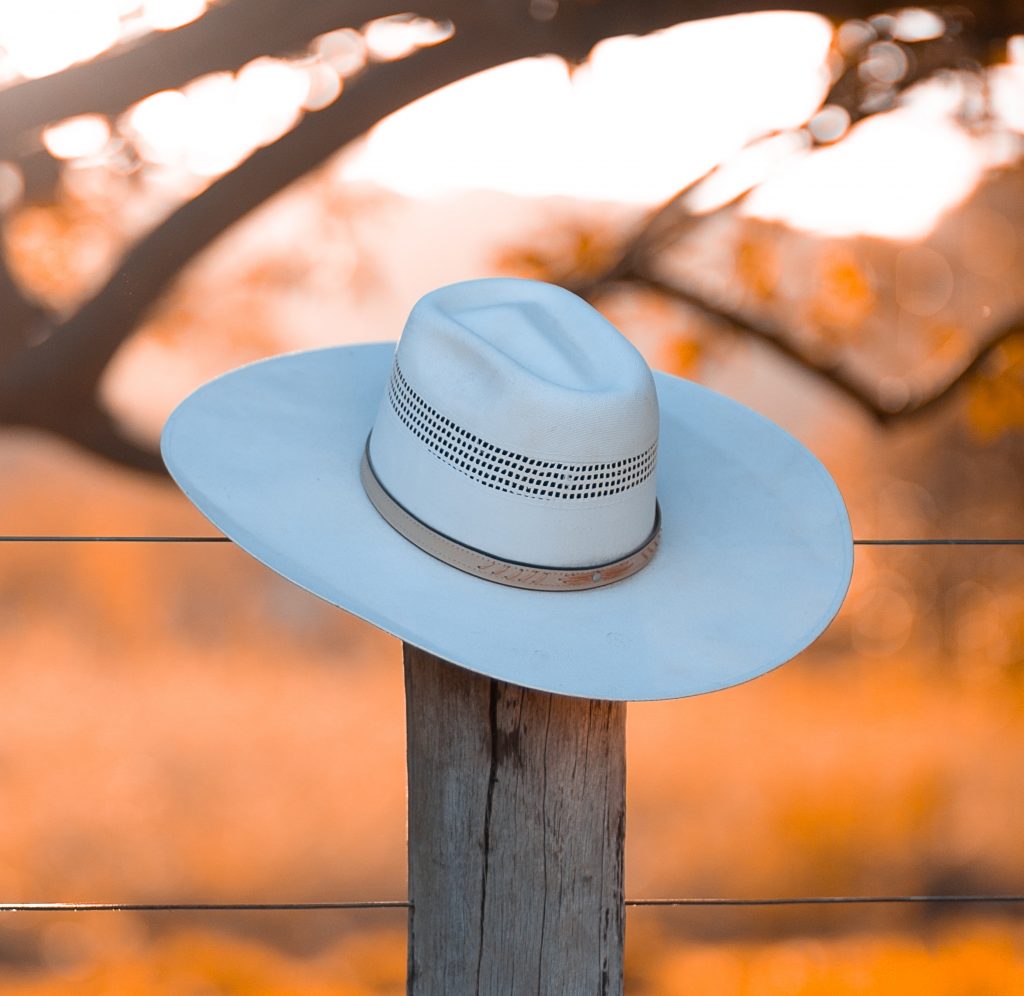 We Want Westerns! Harlequin Desire Blitz
Harlequin Desire is hosting the We Want Westerns Blitz! We're accepting Western submissions of full manuscripts on our Submittable page from January 22, 2021 to February 5th, 2021. Responses guaranteed by March 5th, 2021.
Holiday Romance Includes You!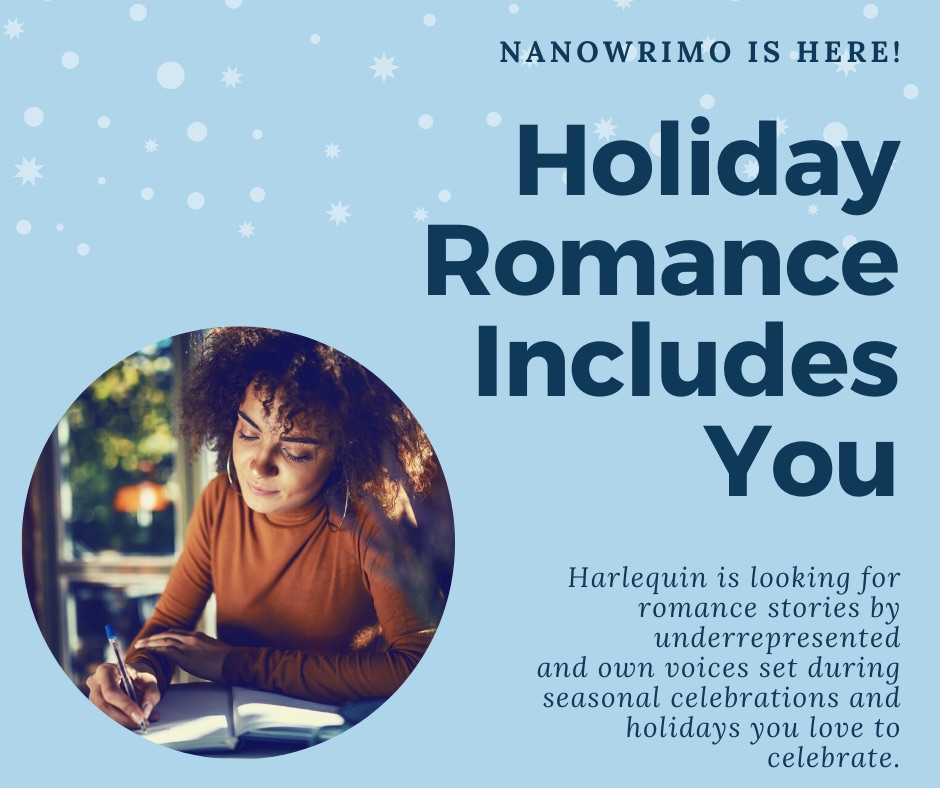 Are you writing a romance novel during NaNoWriMo?
Harlequin is looking for more romance stories by own voices and authors in underrepresented groups that are set during seasonal celebrations and holidays that are important to you – your cultural and religious holidays, seasonal celebrations, family traditions, new year's festivities around the world, and more.
We are interested in submissions for all Harlequin romance lines and Carina Press. Male/female and LGBTQ+ storylines are welcome. Read the writing guidelines for our Harlequin romance lines at Harlequin.Submittable.com and read our guidelines for Carina Press at CarinaPress.Submittable.com. Submit your story by January 1, 2021.
Please submit to the line that is best suited to your story and include #HolidayRomanceIncludesYou with the title of your story.
We want to read your love stories!