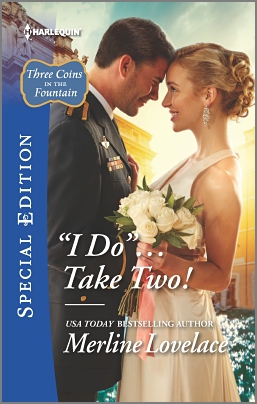 Community plays a significant role in Harlequin Special Edition books! But how can you keep the focus on the couple in your story without neglecting secondary characters…? We asked our Special Edition authors to share how they strike the right balance in their books. Read on for our authors' confessions…
Merline Lovelace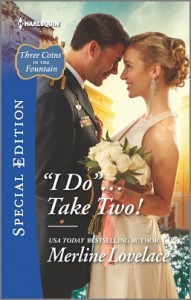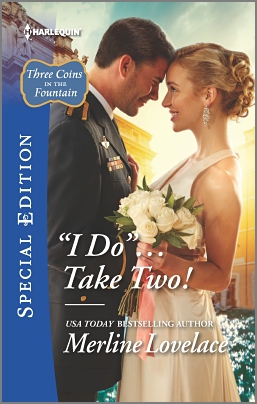 A larger cast of characters does present challenges, especially to those of us of a certain age who have to pin charts to our bulletin boards to help us remember what color our hero's eyes are and whether our heroine's favorite junk food is pizza or buffalo wings.
On the other hand, it's great fun to give secondary characters all kinds of quirks and unexpected character traits.  For example, in my March Special Edition, "I Do"…Take Two! I introduced an Italian prince who also happens to command a crack Italian air force Special Operations unit.  He's got merry eyes, a rakish handlebar mustache and exudes equal parts charm and sophistication.  Sounds hunky, right?  Just for fun, I also made him short and stumpy and balding.  Yet he's still managed to convince a good number of starlets and opera divas to jet off to Marrakesh or the south of France with him.  So of course he makes a play for the book's heroine, much to the chargin of her soon-to-be-ex-husband who's trying to win her back. The story has many other secondary characters with such strong, fun personalities they'll probably all get books of their own!
Purchase Merline Lovelace's Special Edition title "I do"… Take Two! here.
Karen Rose Smith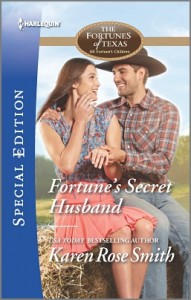 When I began writing, I had a rich, relationship background to draw on.   I was an only child but descended from large Italian families. My dad had nine brothers and sisters and my mom had six.  From my own experience of falling in love and marriage, I realized we bring our past and our present, our friends and families into our interaction with a significant other.
In writing a Special Edition, I give my hero and heroine center stage.  But friends and family provide conflict, character revelation, reasons for opening up about the past, as well as humor. The hero and heroine are the center of the wheel and the focus. The cast surrounding the wheel provide support, sounding boards and opportunities for secrets to be revealed. Balancing the cast is easy.  The book is always about the hero and heroine's thoughts, feelings and journey to loving each other.  The other players form the scenery along the way.
Purchase Fortune's Secret Husband by Karen Rose Smith here!
Karen Templeton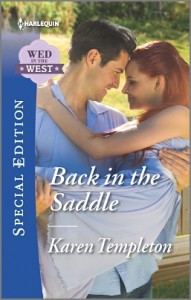 Although I've always included community as a major part of my stories, when I started writing for Special Edition several years ago I truly felt as though I'd come home, too. Because people don't live in a vacuum, right? We all have parents and siblings and friends, maybe even kids, as part of our lives. And somehow all those people don't magically disappear when romance is on the horizon! But with a shorter word count (around 55K), I've found that while the community setting is still an integral part of the story, it's even more imperative to keep the focus on the hero and heroine so the story doesn't wander off into Tangent Land and leave the reader feeling unsatisfied.
For instance…is there some community event that brings the couple together (the Fourth of July party, for instance, in A Soldier's Promise (February 2016) that leads to a major turning point conversation between them)? Or how do the conversations between, say the hero and his friends or family, relate to the romance and thus keep the main story arc on track? Or do scenes that don't include both protagonists still showcase their characters in some way that the reader relates to or falls in love with them, which in turn makes her root for them to get their happy ending? In other words, showing how the characters interact with their community is a great tool for helping the reader see them as fully developed human beings with both admirable qualities and — yes — flaws. Because the more the reader identifies with the characters, the more likely they are to celebrate with them when they triumph over whatever obstacles might be keeping them from finding true love. Besides which, all those secondary characters are just plain fun to write!
Purchase Karen Templeton's Back in the Saddle here!
Michelle Major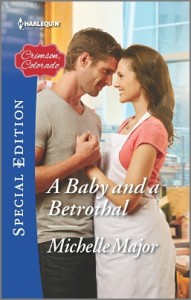 One of the things I love most about Special Editions–both as a reader and an author–are all supporting characters that make up the world of these books. They give the books their heartwarming, relatable feel and for me, writing the Crimson, Colorado series has become like revisiting my friends each time I begin a new story. If I had a gazillion pages and endless hours, I'd love to draw all of the bit players and previous couples into each book. It's fun to discover what everyone's been up to since we last saw them. But I think the key is pulling in the secondary characters that further the current story and making the most of their moments on the page. The central romance is the reason for the book, so sometimes I have to limit who we see outside the hero and heroine. Other times, a secondary character who I might introduce in one book can become the inspiration for a future story. In fact, one of my upcoming Crimson books introduces readers to the town's hottie sheriff, Cole Bennett. I'm working on ideas for his story now and can't wait to bring him fully to life!
Purchase A Baby and a Betrothal by Michelle Major here!
Christy Jeffries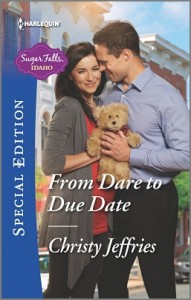 It takes a village to make my heroes and heroines come together. Secondary characters are so important to the story, not just because they help to move things along, but because romance (like life) doesn't happen in a bubble. However, you don't want your secondaries to become such a sensation, they overshadow everything else and detract from the central theme.
The best way to avoid this is to keep all observations about the secondaries in the main character's point of view. Do they frustrate the heroine? Do they make the hero laugh? Similarly, descriptions about secondaries should be somewhat limited to how the hero/heroine observes that person.   For me, the easiest method for doing this is by using dialogue and by incorporating quick descriptions of that person's physical appearance/mannerisms. Maybe they wear a t-shirt or have a bumper sticker that sums up their personality. Or maybe they speak in a certain way. That whole concept of "show, don't tell" is very important here because you don't want to distract your reader with a big ol' back story on someone who isn't the focus of the plot, yet, you also need to demonstrate that this character is real and believable and integral to the story.
Think about in these terms:   You're out for cocktails with friends. The background music in the bar can either enhance the experience or cause a distraction. Depending on how much alcohol you've consumed, if Macarena comes on, everyone (except that one drunk friend) is going to groan and say, "Oh no. Not again!" If All The Single Ladies comes on, everyone (especially that one drunk friend) is going to run out onto the dance floor and abandon their drinks.
You don't want your reader abandoning their drinks OR your main characters. Your secondary needs to be a good in between song (like anything from the Rolling Stones or the 80s) that makes people nod their heads and tap their feet and say, "This is my jam!"
Purchase Christy Jeffries' From Dare to Due Date here!
Meg Maxwell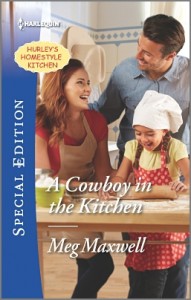 A Cowboy in the Kitchen, book #1 of the Hurley's Homestyle Kitchen series, is set in a half-century-old family restaurant. There's owner Gram Hurley, cook Annabel Hurley, waitress Clementine Hurley, plus another Hurley sister who's nowhere to be found and very much worried over. There are other cooks and wait staff and regular customers eating pulled pork po'boys and baby back ribs. Blue Gulch, Texas, is a community where the heroine, Annabel, grew up, constantly reminding her of her past and forcing her to face the hot cowboy who broke her heart and is now offering a marriage of convenience to save his family of two and her beloved restaurant. West Montgomery, the hero, comes complete with a 6-year-old daughter and former in-laws who don't think he's a good father. Add all that together and it's a very big cast, but the balance is in how integral the secondary characters and community are to Annabel and West. These people, this town, are all part of their daily lives, from little Lucy Montgomery's snappish, snooty grandmother to the meanie competitor from the new burger joint across the street. The key to the balance is in not allowing the minor characters' stories to take over, but to enhance the romance between the hero and heroine and enrich the novel with a realistic slice-of-life feel. That's my hope!
Purchase A Cowboy in the Kitchen by Meg Maxwell here!