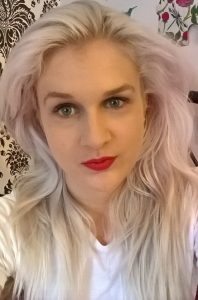 by Grace Thiele
I love the holidays. I am, in fact, a festive fiend. When my boss brought in mince pies, halfway through November, I did a Regency-heroine-of-old faint of ecstasy. I force my housemates to decorate, play Mariah Carey (and sing – badly), and have to resist dressing myself in tinsel for four weeks straight. So when the season for holiday romances rolls around, I practically jump for joy!
Here're my top five reasons to love holiday romances…
1. THE WEATHER. Now, I know, this varies according to one's global location. But there is one indelible image associated with December: SNOW!! In The Holiday, I know I'm supposed to want to go to California and enjoy a sunny Christmas. Except… I really want to be Cameron Diaz, in Kate Winslet's cottage, stuck in the snow with Jude Law. To me, nothing is more romantic than the beautiful, crisp perfection of snow, that eerie quiet that engulfs streets, and the wonderful possibility of being snowbound. (Preferably with a Mediterranean billionaire who also knows how to keep a log fire going and toast crumpets. Any takers?!)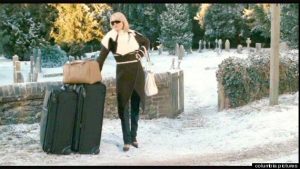 2. THE FASHION. Now, this might seem ironic. Everyone recalls the awful jumper Mark Darcy wore in Bridget Jones's Diary. (Although, one could argue, it did bring them together in the end…) But the festive season can provide millions of opportunities to buy a new frock, rock up to the office party, and finally make a move on your gorgeous colleague, just like in Love Actually. Many a romance heroine has been empowered by a heavy dose of glitter and sequins. Of course, we didn't get to see their happily ever after onscreen, but I'm sure Karl never forgot Sarah's sparkly dress.

3. FOOD. Food in romance novels can be torturous, in the best possible way. I've read a few with Italian heroes cooking for their heroines right before lunch, and my stomach grumbles resonated around the office with deafening force. Having said that, I loved every minute, because aside from causing me to sprint out the door and buy pasta immediately, food can be the most incredible way to bring people together. Case in point: Scrooge in The Muppet Christmas Carol. (Miss Piggy and Kermit are, in my view, one of the greatest loves of all time.) Michael Caine buying a poultry large enough to crush onlooking bunny rabbits symbolised his redemptive journey. And…. YUMMM!!!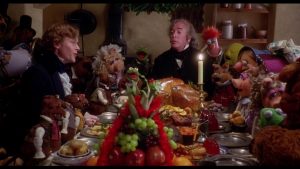 4. FRIENDS & FAMILY. So many of us reunite with the most special people in our lives at this time of year, and holiday romances are filled with reunions. Whether it's the school crush who's back in town, or crazy Aunt Bethel who drinks too much sherry, this is the time of year to remember who you really care about in life. And you never know, Mum might set you up with a Hugh Jackman lookalike. After all, It's a Wonderful Life…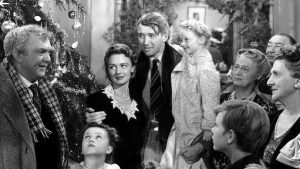 5. NEW YEAR'S EVE. As the end of the year approaches, there's one thing on everyone's minds: who you'll be claiming for a kiss as the New Year comes in! Every party in my one-horse hometown will be filled to the brim with wannabe alpha males and vivacious young heroines, prowling the dance floor for their first love interest of the year. Of course, not everyone is lucky enough to fall in love in 75,000 words or less, like a Harlequin heroine! The important thing is to always maintain dignity. Definitely don't do a Chandler from Friends.

And that's all from me, folks! I wish you all splendid festive seasons, filled with good wishes, love, lots of food and gifts, and possibly a snifter of something slightly stronger than tea.
Happy Holidays, possums!