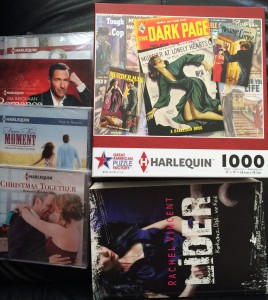 Subsidiary rights are all those "other" rights that aren't the standard print or ebook rights that Harlequin itself does. So when our contract gets "world rights" that means the joint ventures, partnerships and licensees around the world can print the books in their countries. 
But they can't print every book we do in North America–and sometimes there are other publishers interested in the titles. Or here in the US there are a few rare potential projects with CDs or calendars or greeting cards or audio or large print. All of those, whether using the image, the text, or the Harlequin name and logo, can be considered subsidiary rights. 
Reka Rubin is the Senior Manager, Subsidiary Rights, here in the NY office, and she's given some insight into what she does….
What are Subsidiary Rights?
When I tell people that I'm in publishing, people automatically assume I'm an editor. When I tell them that I do Subsidiary Rights, I get a lot of puzzled looks. And I also get quizzical glances from people in publishing as well!
My general answer is that I sell the right to others to do different versions of our books.  It can range from audio books, magazine excerpts and book club selections to foreign editions, movie options and large print books.
Why Subrights?
It was an accident, actually.  I got into publishing for the reason most people do—I love books.  (I read my first Harlequin at 12, but that's another story!).  My second job I worked as the assistant to the Publisher of Random House Audio .  A couple of years in, they decided that we could make some extra money by selling off the rights we weren't using.  That task fell to me.  That started me down the road, subsequent jobs broadened my rights experience.
What does a normal day look like?
First off, I have a small team (there are 3 of us: myself, an assistant manager and an assistant).  One of the best parts of the job is that our days are really varied.  One day we could be conducting an auction for the audio rights to a new debut author, the next we are pouring over catalogs to prepare for our next trade show.  Toward the end of the month (and especially at the end of the year), I spend a lot of time in spreadsheets keeping track of the income we bring in.  And we often do all of the above at the same time.  We sell books from all over the Harlequin-verse, representing over 1500 titles annually (that's a TON of reading!).  We do over 500 deals a year, which involve a lot of followup and detail (submitting books, getting subagents and clients information and materials, finalizing contracts).  But ultimately, all 3 of us love to  increase exposure (and income!) for our authors.
Isn't  there glamorous travel?
We do get to travel a bit—we have 2 international trade shows we go to each year.  The London Book Fair in April and the Frankfurt Book Fair in October.  I love going to the fairs—we get to see a couple of cool cities and have meetings in person with people we spend most of the time emailing.  It's so interesting to see what the similarities and differences are in publishing all over the world.  The challenge?  Our days are full of half hour meetings from 9am to 6pm, then we have drinks and dinners with subagents and clients.  We don't get to see much outside the convention hall.  Then we take our notes from the 50-80 meetings we had, bring them home, and make sure everyone gets the books they asked for.
What is the best part of your job?
Making a sale.  It doesn't have to be a big one—but one that is meaningful to me and to the author.  I get just as excited making a modest Dutch sale for a new author as I do a six-figure audio sale for someone who is used to spending time on the New York Times Bestseller list.  I look at what I do as a puzzle.  The people we sell to want to buy our titles—my job is to listen to what they want and find the titles that we have that match with that.
Thank you, Reka, for sharing some of your enthusiasm! She's got a terrific knowledge of authors and titles and themes and stories. Enough to satisfy any inquiring publisher, editor or fun ideas from around the country–or the world!