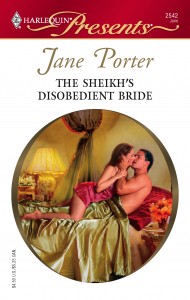 We're back this week with Harlequin Presents author Caitlin Crews and her Ultimate Crush, Tair from Jane Porter's The Sheikh's Disobedient Bride. Read why he is her Ultimate #HarlequinHero!
I don't remember my first Harlequin Presents—but I do know it was by Jane Porter. I read a great swathe of her books in a big, glorious glut, and was transformed forever by the experience—and I know that somewhere in there, I read The Sheikh's Disobedient Bride. And…wow!
Tair is just the hottest thing who ever lived. He's tortured and controlled and lord of all he surveys. He's an unyielding force against which the heroine batters herself again and again and again. And yet I had no doubt he cared for her, that he loved her, that despite how much he seemed to be made of stone, inside was a heart that beat only for her.
This book was how I learned that a) you can really, truly fall in love with a "terrible" hero and b) the harder the hero, the more satisfying when they fall—just as hard as they are.
Thanks Caitlin! Do you have an Ultimate Crush on a #HarlequinHero? Comment below to tell us who yours is!