Harlequin Presents author Michelle Smart (@chellebellwrite) has us wondering how on earth we missed this devilishly handsome star in this week's Ultimate Crush!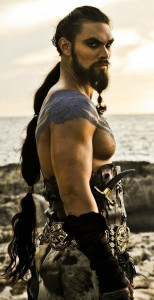 Khal Drogo. Is the name familiar to you? I'm guessing it's only familiar if you happen to be a fan of Game of Thrones. Which I am. Massively. If you don't know who he is, do an internet search on his name. Then do a search on Jason Momoa, the actor who plays him. Done? Good. Now let me explain why Khal Drogo is my Ultimate Crush.
When we are introduced to this fine specimen of a man (all bronzed, dark, manly six-foot plus of him) we don't have to be told that this is the ultimate of all alpha men. He is a powerful warlord, a man without conscience, a man who takes what he wants, when he wants with no thoughts of consequences. His arranged marriage to Daenerys Targaryen is nothing more than a matter of convenience – he wants the most beautiful, exotic bride in the world and with Daenerys, that is exactly what he gets. A trophy.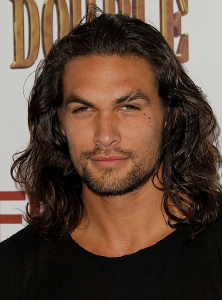 At the start of their marriage, Khal Drogo wears both the literal and figurative trousers. Daenerys is a virgin and terrified of her new husband (quite frankly, I don't blame her). In the TV show, the consummation of their marriage is quite rough, but in the book he shows a tender side I really wish had been brought to life on the screen. Regardless, as their marriage progresses and Daenerys learns to appreciate herself as a human being and learns to embrace her sensual side, she brings out a new, softer side to him – not in public, of course, but behind closed doors (tents in this case). He falls in love with her and it is the most joyous thing to watch, this huge brute of a man following his beautiful wife with a tenderness in his eyes that lets you know that if anyone harmed a hair on her head, he would rip their own head from their shoulders. From being his trophy, she becomes his equal and their love for each other shimmers both off the page and off the screen. Just glorious.
Incidentally, I almost plumped for Tyrion Lannister. I know that physically he's the polar opposite of Khal Drogo, but he makes me laugh and you know he would be excellent company on a night out.
There you have it! Michelle's Ultimate Crush! Now we're crushing on Drogo… you're crushing on Drogo, we're all crushing on Drogo! Is there enough of this drop-dead-gorgeous hunk to go around? We hope so! If not… which other Game of Throne stars should we be taking notice of?