This week on Sold!, Harlequin Romantic Suspense author Jennifer Morey reveals her Secret Crush and tells us why men who accept change are the ultimate heroes!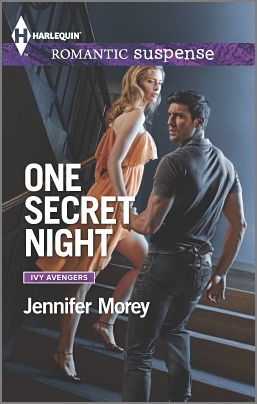 Raith De Matheis from the third book in my Ivy Avengers miniseries, One Secret Night. Not only do I love his name, I love that he's a man with a secret identity who does independent black ops. Tough and morally sound, he's decided on his path—until the story starts. He finds himself falling for a woman who could expose him, and his estranged father brings news that further shakes his foundation. Big changes ahead for this character! Can he rise up to the challenge?
A man who resists change isn't very interesting to me. He can resist it a little, and I think everyone does at first, but life gets stagnant, plugging along at a predictable pace, when everything stays the same. Nothing exciting ever happens. The more breathless moments in life, the more rewarding life is.
I'm fascinated by men who aren't afraid to take chances on progress, moving forward, or on experiences that lead to growth. Whether they've lost a job or a woman they love, men who get back up onto their feet and strive to do better the next time have real crush potential with me. If a man takes charge of the chaos and looks for opportunity, I'm cheering. If he is easily beaten by negativity, takes the easy way out, or relies on others to succeed, a goodbye is on the way. Either that or a closed book!
Jennifer Morey
What trait do you love most in a hero? Comment below and tell us your #SecretCrush!