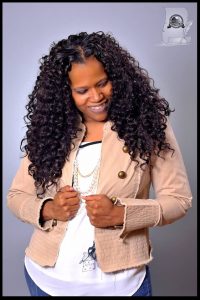 USA TODAY bestselling author Naima Simone will have her Desire debut in June 2019, when her series The Blackout Billionaires launches. Desire Assistant Editor Tahra Seplowin recently caught up with Naima to find out about what inspired her new series, and how pop culture influences her writing and her penchant for high-drama storytelling.
Tahra Seplowin: Tell us a little about yourself.
Naima Simone: Let me see… Well, I'm a PK (pastor's kid), an identical twin (I'm the nice twin!), a Yankee transplant to the South, reality TV is my crack, sushi owns my soul, I believe there should be a temple built right next to the Parthenon with a statue of Nalini Singh front and center, and I have a severe one-click addiction that I am currently not seeking help for. Oh! And Jason Momoa is my secret lover, but don't tell anyone because I promised to keep that on the down low.
TS: We're delighted to have you writing for Desire! Can you tell us about your new series?
NS: Yes! I'm so excited to write for Desire! My new series is called The Blackout Billionaires. While wealthy, hot alpha heroes attend the glamorous Du Sable City Gala, the city of Chicago suffers a blackout. But in the darkness, these men meet the women who will change their lives forever.
TS: What made you think of this premise? Our team loved the idea of a series of books set around a potentially life-changing event. Have you ever been trapped in a blackout before, or has there been another wild situation you've gotten through in the past?
NS: You know how you can get great story ideas from so many places? Well, my niece had been telling me about this series on Netflix called The Get Down, and how I needed to watch it. I finally did, and yes, I was hooked. Well, in one episode, there's a blackout in New York. And so much happened to the characters during this blackout. So that started the wheels turning. Wouldn't a blackout—where in the dark, people could be vulnerable and open and uninhibited in ways they could never be in the light—be an awesome catalyst for a relationship? So The Blackout Billionaires was born. I've never experienced a blackout. But, living in the South, I've lived through my share of tornadoes. About five years ago, one came through, and I swear I thought I was going to wake up in Oz with a pair of red, bedazzled shoes and accused of house-icide.
TS: We see that you have a deep, abiding love for reality television. If you won the lottery and got to create your own reality TV show, tell us what it would be like.
NS: *Squee* You're kidding! My own reality show? Carte blanche? I want a cross between Bad Girls Club and Real Housewives with a Family Therapy twist. Wealthy wives of billionaires, actors, athletes and musicians with, uh, anger issues (they turn up!) who are consigned to one mansion to live together and receive group and individual therapy. Of course, their hot messes of husbands and families are all mandated to participate and hoist up the level of ratchetness. And Dr. Christian Conte, the hottie therapist himself, is going to need to be in charge. I'm counting at least three extramarital affairs, two secretive loans to family, eleven fights—thirteen if you include hair-pulling skirmishes—six boxes of glasses destroyed, three table flips and one meddling mother-in-law. Call me, Bravo and VH1!
TS: Any other fun facts you want to share about hobbies, favorite shows, etc.?
NS: I looooves me some NYPD Blue reruns, S.W.A.T. with Shemar Moore and Code Black. Oh, Code Black. It never fails to drive me to tears. I'm also obsessing over this Nancy Drew: Ghost of Thornton Hall video game. It's so hard, and I'm realizing all my hours of ID Discovery-watching do not make me a detective. I also collect Christmas Village figurines and might have an obsession with them, too.
TS: When you want to dive into another author's brain, what authors/titles are your go-to?
NS: I mentioned that temple dedicated to Nalini Singh… I love her books! She's a literary goddess. I also love Kristen Callihan, Sherilee Gray, Alisha Rai, Stacy Reid, Tessa Bailey, Meghan March, Maisey Yates, Jackie Ashenden, Juliette Cross… That just cracks the massive list. Oh, and Nalini Singh! Can't forget her. 😊
TS: Writing for Desire means understanding how to write high drama, soap-opera twists, and emotional sizzle to go with the physical kind. How do you approach this?
NS: Actually, I can kind of blame my love for drama on my mother, who made me sit and watch Dallas, Dynasty, The Colbys and Falcon Crest every Wednesday and Friday night. And my grandmother deserves some of the blame, too, with getting me hooked on The Young and the Restless. LOL! With that kind of foundation, is it any wonder I love drama, angst, big, theatrical twists and naughty socialites and billionaires? All that's true, but I also approach it by thinking of what my characters desperately need—whether they know it or not—and how their soulmate is in the way, keeping it from them. Conflict is an awesome spark for emotions and passions.
TS: On a scale from chaos to sheer perfection, how do you organize your writing space? Any other details that aid the writing process? I'm thinking about getting a mug that says, TRUST ME, I'M AN EDITOR, for example…
NS: What's in between chaos and sheer perfection? Like controlled chaos? Or more likely, "Oh snap! Is that due today?" chaos. I don't really have an organized writing space, unless you count Books-A-Million, because that's where I go to write most of the time. Coffee, surrounded by books, limited Wi-Fi…and then even more coffee! I always get there right as they open to grab the table near the one outlet and get down to work. The staff and I are on a first-name basis. 😊 There is one thing I wear that really aids me when I'm close to deadline and need to bust out the words. I have a hoodie that immediately places me in that "I'mma 'bout to kick tail" mind frame.
TS: Thank you so much for taking the time to be with us today! Anything else you want to share?
Yes! I so look forward to introducing The Blackout Billionaires to readers! And I solemnly swear to never, ever end a book with the hero popping out of the shower to greet the heroine as she realizes she dreamed the whole story. Scout's honor!
Naima's first book in The Blackout Billionaires series, The Billionaire's Bargain, comes out in June 2019 from Harlequin Desire.